Woman outraged because her cousin tells her not to bring her disabled husband to her wedding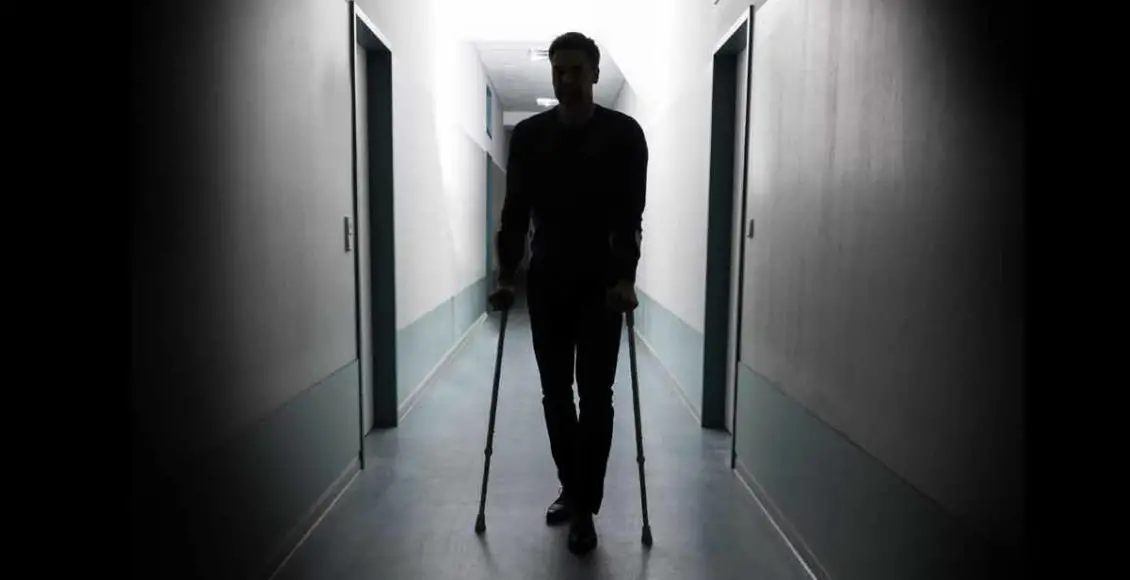 The woman's husband was uninvited from her cousin's wedding on account of his disability.
Redditor Kaiahi turned to Reddit's 'Relationship Advice' to ask how she should handle the situation.
Kaiahi's husband suffers from cerebral palsy and uses crutches to walk.
Redditors commented on Kaiahi's post showing support for the couple, condemning the bride's insensitive behavior, and even suggesting petty responses.
Kaiahi, the Original Poster (OP), explained her situation as she wrote the following on Reddit:
"My cousin (34F) was due to have her wedding earlier this year. It was postponed because of current events. She lives overseas and we had booked plane tickets to go to it. About three months before her wedding she messages me (36F) and suggests that I leave my husband (37M) at home because she, 'doesn't want me to have the burden of having to look after someone' then she followed it up with, 'I'm saying this with love'.

I was extremely hurt by this comment especially as it was full of judgement and not love. No one else is being asked to leave their partners at home. I didn't say anything to her because I didn't want to ruin her big day, so I let it go. I did however tell her that my husband was not a burden and I'm sure she wouldn't say that about her fiancee. She dropped it.

Now we have a flight credit and her wedding has been rescheduled. Her parents have done a lot for me (let me live with them etc.) and I'm very close to her sister. However, I really don't want to go because of what she did. So, what should I do? And if I don't go, what should I tell her and my husband? To be clear, I never told my husband what she said. He loves my family and it would hurt him so much. Also, if it matters, my husband has cerebral palsy and uses crutches to walk. Thank you so much!"
There are 211 comments on her post, the majority of which show support for Kaiahi and her husband.
Most Redditors have agreed that the bride's behavior is insensitive, selfish, and rude. Simply put, it is an act of discrimination against disabled people. As a result, the majority of comments urge Kaiahi to go on vacation with her husband and not attend the wedding. Others have even suggested sending a petty wedding gift in the form of a donation to United Ability, the Cerebral Palsy Foundation, made out in the name of the bride and groom.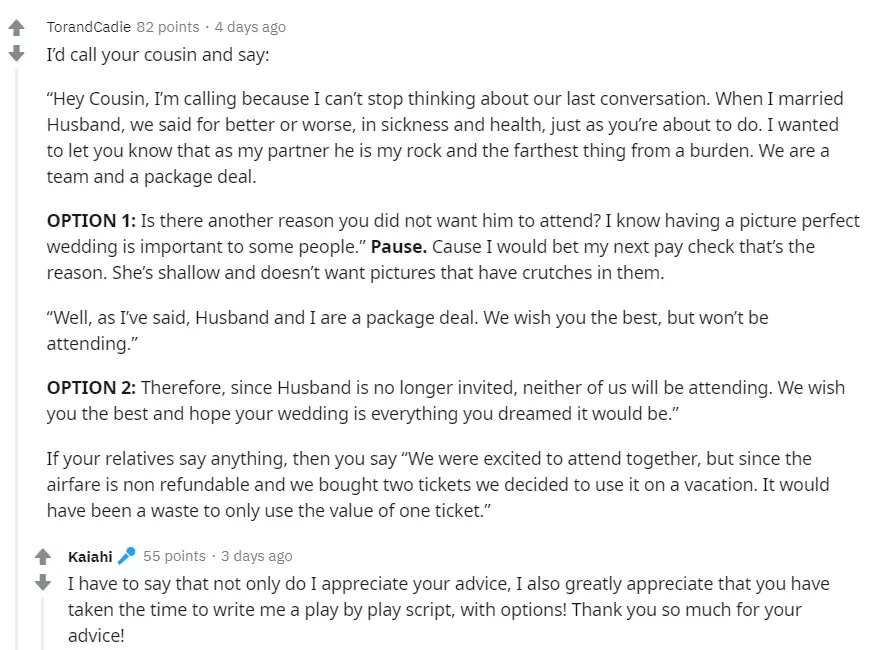 Our advice to Kaiahi is quite similar: Do not attend the wedding – go on a romantic getaway instead!