Megastars Will Smith and Jason Derulo teamed up to surprise a 14-year-old cancer patient with a PlayStation 5 for Christmas. 
Will Smith and Jason Derulo put a smile on a 14-year-old cancer patient by giving him a PS5 for Christmas. 
Due to the coronavirus pandemic, the teen's father was not allowed to be by his son during his chemotherapy treatment. 
The Hollywood actor shared the boy's story in his series 'Will From Home,' after being touched by his dad's devotion.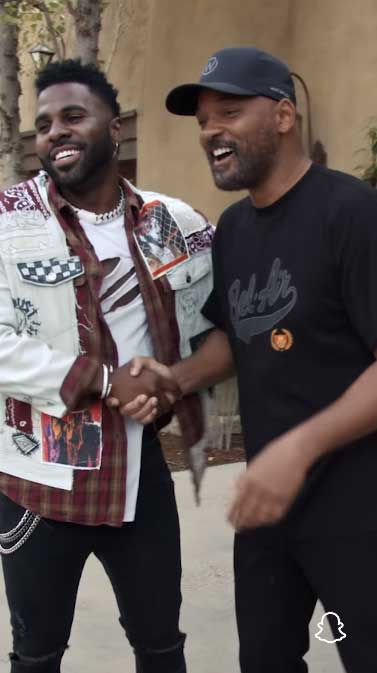 Earlier this year, a 14-year-old boy from Texas named Aiden was diagnosed with cancer. Trying to figure out a way to cheer his son up, Aiden's dad truly went the extra mile with the help of social media.
Chuck Yielding, the boy's father, reached out to Hollywood star Will Smith, who has recently been running a Snapchat original series called Will From Home. In the show, the actor shares uplifting stories and talks to fans, It's Gone Viral reveals.
The COVID-19 pandemic made it impossible for Chick to be by his son's side during his chemotherapy treatment sessions. However why the witty father found a way to be with his son throughout these challenging times. He dressed up in the brightest colors he could find, went to the hospital's parking lot, right under Aiden's window, and started dancing to put a smile on his child's face. This touching dad dance became a tradition, as Chuck would go there every Tuesday and show his best moves to brighten up Aiden's day.
Will Smith was deeply touched by the dad's positive attitude while his son is battling cancer. 
Chuck and Aiden's story was shared in the very first Holiday Special episode of the actor's series.
Teaming up with the famous singer Jason Derulo, Will Smith helped teach the father-son duo some cool new dance moves. Later on, during a video call, he told Aiden to open up a present he had sent him. The 14-year-old was thrilled to find out he had received a brand new PlayStation 5, a DuelSense controller, and a GameStop gift card. Smith made it possible with the support of GameStop Giving.
GameStop also donated $5,000 to the Cook Children's Medical Centre, where the boy is receiving treatment. The Fresh Prince of Bel-Air star added $5,000 more "in honor of the love you guys are putting into this world." He ended the wholesome episode with the words:
"Joy and laughter is such critical medicine. That commitment to just a little smile, just a little laugh, it goes so much farther than we could even imagine. So, shout out to Chuck! Great work, man! Keep it right there!"