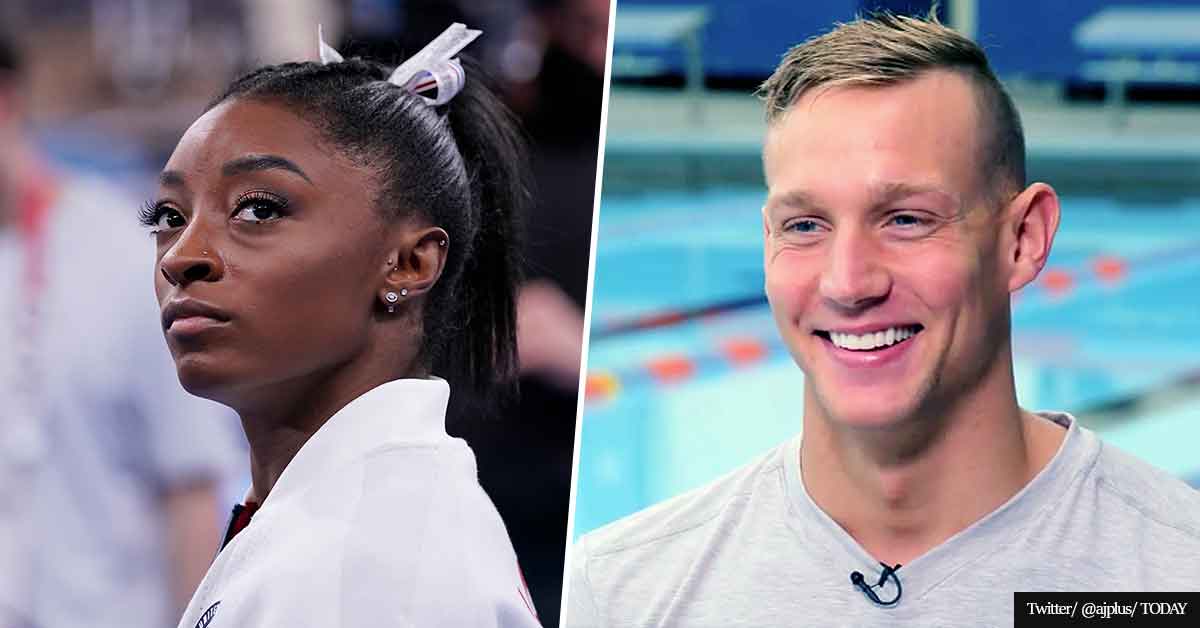 "Just leave her ALONE" – Swimmer Caeleb Dressel defended gymnast Simone Biles' decision to withdraw from the Olympics.
U.S. swimmer Caeleb Dressel, the two-time Olympian who has grabbed the gold seven times at the Games, recently spoke out against the critics attacking Simone Biles.
The 24-year-old gymnast shocked the whole world by deciding to withdraw from the Olympics for the sake of her physical and mental health. While many have expressed their support for Simone, she has also received an overwhelming amount of criticism over her decision.
Even the famous British TV host Piers Morgan slammed the young athlete for bailing out of the games. 
So, to sum up today's big Simone Biles debate, snowflake Twitter is 100% adamant that walking out on teammates at work is brave, strong, inspiring and iconic – and anyone who does it should be celebrated as one of the world's great heroes….
Good to know. 👇 pic.twitter.com/HclTrBbfY3

— Piers Morgan (@piersmorgan) July 28, 2021
However, America's golden boy said: "I'm OK with this call that Simone did."
Speaking with Craig Melvin for TODAY, Dressel said:
"I don't know what is considered too much. Every individual is different. That's why I'm not going to speak on anyone else's behalf. That's why I'm OK with this call that Simone did. No one else's opinion matters, because they're not the one that's in her situation."
Biles decided to leave the Games as she claimed she was dealing with severe mental health issues, including anxiety, stress, as well as "twisties" – a condition in which a gymnast loses air-awareness while performing many flips and spins.
As support for @Simone_Biles has poured in from around the world, #Simone says it's shown her how it's not all about gymnastics.

"[It's] made me realize I'm more than my accomplishments and gymnastics which, I never truly believed before."https://t.co/dEsnsBFcDE

— Olympics (@Olympics) July 29, 2021
The high-ranking swimmer added:
"She's literally the best ever to do it, and then everyone wants to chime in."
And to all the critics, Dressel said:
"Just leave her alone."
The swimmer himself has struggled with overwhelming pressure during Tokyo 2020. 
Dressel confessed:
"I've had a couple breakdowns. It does pile up, but it's worth it."
Dominance from Caeleb Dressel as he leaves Tokyo with five gold medals 💪 pic.twitter.com/VQ67U8UDad

— ESPN (@espn) August 1, 2021
One of the breakdowns Caeleb is referring to is the moment he busted in tears upon seeing his family's genuine reaction after he won his first gold medal. However, moments like this actually motivated him to bring out the best version of himself and slay the Olympics. He commented:
"I think you could physically see that the monkey hopping off of my back in that moment. It was a huge relief."
According to his personal website, at the age of 24, Caeleb also holds two world records – in 100 LCM Fly and in 50 SCM Free.
Caeleb Dressel had an Olympics to remember 👀 pic.twitter.com/tPa99mBruO

— Bleacher Report (@BleacherReport) August 1, 2021
Do you think Dressel was right for supporting Biles' decision to withdraw from the Games? Let us know in the comment section!