This is the preferred love language of each Myers-Briggs personality type
Everybody shows love and affection in a different way.
There are differences in the ways we show – and prefer to be shown – love and this is because we all have different love languages. According to Dr. Gary Chapman, author of The Five Love Languages, "there are five basic ways to communicate your love to your partner": words of affirmation, acts of service, gifts, quality time, and physical touch. Heidi Priebe, a writer for Thought Catalog, has paired the 16 different Myers-Briggs personality types with Dr. Chapman's five love languages in order to answer the following question:
How does each Myers-Briggs Personality type like to give and receive love?
Priebe conducted her research using Facebook.
She posted a survey, 'asking participants to identify their Myers-Briggs personality type and then vote on their top one or two love languages'. Priebe received almost 2,500 responses in just 48 hours and she then compiled the data to determine how each personality type prefers giving and receiving love.
Here's what she found:
1. ESTP
2. ISTP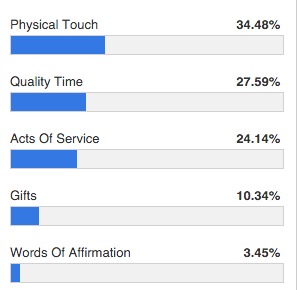 3. ISFP
4. ESFP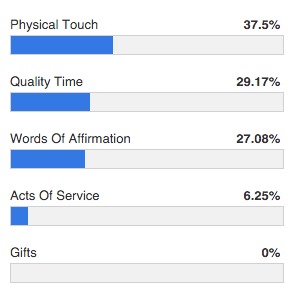 5. ISFJ
6. ESFJ
7. ISTJ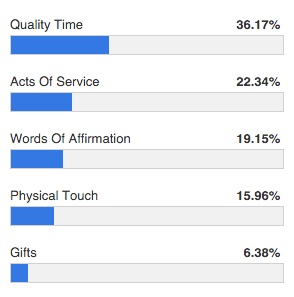 8. ESTJ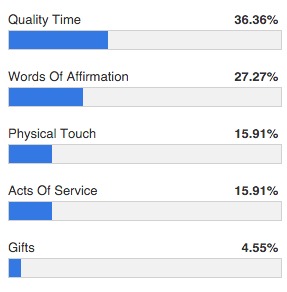 9. INTJ
10. ENTJ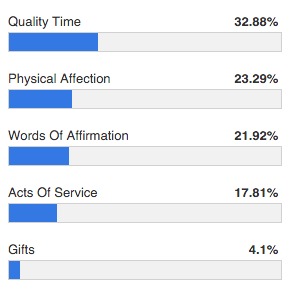 11. INTP
12. ENTP
14. ENFJ
15. INFP
16. ENFP
How can knowing these results help you?
Knowing what is yours – or your partner's – preferred love language can help your relationship become stronger and more fulfilling.
If your partner prefers 'quality time' over all the other love languages, make sure you set time aside specifically for them: this will show them that you care and make them feel loved more than you know.
If their top love language is 'words of affirmation', try saying – or texting – them more often to let them know you love them.
As a love language, 'physical touch' refers to small, physical displays of love: hugs, kisses, massages, holding hands. All of these require little effort on your part and also make your partner feel loved and appreciated.
If your partner's personality type prizes 'acts of service' highly, you can show them that you love them by relieving them of house chores and other similar acts.
While 'gifts' ranks lowest in all 16, it is still an important love language. Surprising your partner with a small and meaningful gift from time to time will make them feel special and loved.
Admittedly, a combination of all five love languages is necessary for all personality types (especially for ISFPs who display an almost even distribution of love language preference). Ultimately, however, it is important to make a note of what is most important for the personality types which express a distinct preference for one or two specific love languages. You will be surprised at how much your relationship can flourish when you love your partner the way they want to be loved.