Students call firefighters to rescue drunk housemate stuck in dryer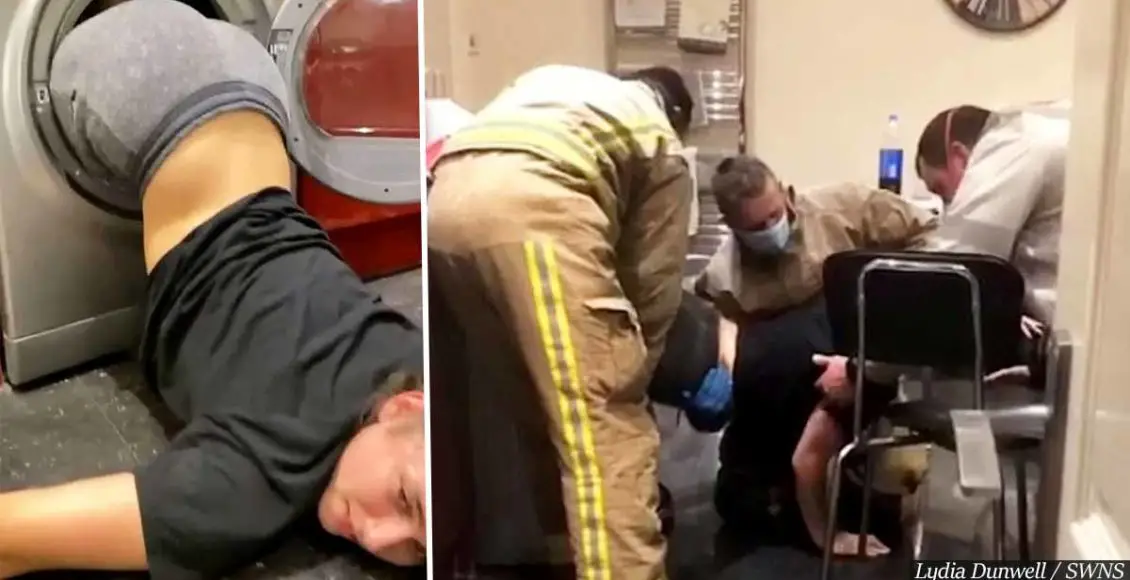 After taking her housemates up on a dare, Rosie Cole ended up getting stuck in a tumble dryer. 
Seeing as there is nothing else to do on a Tuesday night, Rosie Cole and her housemates decided to have some drinks at home. After having some wine and honey tequila, Rosie was dared to try and fit into the tumble dryer. The 21-year-old was up for the challenge as she attempted to wiggle into the dryer. Initially, she had been surprised and impressed with herself as she managed to do better than she thought she would; soon, however, she discovered that she had become completely stuck. As seen in the video below, her friends tried their best to help set her free. Unfortunately, they failed in doing so, and thus, they resorted to calling emergency services to rescue her.
According to METRO, Rosie Cole commented on her experience as she said:
I was with my other housemates, and one of them dared me to get in it. Me thinking there was no chance I'd actually fit decided to try it and to my surprise it seemed easier than I thought. It wasn't until I wiggled both my hips in and got my legs crossed behind me that I realised I couldn't get out. I am a bit dramatic so I didn't think it was that bad at first, and my housemates were making me laugh, but when I realised that I couldn't uncross my legs and my hips were stuck I got a bit worried. Especially when I tried to free myself the dryer tipped forward and I couldn't get myself out. My arms were starting to hurt trying to hold myself up, and it was pretty hot inside the dryer. My housemates tried pulling me out, but they couldn't, so we didn't know what else to do other than to call the fire service. They save cats from trees so maybe they could save students from tumble dryers.
The emergency services assumed that they were rescuing a child.
When Rosie's housemates called emergency services and explained the situation, the emergency services assumed that they were talking about a small child. Soon after the call, flashing lights and sirens appeared outside the student home and, according to METRO, 'it took about 20 minutes for three baffled firefighters to successfully free her from the dryer'.