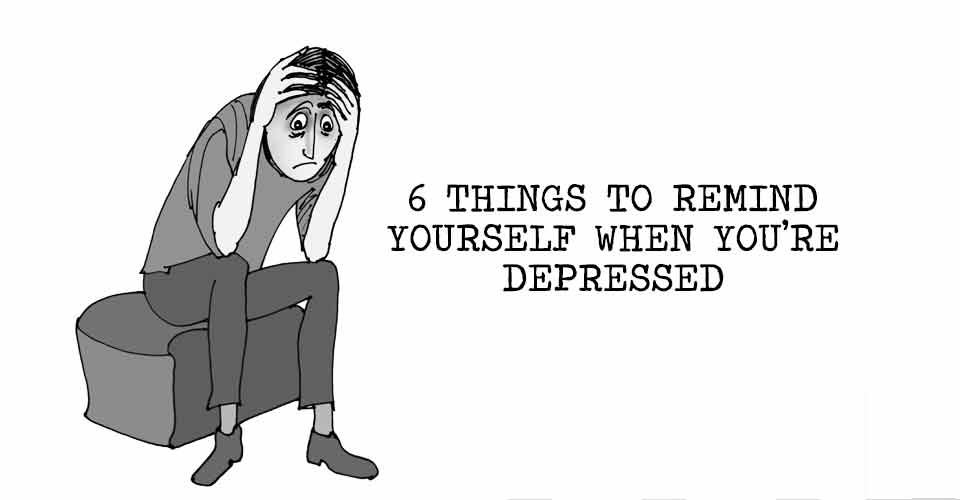 6 Things To Remind Yourself When You're Depressed
When the other shoe drops in our lives, it's easy to think we are alone.
Truth is, everyone goes through inevitable hard times in their lives. Eckhart Tolle writes in his bestseller A New Earth: Awakening to Your Life's Purpose "The primary cause of unhappiness is never the situation but your thoughts about it." Most of us can probably resonate with that statement even though it sometimes doesn't feel like it.
Here are 6 things you can remind yourself to get back on track and get back to life after a period of feeling depressed.
JUST BECAUSE I FELL DOESN'T MEAN I CAN'T GET BACK UP
It's not necessary to always have an all or nothing attitude. Life is fluid, and it changes so much despite our wishes. It doesn't matter if you had a bad diet day, smoked a cigarette after you swore you quit, or did something to hurt another. A slip up doesn't define you. You can get back up, just keep going, and not stay in the problem. Look at your setbacks as learning experiences, and you will be closer to living your authentic truth.
I'M NOT ALONE
Sometimes our minds isolate us to the point of feeling desolate and glum. Remember that help is just around the corner at any given moment. You are not alone in your life. Try reaching out to a friend or family member, let them know where you're really at. You might find that you help someone else as much as they are helping you when reaching out.
I'VE MADE IT THROUGH ALL OF MY BAD DAYS SO FAR
Sometimes reminding yourself of other times that really hurt can be actually uplifting. The reason this is helpful is that you remember how much of a warrior you are. You've been through rough times before, you may be right now, and you will again. It's called being human and imperfect. Remind yourself of how you gracefully made it through rough days before even when it seemed like you'd never be happy again.
I CAN ALWAYS, ALWAYS, TRY TO DO MY BEST
Putting your best foot forward may relieve a lot of your pressures. Sure, you may be stuck in a situation that is not ideal, but this is temporary. Would it take some heat off if you simply put your all into life? This way, you can at least go to sleep knowing that you did all that you could. The rest is certainly out of your control. Let go of the outcome, and do what you are capable of doing to better the situation and your life.
I AM WILLING TO EXPERIENCE BEING HUMAN
Being human does not always come with rainbows, butterflies and bright days. For whatever reason, as humans we were meant to trudge the roads of happiness, suffering, and everything in between. Guess what? We also are capable of surviving these emotions. Instead of trying to change the way you feel, it may be helpful to just allow yourself to be with the emotions you have. They will inevitably change again, and again.
I CAN AT LEAST CHANGE THE WAY I THINK
The power is in your mind to decide which way to look at things. We've all heard of the common term, "Fake it until you make it." Our thought life is no different. Sometimes taking action by acting as if things are ok will actually make them so over time. Your job is simply to look at the lighter side of things, and realize that our whole universe will someday be gone. You may realize that what you're worried about doesn't even matter in the long run.
By Derrick Ivey