Mother delivers two weeks earlier so her dying husband could see his baby girl
A mother from Texas gave birth to her baby girl earlier than expected, so her dying husband could have the chance to see and hold his newborn daughter.
This Texas couple experienced both the happiest and the most devastating moments of their lives at the same time. Diane Aulger was pregnant with her fifth child, while her husband, Mark, was on his deathbed. She induced labor two weeks early to give him the chance to see their baby girl before he passed away.
The mother of five shares that when her husband took baby Savannah in his arms, he "cried, and he just looked very sad". He died only five days later from complications related to his cancer treatment. The heart-wrenching scene happened in January 2012.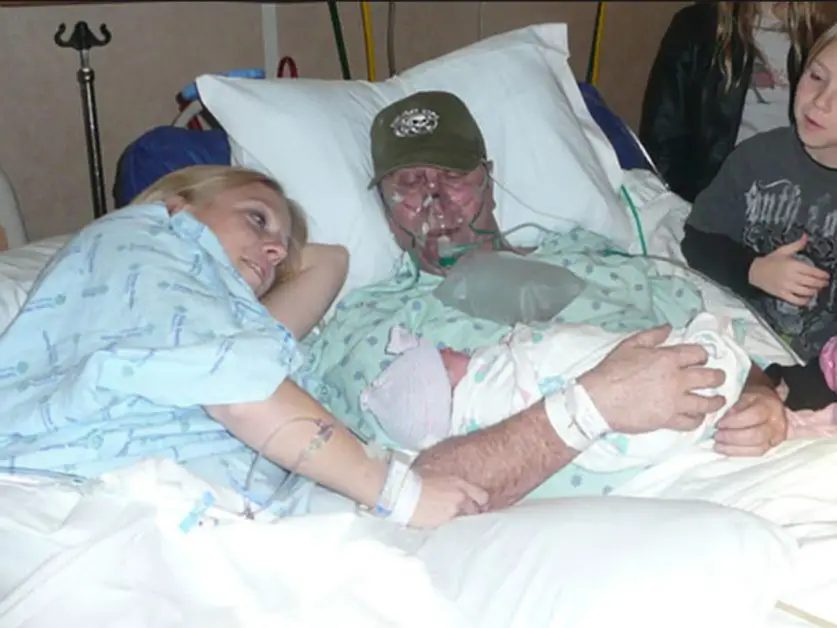 Diane was eight months into her pregnancy when her husband's health rapidly deteriorated.
In April the previous year, Mark was diagnosed with colon cancer. He had undergone surgery, but after months of precautionary chemotherapy, his lungs were severely damaged. By the end of the year, he began having trouble breathing.
According to his wife, he was told the chemotherapy had caused him to develop pulmonary fibrosis, which led to scarring and thickening in his lungs. As a result, on January 3rd, he was taken to the emergency room.
However, there were still hopes that Mark would recover. Diane says that her husband believed he was soon to be brought back home with an oxygen tank. Sadly, on January 16, the doctor had to deliver the devastating news to the Aulgers that Mark's condition was fatal. He had only a few days left.
Mark's last wish was to see his baby girl.
Little Savannah was due January 29. Although Dianne had planned a natural childbirth, when the doctor told her about the opportunity of induced labor, she agreed without hesitation.
The birth was scheduled for January 18. Hospital staff even arranged for the couple to share a large labor and delivery room. Their beds were side by side.
Mark had the chance to hold his baby daughter right after she was born.
He held her in his arms for about 45 minutes. Unfortunately, the following couple of days, he was only able to see her a few times for a minute or so. He was too tired due to his condition.
As told by Diane, Mark slipped into a coma only three days after their child was born. Tragically, he passed away two days later. The devastated widow shares:
"I brought her home the night before he fell into the coma. It was just me and Savannah when he passed away."
Savannah was the Aulgers third child. Diane has tho other children.
They were all she ha after her husband passed away. They are keeping Mark's memory alive by placing pictures of him all over their home and constantly remembering heartwarming memories with him.
"We're living day-to-day as if dad's still here. We know dad is here with us. They talk to dad. Mark was a very funny, funny dad."