Job ad for 'happy' hairdresser was taken down for being 'discriminatory'  
AJ's Unisex Hair Salon was asked to take down their recruitment ad on account of it being 'discriminatory'.
AJ's Unisex Hair Salon is located in Stroud, England.
The local job center said that they could not run the salon's ad because it could discourage people who do not see themselves as 'happy' from applying.
A Department of Work and Pensions spokesperson has since apologised for the 'error'.
Alison Birch posted a job ad, looking for a part-time hairdresser. 
According to The Sunday Times, Mrs. Birch wanted her job advertisement to read: "Part-time fully qualified hairdresser, must be confident in barbering as well as all aspects of hairdressing, must have at least five years' experience working in a salon after being fully qualified. This is a busy, friendly, small salon, so only happy, friendly stylist need apply." However, the local job center contacted Mrs. Birch on Wednesday, informing her that her ad could not be run on account of it being discriminatory. FOX News reported that the owner further explained that she had been told: "I'm sorry, but the word happy is a discriminatory word and we aren't allowed to use it, as somebody who is not happy will be discriminated against".
Is the word 'happy' discriminatory? 
The conversation with the job center had left Mrs. Birch shocked, frustrated, and questioning whether the word 'happy' really is discriminatory. According to METRO, the woman explained: 'When he called me up and said he wanted to talk to me about using a discriminatory word in my job advert, I panicked. I thought, "what have I said?" I wouldn't do something like that. I was almost relieved when he said the word was "happy".' Moreover, Mrs. Birch initially thought that she was being pranked by one of her customers. Upon realizing that the man was serious, she was outraged:
I told him I was perfectly happy with the use of the word "happy", and that he could just take it off their site and I'd find somewhere else to list it.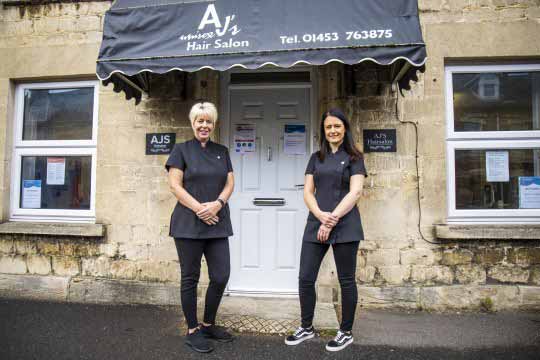 AJ's Unisex Hair Salon takes pride in being known as a happy salon.
Mrs. Birch claims that her salon has always been described as 'the happy little salon in Cainscross'. To her, this has been a compliment and she takes pride in being able to make her customers happy. Especially now, during already dark and difficult times, 'customers don't want to come in to staff with bad attitudes'. The owner finds that nowadays, everybody is trying to be politically correct and that any descriptive word can be seen as being discriminatory.
A spokesperson for the Department of Work and Pensions has since spoken to METRO, stating: 'We mistakenly advised a customer to amend a job advert but have since offered to repost the original copy and apologised for the error.'