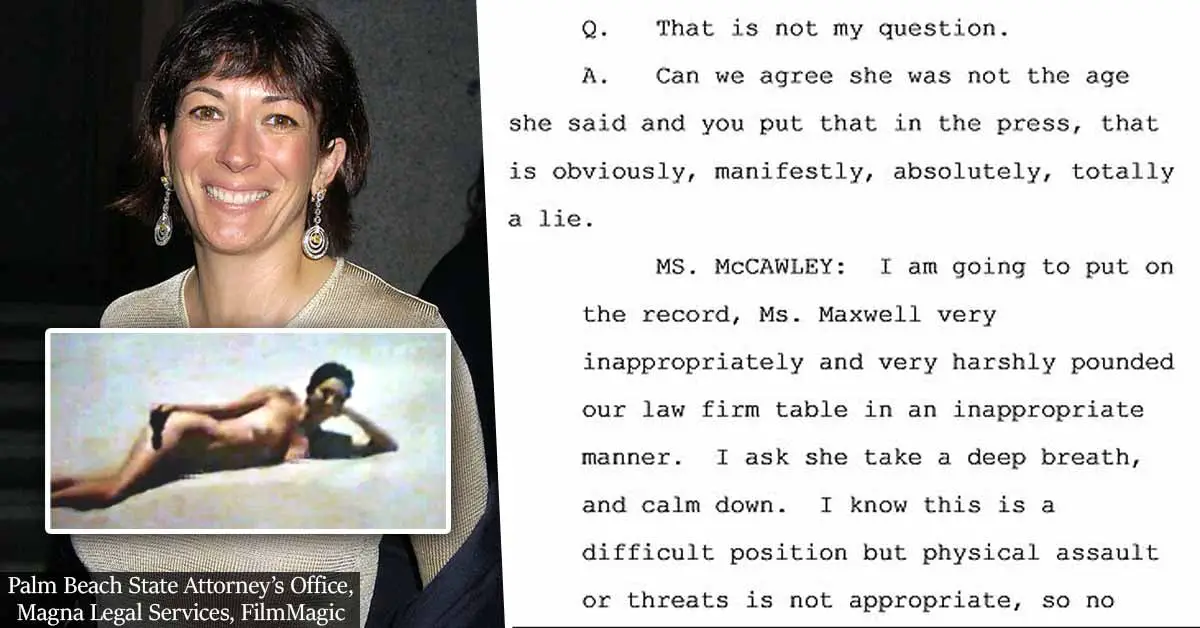 Ghislaine Maxwell's 418-page deposition that sheds light on her sex life is made PUBLIC
Ghislaine Maxwell's deposition transcripts have been released, revealing information about her relationship with Jeffrey Epstein.
The 418-page deposition was made public on Thursday morning.
Maxwell was questioned about her relationship with Jeffrey Epstein and Virginia Roberts Giuffre.
Speaking of Ms. Giuffre, Maxwell claimed that "She has lied repeatedly, often and is just an awful fantasist".
The deposition was made public after lawyers fought hard to keep it private.
Transcripts from an April 2016 deposition were released on Thursday morning after Maxwell lost an appeal to keep them private. This deposition was connected to a defamation lawsuit against Maxwell brought by Jeffrey Epstein's accuser Virginia Roberts Giuffre. Ms. Giuffre had claimed that Epstein had sexually abused her while she was a minor and that Maxwell had aided in the abuse. According to CNN, the 58-year-old woman was charged by federal prosecutors 'for allegedly helping recruit, groom and ultimately sexually abuse minors as young as 14 as part of a yearslong criminal enterprise with Epstein'. Maxwell had pleaded not guilty and was ordered jailed pending trial as a result.
I totally resent and find it disgusting that you use the word recruit. I already told you I don't know what you are saying about that and your implication is repulsive." What is more, she explained what her job consisted of as she said:
I hired assistants, I hired architects, I hired decorators, I hired cooks, I hired cleaners, I hired gardeners, I hired pool people, I hired pilots, I hired all sorts of people. […] In the course and a very small part of my job was from time to time to find adult professional massage therapists for Jeffrey. […] From time to time I would visit professional spas, I would receive a massage and if the massage was good I would ask that man or woman if they did home visits. […] I interviewed people for jobs for professional things and I am not aware of anyone aside from now Virginia who clearly was a masseuse aged 17 but that's, at least that's how far we know that I can think of that fulfilled any professional capacity for Jeffrey.

– Ghislaine Maxwell
Speaking of Ms.

Giuffre, Maxwell claimed that she is a "liar" and "fantasist".
Throughout the deposition, Maxwell repeatedly claimed that Ms. Giuffre's allegations were lies. According to FOX News, Giuffre had claimed that Maxwell had recruited her at age 17 to be sexually abused by both her and Epstein. In addition to this, the attorneys had claimed that "Ms. Giuffre has explained that during her first sexual encounter with Jeffrey Epstein, it was Defendant who provided instruction on how to do it and how to turn the massage into a sexual event." In response to Ms. Giuffre's allegations, Maxwell had said:
I never ever at any single time at any point ever at all participated in anything with Virginia and Jeffrey. And for the record, she is an absolute total liar and you all know she lied on multiple things and that is just one other disgusting thing. 
Virginia lied 100 percent about absolutely everything that took place in that first meeting. She has lied repeatedly, often and is just an awful fantasist.