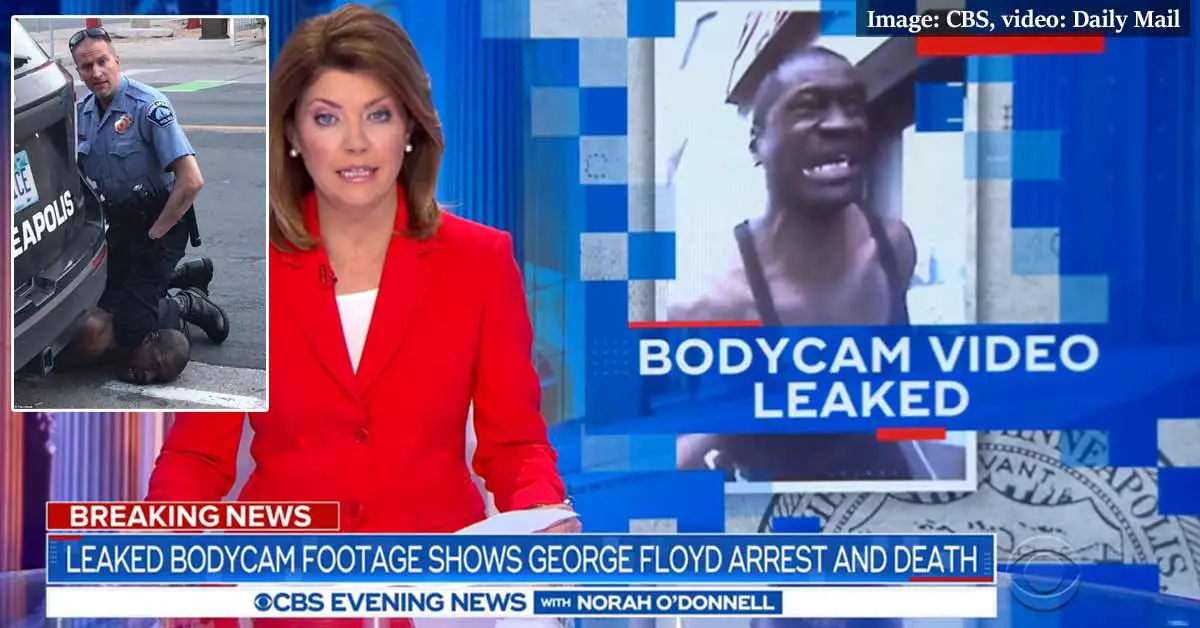 George Floyd's fatal arrest moment-by-moment revealed by police bodycam footage
Exclusive bodycam footage from two of the former officers charged with the murder of George Floyd shows a rookie cop pointing a handgun at Floyd's head.
The footage revealed by Daily Mail shows the last minutes of George Floyd's life from the perspective of the officers who caused his death.
Image credits: Daily Mail
George Floyd died on May 25, after police officer Derek Chauvin vigorously pressed his knee onto Floyd's neck until he lost consciousness. Four officers were involved in the murder, holding the man on the ground, despite his cries for help. After only 8 minutes and 46 seconds, Floyd was left completely motionless, showing no signs of life.
In the horrific tapes, Floyd can be heard begging: "Mr. Officer, please don't shoot me. Please, man."
The 46-year-old black man even warned the callous cops he was suffering from claustrophobia and anxiety as they were forcing him into the back of the car. Shockingly, Floyd can be also heard foreseeing his own death, saying:
"I'll probably just die this way."
Reportedly, the exclusive footage is from the bodycams of officers Alex Kueng and Thomas Lane – the first cops to arrive at the scene. Derek Chauvin and Tou Thao were called as a back-up. They were responding to a call claiming an African-American tried to buy cigarettes with a fake $20 bill. The horrific incident happened in front of Cup Foods in Powderhorn Park, Minneapolis.
All four cops involved in the murder of George Floyd were fired the following day. Chauvin was charged with Floyd's murder. As for the other officers, they have been charged with aiding and abetting second-degree murder and second-degree manslaughter.
Image credits: Hennepin County Jail/AFP
George Floyd's public killing sparked a massive wave of Black Lives Matter protests around the world.
What becomes clear from the chilling bodycam videos is that Floyd had no intentions to run away. After the call made by a Cup Foods employee, he even waits in his car for the cops to arrive so he can explain the situation.
When the officers approach Floyd's car, Thomas Lane can be seen knocking on the car window with his flashlight. When Floyd opens the car, the cop points his handgun straight at his head.
Seeing the officer pointing a gun at him, Floyd says: "Hey man, I'm sorry."
To this, Lane aggressively responds: "Put your f***ing hands up right now! Let me see your other hand."
Clearly terrified and shocked by what was going on, George Floyd shares he had been shot before under similar circumstances. But instead of asking Floyd what he did or what happened at Cup Foods, Lane says: "Okay. Well, when I say 'Let me see your hands', you put your f***ing hands up!"
"Okay. Mr. Officer, please don't shoot me. Please, man!"
These are the words Floyd says as the officer forces him to step out of the car. He continues to beg the cop not to shoot him, saying: "Please don't shoot me, man. I just lost my mom, man."
As the two rookie officers pull Floyd out his car, he can be seen sobbing. After they handcuffed him, Lane asks the passengers, Floyd's ex – Shawanda Hill, and a friend – Maurice Hall, why is he acting "all squirrelly", refusing to show his hands. Hill and Hall then explain he has been shot before, and he has mental issues when it comes to encounters with police officers.
Image credits: Daily Mail
The real struggle begins when the cops attempt to forcefully shove Floyd in the back of the squad car. Claiming he has claustrophobia and he had recently suffered from COVID, Floyd refuses to get in the car.
"I am going to die in here. I'm going to die, man. I just had COVID, man. I don't want to go back to that."
Despite his claims, the officers still try to force him onto the car. However, Lane tries to make things a little less suffocating, offering to roll the cruiser's windows down to help Floyd's phobia. Still, Floyd cannot calm down and says he's terribly scared.
Image credits: Daily Mail
When an onlooker tells George Floyd to try to control himself, as there was no way he could win in such a situation, he responds:
"I don't want to win. I'm claustrophobic and I've got anxiety. I don't want to do nothing to them."
Derek Chauvin and Tou Thao arrive at the scene shortly after. They finally manage to get Floyd into the car. However, for an unclear reason, he comes out of the passenger side door, still suffocating.
Only a few seconds later, George Floyd can be seen lying on the sidewalk with Chauvin's knee pressed onto his neck.
Lane and Kueng are also holding him to the ground.
George Floyd repeatedly says he cannot breathe, but his words are left ignored. Shockingly, at one point, he says: "Tell my kids I love them. I'm dead."
While pressing the helpless man onto the ground, the officers can be heard asking each other if they're okay. Afterward, Thao expresses suggestions that Floyd may be high. Keung and Lane say they found a weed pipe and there might be something else.
After George Floyd says "I can't breathe!" again, Kueng tells him he was talking just fine. To this ignorance, Floyd replies:
"I'll probably just die this way. I'm through. I'm claustrophobic. My stomach hurts. My neck hurts. Everything hurts. I need some water or something, please."
Image credits: Daily Mail
Chauvin then yells at him: "Then stop talking. Stop yelling. It takes a heck of a lot of oxygen to talk."
Then, only 8 minutes and 46 seconds after Chauvin first pressed his knee onto Floyd's neck, the 46-year-old father loses consciousness. By the time the ambulance arrives, Floyd is already dead.
WARNING: The following videos contain disturbing content.
The disturbing bodycam footage revealed by Daily Mail shows in detail the horror George Floyd has been through during the last minutes of his life.