Franklin Graham Furious After Pope Francis Backs Same-Sex Civil Unions – It Would Mean Jesus 'Died For Nothing'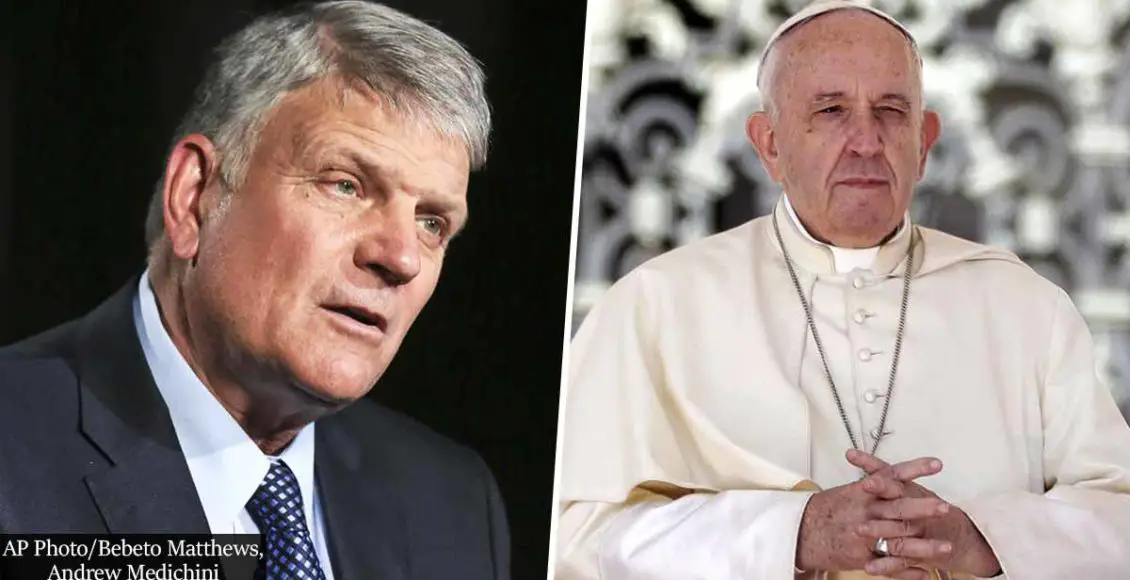 Following Pope Francis' support for same-sex civil union, Franklin Graham was furious.
Graham explained that Pope Francis' support was a violation of the Catholic principles. 
In a Facebook post, Graham accused Pope Francis of not believing in the Bible.
He also wrote that LGBTQ people must repent if they do not want to go to hell.
Franklin Graham is known as one of the most anti-LGBTQ religious activists in the US.
After Pope Francis called for civil union laws to protect same-sex couples, he faced criticism from Franklin Graham, an evangelical pastor with ties to President Donald Trump. While the Pope had received praise after he claimed that same-sex couples are "children of God" and "have a right to a family", Graham shared his contrasting views on Facebook. There, he critiqued the Pope and explained that LGBTQ people must repent. He shared that, according to him, the Pope's comments are "unthinkable in the light of the Word of God". 
Graham accused the Pope of not believing in the Bible.
In his Facebook post, he quoted the Bible and wrote: "The Bible teaches that when God created the human race, "He created them male and female, and blessed them…" (Genesis 5:2). The first family consisted of a male husband and a female wife, then their children, which is how God defines society's most basic social unit, the family." Graham went further as he referred to Romans 1:26-27 and wrote that the Bible "makes it clear that God disapproved when "women exchanged natural relations for those that are contrary to nature; and the men likewise gave up natural relations with women and were consumed with passion for one another…" (Romans 1:26-27)." He then explained that Pope Francis' actions are an "attempt to normalize homosexuality" and that, as a result, he is essentially saying "that Holy Scriptures are false". Moreover, he noted:
If that were true, then Jesus Christ's death, burial, and resurrection wouldn't have been needed. The cross would have been for nothing. No one has the right or the authority to trivialize Christ's sacrifice on our behalf.
He then concluded his post with homophobic claims:
Yes, God makes it clear that He loves us and does want us to be part of His family, but He also tells us how that can happen. The Bible says, "Repent therefore and be converted, that your sins may be blotted out, so that times of refreshing may come from the presence of the Lord" (Acts 3:19). I want everyone to know the truth and to find the peace that comes only from fully surrendering our lives to Him and His commands. The consequence of an unrepentant, unbelieving heart is also clear in the Word of God—eternal death. Unless we repent and receive His offer of forgiveness, surrendering our lives to Him, we will spend eternity as part of a different family when we leave this earth—the family of the condemned.
Unsurprisingly, social media users expressed their disbelief and outrage at Graham's comments: 
How about un-normalize living in the 1800s

— Dustin O'Donnell (@dustinodesign) October 22, 2020
Should we normalize men with imaginary friends who have a mysterious interest in the sexual activities of others?

— Eleanor The Great (@Eleanor_Greet) October 22, 2020