Disturbing footage shows cops in Buffalo, New York shoving an elderly man on the ground
During the demonstrations following George Floyd's death, in Buffalo, New York, police officers were caught on camera pushing an elderly man on the ground, causing him to fall and knock his head. 
Two officers have been suspended without pay after the shocking scene, NBC New York reveals.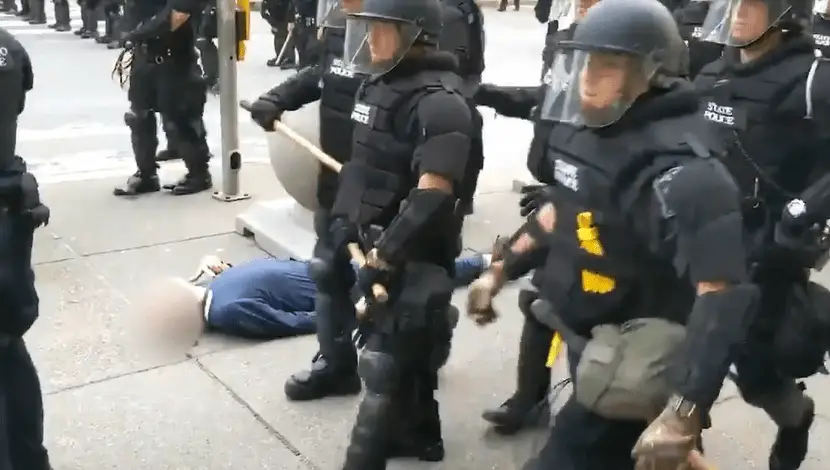 The incident occurred shortly after the city's 8 p.m. curfew on Thursday, June 4.
Meanwhile, journalists from WBFO and Spectrum News Buffalo were reporting in Niagra Square. They witnessed dozens of policemen lining up to block protesters amid demonstrations against police brutality and racism.
Warning: The following videos contain disturbing content that may not be appropriate for some viewers!
Just about an hour ago, police officers shove man in Niagara Square to the ground (WARNING: Graphic). Video from: @MikeDesmondWBFO pic.twitter.com/JBKQLvzfET

— WBFO (@WBFO) June 5, 2020
Current situation in #Buffalo as police work to enforce the 8 p.m. curfew in Niagara Square. Caution: there is some vulgar language in the video. Tune to @SPECNewsBuffalo for the latest. Video Courtesy: Photojournalist Anthony Nelson pic.twitter.com/nP4AXgQGeR

— Katie Gibas (@KatieGibasTV) June 5, 2020
In the videos taken by the journalists, the 75-year-old man can be seen calmly approaching the officers, appearing to be asking them a question.
But instead of listening to the man, the policemen aggressively shove him and move along.
The elderly man then loses balance and falls on the ground, hitting his head on the concrete.
He appeared to have been knocked unconscious as blood starts streaming out of his ears.
According to Mayor Byron Brown, the victim of this disturbing incident is currently in stable but serious condition. Mr. Brown stated in a tweet:
"I was deeply disturbed by the video as was Buffalo Police Commissioner Byron Lockwood. He directed an immediate investigation into the matter, and the two officers have been suspended without pay."
— Byron W. Brown (@MayorByronBrown) June 5, 2020
Later that day, Governor Andrew Cuomo called the shameful incident 'wholly unjustified and utterly disgraceful'. He tweeted:
"I've spoken with Buffalo Mayor Byron Brown and we agree that the officers involved should be immediately suspended pending a formal investigation.
Police Officers must enforce — NOT ABUSE — the law."
This incident is wholly unjustified and utterly disgraceful.

I've spoken with Buffalo @MayorByronBrown and we agree that the officers involved should be immediately suspended pending a formal investigation.

Police Officers must enforce — NOT ABUSE — the law. https://t.co/EYIbTlXnPt

— Andrew Cuomo (@NYGovCuomo) June 5, 2020