Chuck Norris Celebrates His Mother's 102nd Birthday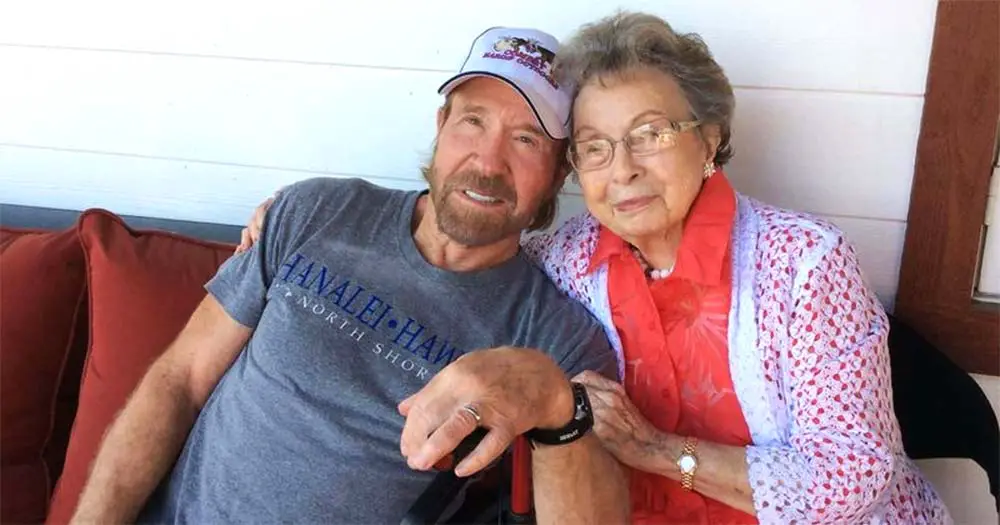 Cover Image Source: FB/Chuck Norris
On May 2, famous actor Chuck Norris shared a heartfelt message to his mom, Wilma Norris Knight, for her 102nd birthday. He posted an old photo on Facebook of him and his mom sitting close together, reminding everyone of their close bond.
Chuck couldn't help but marvel at his mom's age. Born in 1921, Wilma still seemed as lively as ever to him. Chuck even joked that she might live a hundred more years! "With my mom's birthday this week and Mother's Day next week, I feel really thankful," Chuck wrote.
Wilma once spoke about the tough times their family had to go through in a 2012 interview with The Mike Huckabee Show. After World War II, Wilma's husband struggled with severe alcohol problems and often became violent. At age 12, Chuck asked his mom not to stay with their dad. The family had had enough, according to the Christian Broadcasting Network.
After his parents finally divorced, Chuck and his family had to move 16 times to different low-rent homes before he turned 15. They were very poor. Despite the challenges, Wilma worked hard day and night to support her children. She often told Chuck, "God has plans for you." These words gave him hope and curiosity about his future.
Wilma always saw Chuck as Carlos, his birth name, rather than Chuck. She said Chuck stepped up to care for the family when his dad left them. Because of this, she called him "her defender." He looked after his younger brothers while Wilma worked night shifts.
In March 2023, Chuck told ODB that his mom had always been a source of strength for him. "Mom showed me what it means to keep going and to have faith," he said. Wilma had to raise three boys by herself during the Great Depression, deal with the deaths of two husbands, a son, a stepson, and grandchildren, and undergo many surgeries. "She has always prayed for me, no matter what," Chuck added. "When I was lost in Hollywood, she was at home praying for my success and for me to find my way."
He finished by saying, "I thank my mom for helping God to make me the best I can be."