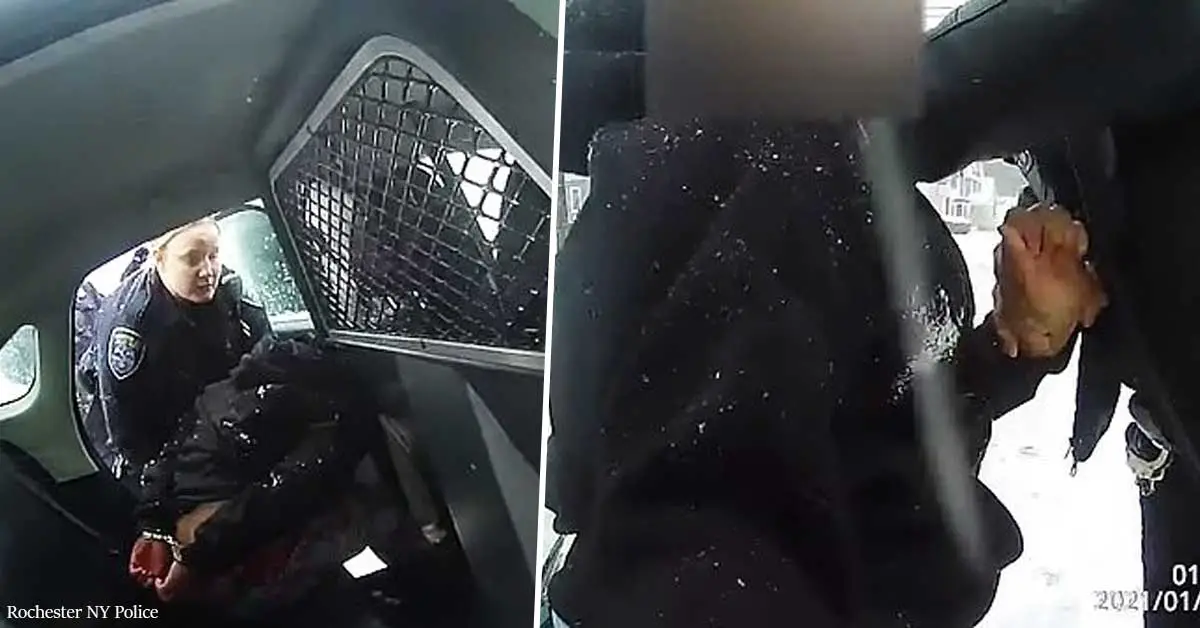 Bodycam footage shows Rochester police handcuff and pepper-spray 9-year-old girl
This article contains footage and information that may be disturbing to viewers.
Bodycam footage revealed that two police officers handcuffed and pepper-sprayed a 9-year-old girl.
Two police bodycam videos were released on Sunday morning by the RPD. 
They show a 9-year-old girl in a state of panic being apprehended, handcuffed, and pepper-sprayed. 
She was sprayed after she refused to follow the orders she was given. 
Rochester Mayor Lovely Warren: "I'm very concerned about how this young girl was handled by our police department."
On Friday, a family dispute resulted in a 9-year-old child running away, distraught and in a state of panic.
One of the two videos released by the police shows an officer chasing the young girl and asking her what is wrong after responding to a report of "family trouble". According to the Democrat and Chronicle, Deputy Police Chief Andre Anderson described the girl as suicidal. "She indicated that she wanted to kill herself and she wanted to kill her mom," he said at Sunday's press conference. The video depicts the officer catching up to the girl and asking, "What is going on? How can I help?" The distraught child does not respond and soon, her mother arrives on the scene. The two begin to argue as the girl accuses her mother of having stabbed her father. This argument leads to further panic and distress as the child becomes more and more agitated.
Officers asked the young girl to sit in the back of the police car.
In a statement on Saturday, police explained that the girl was put in the back of a patrol car "for the minor's safety and at the request of the custodial parent on the scene." At this point, there were a total of nine police officers surrounding the child. Distressed, the young girl refused to follow orders as she repeatedly cried out, "I want to see my dad". An officer tries to comfort her by telling her that she will make sure she finds her father but that she must get inside the car to stay warm. After several failed attempts to put the child in the car, an officer pepper-sprayed her. In the video, the young girl can be heard screaming and crying, "Wipe my eyes, please".
Rochester Mayor Lovely Warren commented:
I'm very concerned about how this young girl was handled by our police department. It is clear from the video we need to do more in support of our children and families. […] I have a 10-year-old child, so she's a child, she's a baby. This video, as a mother, is not anything you want to see.
Police Chief Herriott-Sullivan also shared:
I'm not going to stand here and tell you that for a 9-year-old to have to be pepper-sprayed is OK. It's not. I don't see that as who we are as a department, and we're going to do the work we have to do to ensure that these kinds of things don't happen.