Bernie Sanders' mittens and 2 other inauguration moments you may have missed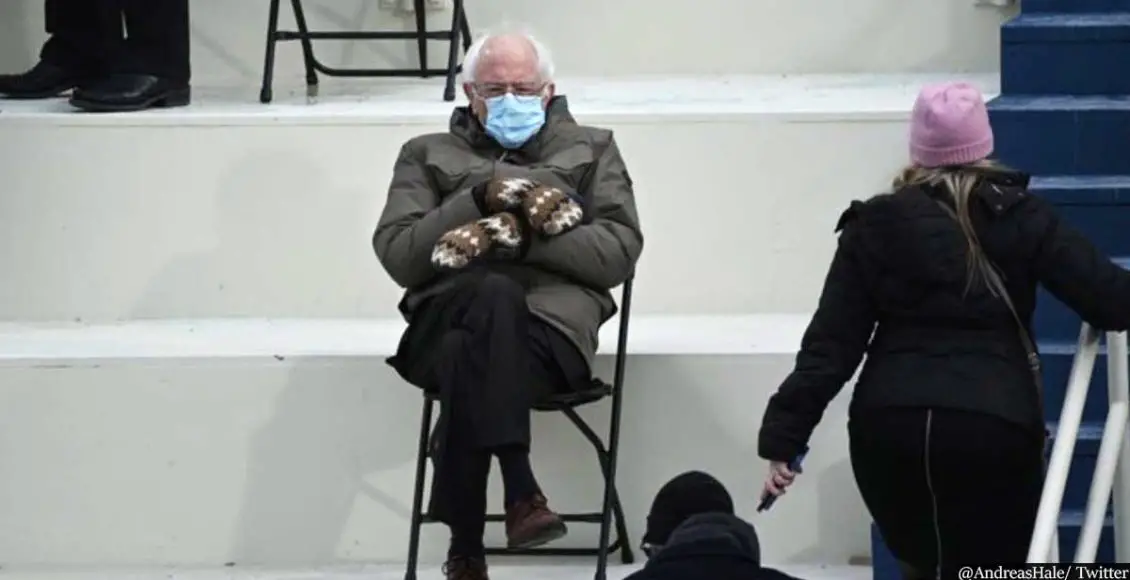 While we expected Joe Biden and Kamala Harris to be sworn in, there are many things we did not expect to see at yesterday's inauguration. 
On January 20, Joe Biden became President and Kamala Harris became the first Madam Vice-President. 
Several candid moments from the inauguration were recorded.
A historic fist bump, Kamala Harris' escort, and Bernie Sanders' mittens were all unexpected.
There are 3 incredible moments you may have missed: 
1. A historic fist bump
A touching photograph that will go down in history: Barack Obama, the country's first black president, and Kamala Harris, the country's first black vice-president, exchanging a fist bump. According to the BBC, this moment is seen as "a historic passing of the torch between the two political trailblazers, the only black Americans in history elected to serve in the White House."
What an amazing and historic photo. pic.twitter.com/ofLGTN6Bvj

— Doug Gordon (@dgordon52) January 20, 2021
2. The escort of Vice-President Kamala Harris
Capitol Police officer Eugene Goodman became a national hero on January 6 when a violent mob stormed the US Capitol. Mr. Goodman steered the rioters away from the Senate chamber to protect the lawmakers who were hiding inside. It was as a result of his courageous actions that they were able to safely evacuate the chamber. Now a deputy Senate sergeant-at-arms, Eugene Goodman escorted Vice-President Kamala Harris into the US Capitol. BBC further reported that lawmakers are planning "to award Mr Goodman with the Congressional Gold Medal for his bravery."
What a wild two weeks for our country but especially for people like Capitol Police Officer Eugene Goodman.

On Jan 6, he put his life on the line when he lured insurrectionists away from Senators and staff.

Two weeks later, he's escorting VPE Kamala Harris into the US Capitol pic.twitter.com/zBKzQeJ3lR

— Yashar Ali 🐘 (@yashar) January 20, 2021
3. Bernie Sanders' mittens
The one thing that people cannot stop talking about is Bernie Sanders. Almost immediately, the Vermont Senator went viral as memes began to flood social media. Yesterday's freezing weather meant that everyone had to stay warm. While many people initially made fun of Sander's outfit choices, it turns out that there is a sweet story behind his patterned wool mittens. BBC reported that Sanders' mittens were made by Jen Ellis, a schoolteacher from his home state, using repurposed wool sweaters and recycled plastic bottles. Besides pointing out his mittens, people also claimed that Sanders looked as though he did not want to be present at the inauguration at all. 
Bernie Sanders clearly left the car running for this one. pic.twitter.com/PhdBq4eJHs

— Andreas Hale (@AndreasHale) January 20, 2021
10:30 – drop off dry cleaning

11:00 – Joe's thing

2:00 – swing by the post office pic.twitter.com/JJr3SECKeB

— Brody Logan (@BrodyLogan) January 20, 2021
"This could've been an email" pic.twitter.com/kn68z6eDhY

— Ashley K. (@AshleyKSmalls) January 20, 2021
The internet was quick with the Bernie memes 😭 pic.twitter.com/ymtP3YIOQA

— Natasha 𓇼 (@ndelriego) January 20, 2021
What was your favorite moment?