93-Year-old Veteran Raised $16,000 For Food Pantry By Whittling Walking Sticks
John Hobson, a 93-year-old veteran, has raised $16,000 for food pantry by whittling walking sticks.
Hobson is a retired Air Force Colonel who likes to keep himself busy by whittling walking sticks.
Selling them at $3.00 per stick, Hobson managed to make $600.00 in just a few days.
In addition to this, Hobson's family set up a GoFundMe page which raised over $9,500 for the Xenia Area Fish Food Pantry.
The GoFundMe donations, the walking stick sales, and other donations made in Hobson's name total close to $16,000.
This 93-year-old retired Air Force Colonel has raised over $16,000 for charity.
John Hobson enjoys keeping himself busy. Speaking to WKEF-TV, his son Mark shared, "If he just got put somewhere and told him to sit down, he'd go crazy." Last year, Hobson decided to begin whittling walking sticks. What is more, he decided to sell them for $3.00 each and to donate the money he earned to the Xenia Area Fish Food Pantry, a local Ohio charity outreach group. Mark further commented on his father's character as he said, "He's just a sweet man who gives a darn about other folks who don't have [anything]".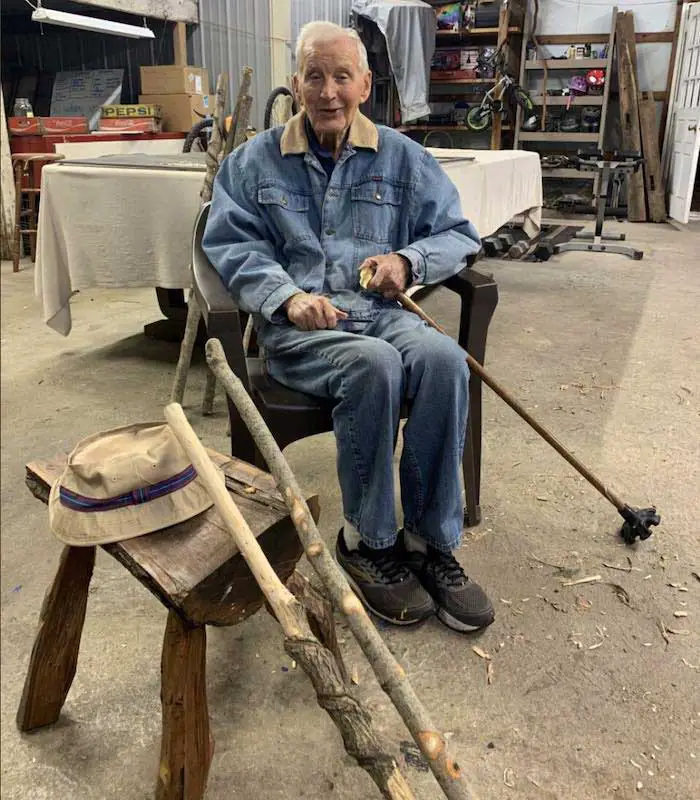 Hobson's family set up a GoFundMe page to increase the donations.
While Hobson earned around $600 by selling his walking sticks in the yard, he decided he wanted to do more. The Good News Network reported that his family set up a GoFundMe page and raised $9,565 for the Xenia Area Fish Food Pantry. Hobson's earnings, the money from the GoFundMe page, and several additional donations in the veteran's name totaled around $16,000.
Jenny Denen, Hobson's granddaughter thanked everyone for their donations as she wrote:
Thank you for doing a very kind thing to make Grandpa happy and to make a difference for so many in our community. We have been so touched by your kindness and generosity. […] We have been told by the pantry that a $1 donation generates five pounds of food. That means that we have helped the pantry be able to distribute about 40 tons of food to the Xenia community! What a massive blessing to those in need during this very difficult time.