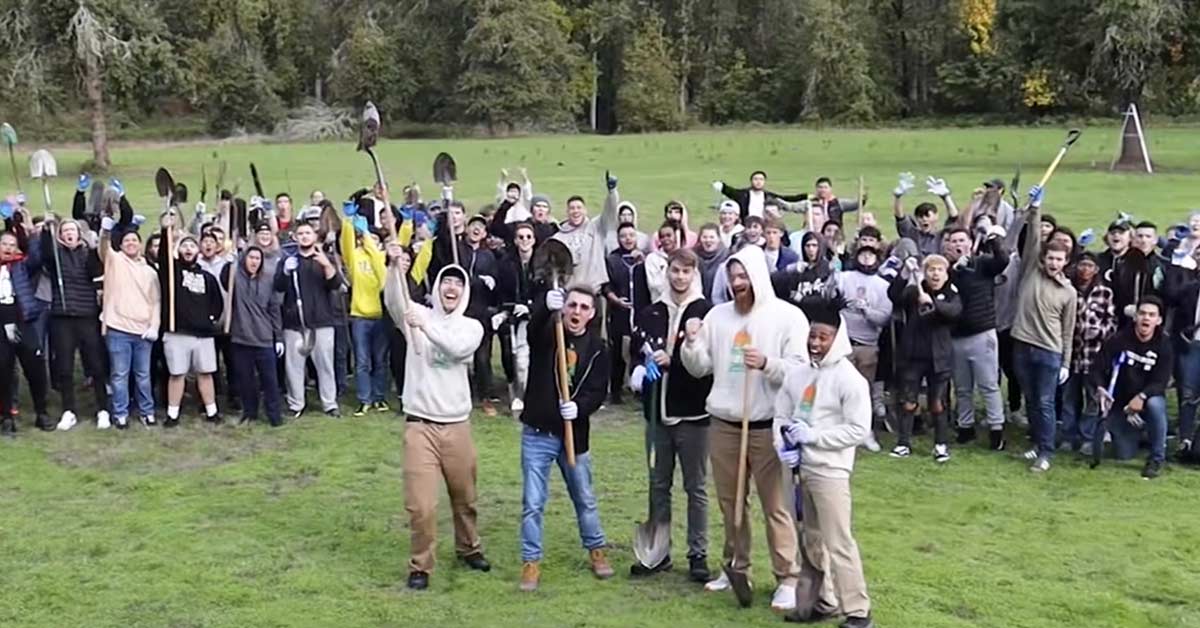 YouTubers launch fundraiser to plant 20 million trees by 2020
A group of YouTubers found an amazing way to fight climate change.
They are doing it by launching a campaign to raise $20,000,000 to plant 20,000,000 trees by 2020.
The leader of the campaign is Jimmy Donaldson or 'MrBeast'. He came up with this wonderful idea after he reached 20 million subscribers in YouTube this May. Besides, his followers spammed his inbox and the comment sections saying that the best way to celebrate this success is to plant 20 million trees – one for each subscriber.
MrBeast uploaded a video of him explaining the course of the #teamtrees campaign and planting 1,700 trees in only two days with the help of many volunteers.
Many famous vloggers and celebrities from various genres such as AsapScience, TheTryGuys, PewDiePie, and Marshmello, became part of the campaign. Even the engineer and investor Elon Musk has joined the movement by donating a huge amount of money. MrBeast's fight against climate change is now all over the Internet, and everyone can be a part of it.
For this project, Donaldson has joined forces with Arbor Day Foundation. This is the largest non-profit tree-planting organization in the world. For every dollar donated, they will plant a tree.
So, $1 = 1 tree!
Many of us might think that one dollar can't really make a difference, but that's not right. One dollar can make a huge impact on our planet. And if you don't feel like donating money, plant a tree in front of your house or your local park. Mother Earth needs us now more than ever. As MrBeast says in the video:
"We only have one Earth and it's important we take care of it. Recently lots of not so great things have been happening to forests and people just keep making fun of our generation for retweet activism and not actually doing something, which is why we created TeamTrees.org with the help of the Arbor Day Foundation."
The Infographics Show made a video about the impact of planting 20 million trees. There they share amazing facts about the importance of trees and their significance for our lives.
Trees are awesome! Here are a few reasons why.
1. Trees are homes
A wide variety of organisms and animal species live in the trees. Each tree represents a small ecosystem. In fact, a single oak tree can be a home to around 500 different species. Without trees, many animals would face extinction.
2. Trees make us happier
A simple walk in the park can boost your mood. Being around trees makes you feel calm and peaceful, which surely decreases stress and depression. It also helps on a physical level by lowering blood pressure and lessening stress-related hormones.
3. Trees can save you money from your power bill
What if instead of paying hundreds of dollars for air conditioning, you plant several trees around your house or office? With the natural shade from trees, you wouldn't have to use the air conditioner so often, and this will definitely conserve energy, and save you some money.
4. Trees release oxygen
Trees absorb and store carbon dioxide during their photosynthesis and release oxygen. As you may know, carbon dioxide is one of the main things contributing to global warming. So, the more trees we plant, the further we stay from a global warming crisis. Besides, we need oxygen to breathe, and trees are giving it to us for free.
Restoring our forests is probably the most effective natural solution to the climate crisis. And now, we can make a difference by only clicking the donate button.
So far the #teamtrees campaign has raised over 10 million dollars, which means more than 10 million new trees. Every donation of $1 equals a new tree planted! This campaign is giving us the chance to become a part of something huge and save our planet.