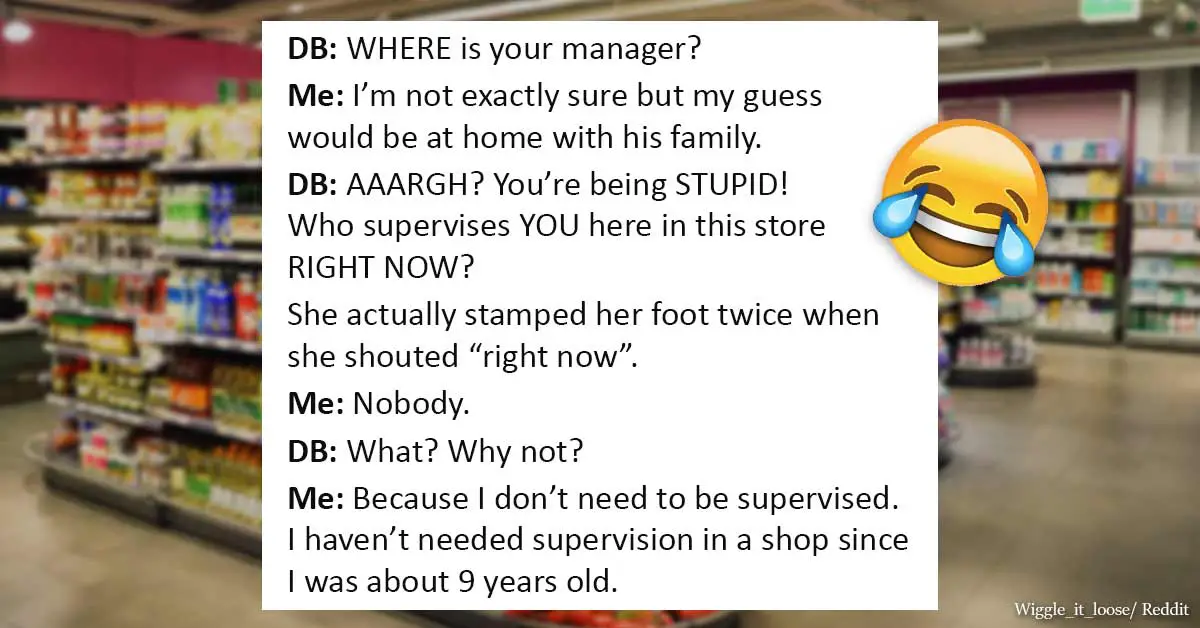 Woman with 'Karen' attitude mistakes customer for an employee, and he decides to play along
Another Karen has demanded to speak to the manager.
But this time, the person she was being awfully rude to, wasn't even working at the store the bizarre encounter occurred. 
The subreddit called "I Don't Work Here Lady", where people are telling hilarious stories about being mistaken for employees, recently revealed another 'Karen' situation.
A Reddit user shared an incredibly funny story where a woman mistakes him for a staff member. Instead of telling her right away that he is only a customer, the man decides to make the best out of the situation.
In the story, as the man didn't get the woman's name, he simply called her "Doushebaguette"(DB in short) for obvious reasons, as Bored Panda notes.
At first, clearly not realizing the man wasn't an employee, the impatient lady attacked him with questions about where the supermarket keeps the eyelash curlers. As he decides to play along, the conversation turns into a comical scene.
DB: Where do you keep your eyelash curlers?

Me: I don't keep them anywhere.

DB: Yes, you do. I've seen them before.

Me: I'm certain I don't. I've never owned any. My eyelashes manage to bend all on their own. I'm more than happy with the bendiness of my eyelashes.
The woman then, apparently not pleased with the answers she gets, starts acting awfully rude and even insults the "employee".
DB: Huh? What? No, idiot, I mean the shop. Where in the shop are the eyelash curlers?

Me: I haven't got a clue.

DB: Why not?

Me: I refer you to my previous answer. I never use them.

DB: Aargh! Are you trying to be stupid?
Тypically for a natural-born Karen, the impolite customer demands to speak to the store's manager.
At this point in the conversation, she still has no clue she is not talking to a staff member, but to a regular customer like herself.
DB: This is insane! Are you going to find out where the eyelash curlers are, or would you prefer that I speak to your manager?

Me: I'd say neither but if I had to choose I'd go for option (b)

DB: What?? You want me to speak to your manager?

Me: No.
The woman then enters a state of visible confusion. She claims the man just said he did want her to approach his manager, but he explains that he didn't really mean that.
DB: You just said you did.

Me: No I didn't. You asked me which I'd prefer. If I was offered a rectal exam or a slap in the face I don't want either but I'd prefer the second to the first. See how it works?
This answer was bewildering enough to leave the Karen speechless for a few seconds. 
Unfortunately, the silence was soon interrupted by shouting. The frustrated woman continued demanding a talk with the "staff member's" supervisor, but now she was impudently raising her voice. As she was shouting at the poor man, she was even nervously stamping her foot.
DB:WHERE is your manager?

Me: I'm not exactly sure but my guess would be at home with his family.

DB: AAARGH! You're being STUPID! Who supervises YOU here in this store RIGHT NOW?

Me: Nobody.

DB: What? Why not?

Me: Because I don't need to be supervised. I haven't needed supervision in a shop since I was about 9 years old.

DB:OH MY GOD, IT'S LIKE TALKING TO THE WALL!!
There were finally signs of understanding when the woman asked the man why was he not helping her, and he simply responded with: "Why would I?"
DB: You do WORK HERE don't you?

Me: No.

DB: WHY DIDN'T YOU F***ING SAY SO?!

Me: You didn't ask me. Until now.
The lively argument wasn't left unnoticed by the actual staff members at the supermarket. Soon after, the manager did arrive at the heated scene, just as the rude lady was shouting and swearing.
DB: YOU'RE A F***ING MORON!!!

Manager to DB: Madam, please lower your voice and stop swearing. There are children in the store.
When the store manager asked the man to explain the situation, he said that the woman was previously rude to another customer. Later on, she approached him and started to 'interrogate' him about his 'personal grooming habits'. And as she was not happy with the answers she received, she 'started to spit shout'.
Clearly, this commentary on the whole situation wasn't satisfactory for the lady as well. 
However, the manager quickly processed what the man was telling him, so he firmly explained to the Karen how she needs to behave.
DB: NO, THAT'S NOT F***ING TRUE. I WAS SHOUTING BECAUSE I THOUGHT HE WORKED HERE!

Manager: Whether he was an employee or not you can't talk like that. You can't abuse customers and we have a strict policy about abuse towards staff. We don't tolerate it.

DB: ITS NOT MY FAULT. HE'S A F***ING IDIOT. IF HE HAD ……
Luckily, the disrespectful female was interrupted by the store's manager, who politely asked her to stop shouting. But instead of listening to the kind man, she continued yelling, which forced him to call security.
He then asked the man who was mistaken for an employee if he was okay.
Manager to me: Are you OK Sir?

Me: Yes I'm fine I just needed birthday candles. Could you tell me where they are?

DB: WHAT THE FUCKING HELL IS GOI….

Manager to DB: Stop. Shouting. Stop. Swearing. If I have to warn you again you will have to leave the store.

Manager to me: They're on aisle 22.

Me: OK. Thank you.
The man then simply walked away, searching for what he went to the supermarket in the first place. He claims he continued hearing the woman shouting at the security guards.
Have you ever had a similar hilarious encounter? Share your story in the comment section!