Woman TWERKS on top of a coffin in front of cheering crowd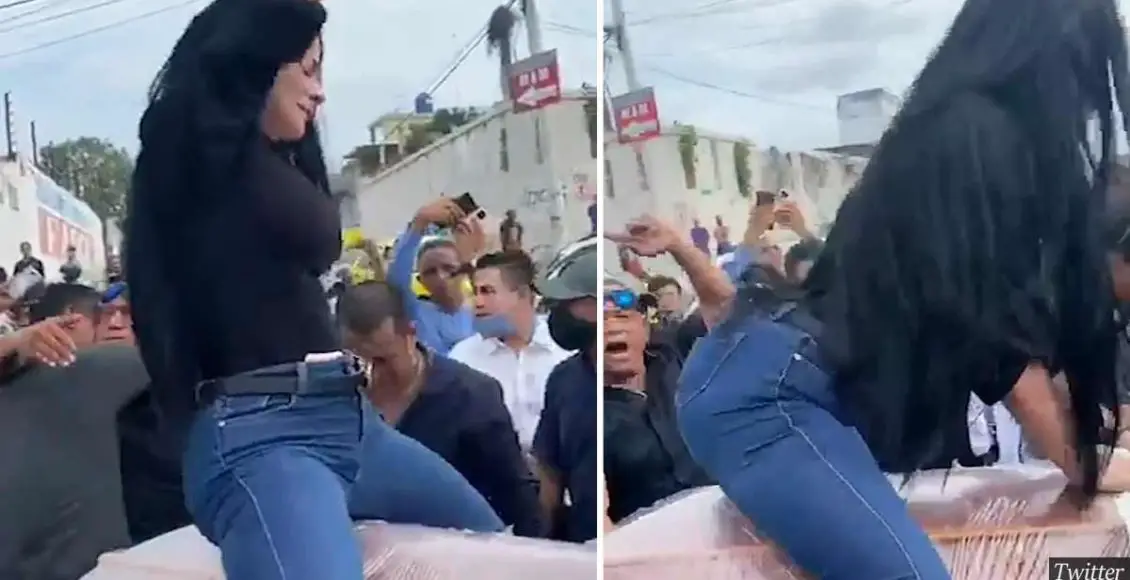 Footage of a woman TWERKING on top of a coffin went viral.
A 24-second video of a woman dancing provocatively while on a wooden coffin in front of a cheering crowd gained massive social media popularity. The unusual send-off is taking place in the city of Manta, in the province of Manabí, Ecuador, Daily Mail reports.
The coffin, which is balanced on two motorbikes, appears to be of the woman's deceased partner. While dancing, she leans over twice to plant a kiss on the glass covering her loved one's face.
The song she twerks to is called 'Ella Quiere Hmm..Haa..Hmm' by reggaeton artist Emcidues. Her dance moves went viral after a Twitter user posted the footage, with the caption: "If yo girl don't do this at yo funeral is she really yo girl?"
In a matter of just a few days, the video has been viewed over 10 million times.
If yo girl don't do this at yo funeral is she really yo girl? pic.twitter.com/TxbYLkm661

— DreadChapo.com (@OutSmokeChapo) September 14, 2020
The unique funeral celebration took place during the burial of a merchant called Marlon Mero Quijije. Quijije was shot dead in an area known by the locals as 'Siete puñaladas'(Seven stabbings), in the San José neighborhood, El Universo reveals.
Netizens who viewed the woman's unusual way of saying the last goodbye to her loved one are divided in their thoughts. While some claim it is an immoral way of treating a deceased person, others support her devotion, mentioning you could even see her tears during the performance.
One user commented: "I guess everybody grieves different but this takes it to a whole nother level."
Another wrote: "This is low key sad though because deep down I know she's hurting 💔"