Woman turns cheating ex-boyfriend's 'bulls*it apology' text into a viral song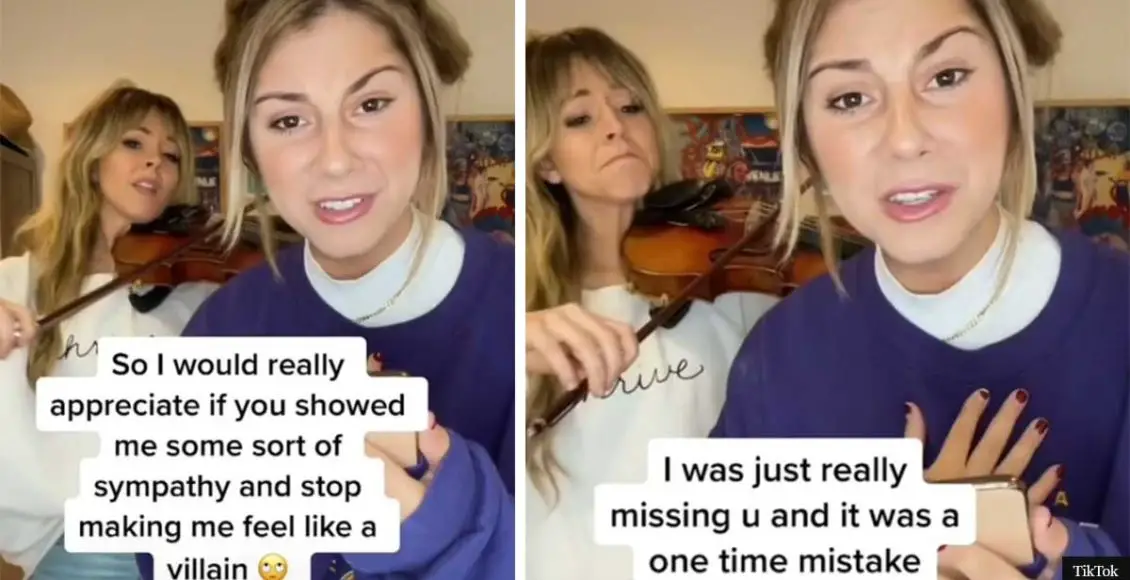 A songwriter just broke the Internet by turning her ex's "bulls*it apology text" into a viral sad violin song. 
Jax, an LA singer and songwriter, turned her ex-boyfriend's pathetic apology text into a viral song, Daily Mail reports. She even added sad violin sounds to make it much more moving than it actually was. Violinist Lindsey Stirling was happy to help.
The songwriter posted the video on TikTok, with the caption: "Adding sad violin to my ex's BS apology text 🎻"
Jax's fans clearly appreciated the idea, as in less than a week, the video gathered over 4 million views. 
Here's how the song goes, so you can sing along:
"Hey. I know you're probably not going to forgive me for what happened but I wanted a chance to explain.

I know it wasn't right that I 'technically' hooked up with your roommate.

But I've been going through a lot and that's not who I am.

I've been failing most of my classes, and you know I just got fired.

So I would really appreciate if you showed me some sort of sympathy and stop making me feel like a villain 🙄

Plus, you've been really busy at work and I've been feeling really alone 🥺

I was just really missing you and it was a one time mistake.

I love you so much more than Emily. What am I supposed to tell my family?

I'm sorry, ok?! 😭

Also… Did you change the Netflix password?"
As one social media user suggested, it turns out the whole apology was "to get the Netflix password." 
Another joked: "I'm not a bad guy! I just do bad guy things! Now, about that Netflix password…"
A third noted: "The amount of gaslight in his text."
Jax told Insider that the apology text was actually written a few years ago and that she recently rediscovered it before turning it into a song. She said:
"When writing, you kind of always take artistic license to make it work, really just a word here and there. But the song is really pretty close to the actual… We decided it would be funny to add really sad violin [music] behind this very lame apology text from an ex."
To continue the trend, the talented musician asked her followers to send her some of the crazy texts they have gotten from their ex-partners. Some of the responses were simply brilliant. One person replied:
"Oh God, I deleted mine. He literally tried to make himself the victim because I wasn't talking to him enough when my brother died. Broke up immediately." 
Another said:
"My last bf was 24 years ago(been with my husband 23 years!) and he wrote an 11-pg letter. You could make it into an opera 😂"
Jax hinted she may turn her fans' responses into a whole TikTok series, so stay tuned!