A woman overhears the craziest conversation: a man revealing he has a secret child to long-term girlfriend
Brooklyn author Maria Dahvana Headley had the chance to casually overhear an interesting exchange between a couple while at a Senegalese restaurant in New York.
She posted the most eye-catching moments on her Twitter feed.
After the revelation that the man had a secret 12-year-old child, he proceeded to gaslight the woman, who condemned his actions, into forgiving him.
Dahvana Headley made it clear that the reasoning behind her sharing this story was to 'expose' the man's "methods" of "emotional violence".
Honesty is one of the most important pillars that hold a relationship strong even when a certain amount of time has passed. However, when unexpected surprises come up, the said relationship can take a turn for the worse.
Therefore, as a result of the exchange overheard and shared by Maria Dahvana Headly on social media, one might come to realize that secrets have no place in an intimate relationship.
In a tweet thread which was originally posted in June 2017, Maria disclosed some intriguing details of one couple's relationship problems which happened to revolve around the man's revelation that he has a secret 12-year-old child.
Maria claims that there is one key reason as to why she put the conversation on her social media platform:
"This conversation took place in June of 2017, before the Weinstein revelations, before #MeToo gained traction – and it was a tremendously clear example of everything we've been talking about ever since – gaslighting and what it looks like in real time. Not to make fun of this guy, but to show people what it actually looks like when someone gaslights you. We can all read about what gaslighting is, but when it's happening to you, often you don't know what's going on."
The Brooklyn author also added the following:
"This is why I talk about things like this in public – I want victims to realize that they are not the ones at fault in scenarios like this one, and to depart these situations when they see the warning signs – lying, refusal to acknowledge wrongdoing, blaming the person they are lying to for judging them."
You can be certain the conversation is an intriguing one, so scroll down to see what went on!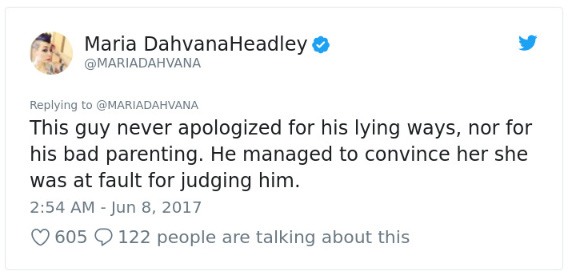 Credit: Maria DahvanaHeadley