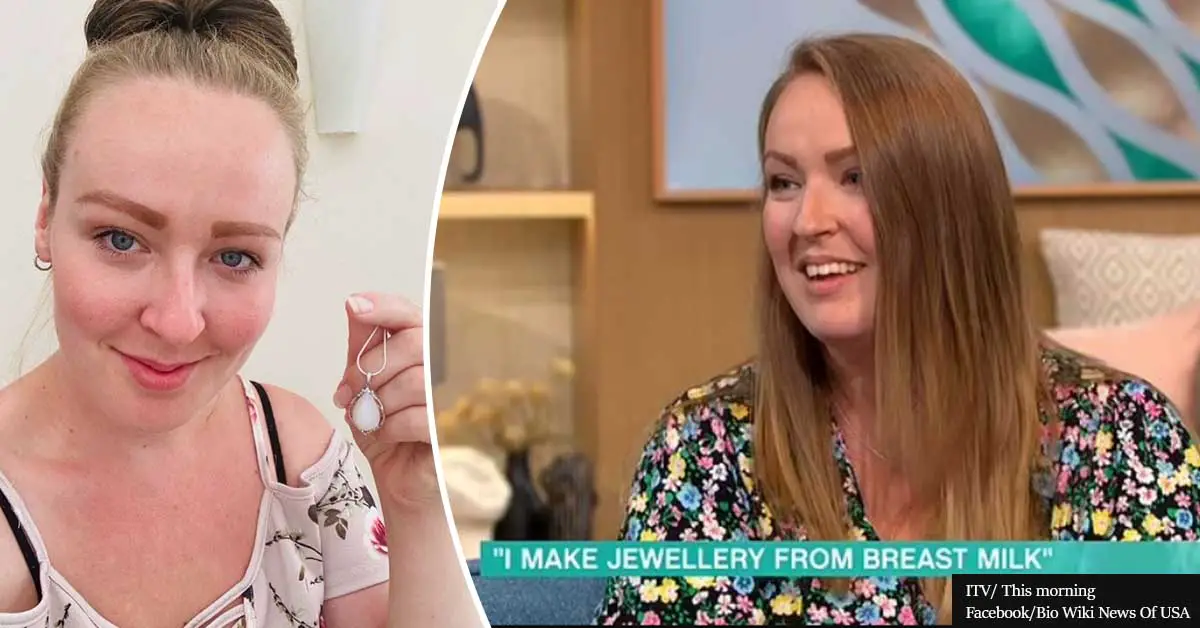 Woman makes jewelry out of BREASTMILK, and the Internet is absolutely baffled
Breastmilk jewelry: The accessory that divides the Internet for so many reasons. 
Alison Hawthorn, a mom-of-four from Wirral, UK, got viral for making jewelry out of… breastmilk. You read that right.
But wait, there's more: She plans on expanding her hobby using other body parts.
Speaking to the ITV show This Morning, the 30-year-old woman shared she got the usual idea while struggling with lockdown boredom, Newsner reveals. As quoted by Daily Mail, Alison explained:
"It was just before the first lockdown, a tough time for everyone. I felt like I was losing my mind, I was going crazy, it was just kids and nappies day in morning and night, and I said to Dan, my partner, 'I need to do something for myself.' I decided that my resolution for the brand new year would be to make jewelry with resin. I started making things like keyrings."
In the meantime, she was still breastfeeding her twin boys, and she wanted to create "something to celebrate our feeding journey."
The jewelry maker said:
"I had the breastmilk, I had the resin and I knew it could be done, so I just researched and researched, and practiced."
Although it initially started as a hobby, the strange accessories soon became an online sensation. 
At first, Alison started making jewelry out of breastmilk for herself and her loved ones only. However, she soon began receiving orders from other people wishing to have a piece of her interesting collection. She recalled:
"People send their breastmilk to me in the post. It's actually quite resilient; although it wouldn't be suitable to be eaten after this time out of the fridge, it's absolutely fine to go into the resin. Because it's so precious, women have a lot of it stashed in the freezer and don't know what to do with it."
Eventually, Alison began making all kinds of accessories, including necklaces, rings, earrings, and more. The massive success she achieved with her breastmilk jewelry inspired her to try working with other materials, such as pet fur, ashes, and even baby teeth.
What's more, the mom-of-four also revealed she has an order to make a piece out of the umbilical cord that a customer is still holding on to.
After learning of Alison's jewelry line, social media users are now divided. 
Some defend the inventor, saying that "anything that normalises breastfeeding is amazing." Meanwhile, others express disgust, asking: "how is this even a thing?"
I can't wait to get one done. 🥰 I feel like unless you have nursed and have felt that connection, you just won't understand. It's a beautiful way to commemorate your journey. Breastfeeding is hard and a beautiful thing. 💗

— Samantha Carling (@CarlingSC_2014) August 16, 2021
Breast milk as jewellery? Ewwww gross! Where do they find these people? #ThisMorning pic.twitter.com/jo7uXOqDzb

— elizabeth scott 🇬🇧🏴󠁧󠁢󠁳󠁣󠁴󠁿 (@suzysasha) August 16, 2021
However, Alison is not surprised she receives mixed reactions about her new business idea. She admits:
"I understand it's breast-milk, but, at the end of the day, it is only milk. There's nothing disgusting about it because it's natural."
What do you think of this story? Would you wear breastmilk jewelry? Leave a comment to let us know!