Woman who licked a tub of ice cream in a now viral video faces up to 20 years in prison, police say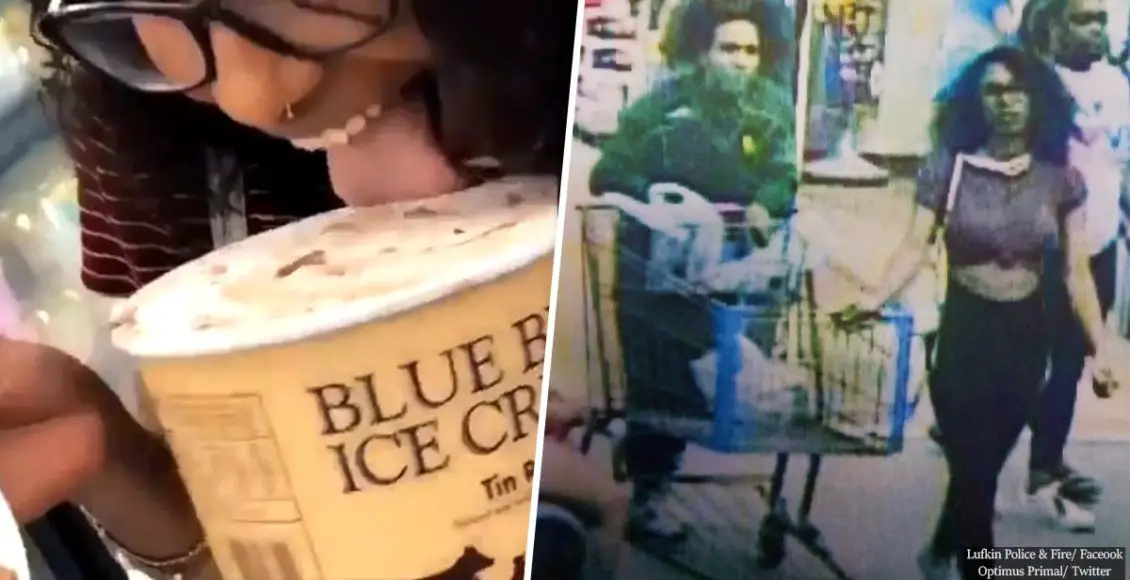 A woman walked into a Walmart in Lufkin, Texas, opened a container of Blue Bell, tasted the ice cream by licking it and then put it back in the freezer. She is now facing up to 20 years in jail.
A viral video was posted to Twitter on Saturday, showing the act. The man who was with her and recorded the video can be heard saying, "Lick it, lick it. Oh, you foul. Put it back, put it back."
The woman could now face up to 20 years in jail and up to $10,000 in fines, according to the Texas state penal code.
Even though the woman's identity is still a mystery to the public, police said they may have possibly identified her after 'detectives had obtained surveillance video placing a woman matching the suspect description in the Lufkin store on June 28 around 11 p.m.'
As soon as they verify the woman's identity an arrest warrant will likely be issued. A spokesperson added that the man's identity is also currently under investigation.
"Our detectives are working to verify the identity of the female suspect before a warrant is issued for her arrest on a charge of second-degree felony tampering with a consumer product.

As that portion of the investigation continues, detectives are focusing on identifying the male (in the green shirt) behind the camera seen in images of the two entering the store together.", the spokes person said as per NBC News.
According to the police, detectives will continue working on the case through the Fourth of July holiday.
Blue Bell Creameries, the manufacturer of the ice cream the woman licked, referred to the incident as a 'malicious act of food tampering'.
What kinda psychopathic behavior is this?! pic.twitter.com/T8AIdGpmuS

— Optimus Primal (@BlindDensetsu) June 29, 2019
Many people online wondered why Blue Bell products don't come with a plastic film to protect it from such adventurous tongues.
So why do they not have such a barrier?
Here's what Blue Bell had to say:
"During production, our half gallons are flipped upside down and sent to a hardening room where the ice cream freezes to the lid, creating a natural seal. The lids are frozen tightly to the carton. Any attempt at opening the product should be noticeable," the copmpany stated online.
How do you feel about this incident? Share your thoughts in the comment section below.