Woman Films Landlord Creeping Into Her Room And Sniffing Her Sheets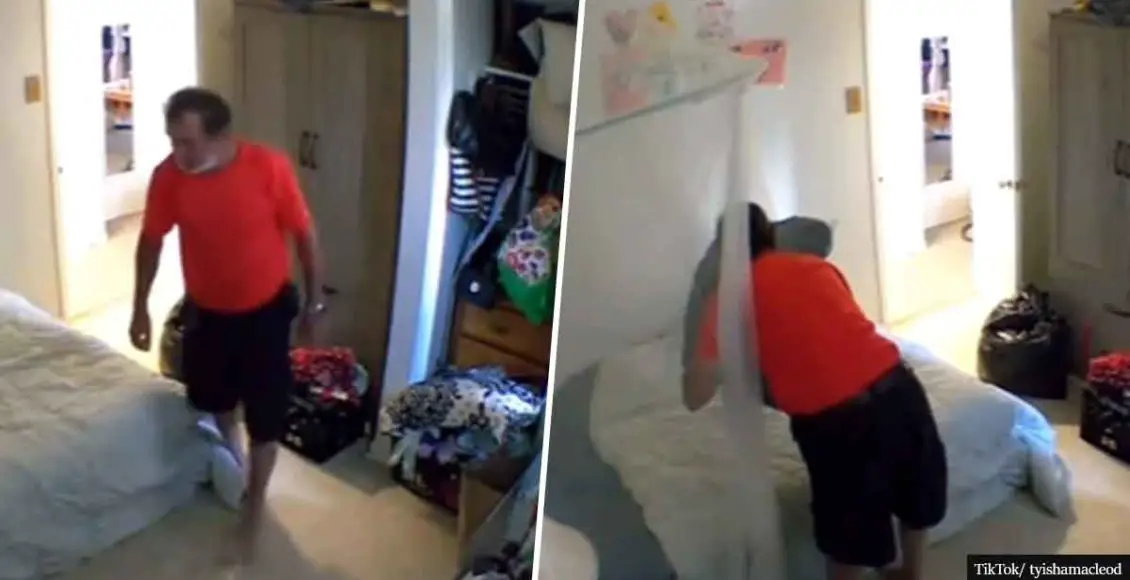 A woman recorded her unsuspecting landlord with hidden cameras while he was sneaking into her bedroom and sniffing her bedsheets. 
Teacher Tyisha Macleod, 24, was shocked when she saw the security footage, with one camera monitoring a view of the bedroom and another looking out over the living area.
It seems clear that the man had no clue Tyisha had put cameras around in the video she shared on TikTok recently.
In the CCTV footage, the landlord can be seen going inside the room and picking up the pillow on her bed.
He then digs his face into the pillowcase to smell it before carefully placing it where it was before.
He can then be seen picking up Tyisha's bedsheet before putting it back and quickly exiting the room as her friend unexpectedly enters the living room.
In another video, the woman's friend can be seen entering the living room talking to the landlord, who told her he had just been looking for the cat.
@tyishamacleod

I did contact police and I will be pressing charges!. Did I mention!? He went in my place multiple times while I was away! 😫Like for pt3 #foryoupage
But the rentee made it clear that she had not given him permission to enter the place.
In the second video, Tyisha explains that she talked to the police and will be pressing charges as her landlord 'went in [her] place multiple times while [she] was away'.
She also said she would be looking for another place.
The videos have been viewed millions of times since Tyisha posted them earlier in July.
People have advised her to change the locks while she is still living at the place, and one person advised her to try and press charges for 'trespass and stalking'.
Tyisha has said that some people have accused her of being a liar and staging the whole thing. However, she said she would 'show everything' once she's finished dealing with the police.
What are your thoughts on this story? Let us know by joining the conversation in the comments and please share this article if you've found it entertaining.