Woman 'AGHAST' after double spray tan leaves her looking like Ross from Friends
"Was that place THE SUN?!" A woman reveals how her pre-wedding spray tan left her looking like Ross from Friends.
Derrie Mathews, 36, from Buckinghamshire, UK, decided to get spray-tanned before a wedding to turn her "super pale complexion" into a sunkissed-looking skin. Unfortunately, things didn't go as planned.
The natural redhead got the £25 treatment three days before the event. However, she wasn't happy with the results from the first procedure, so she asked for another. This decision left her completely "aghast" as her tan came out much darker than she wanted it to be.
The 36-year-old childminder noticed the dramatic change in her tan the following morning. Understandably, she was absolutely baffled at what had happened to her skin tone.
As per Daily Mail, she explained:
"l was aghast at what I looked like. My husband couldn't stop laughing, and my daughter was petrified that anyone would see me.

I was going to a wedding, and I'm super, super pale – I am really freckly and white. So, I just asked the girl if she would do it twice, so much darker."
"It was just getting darker and darker and darker…"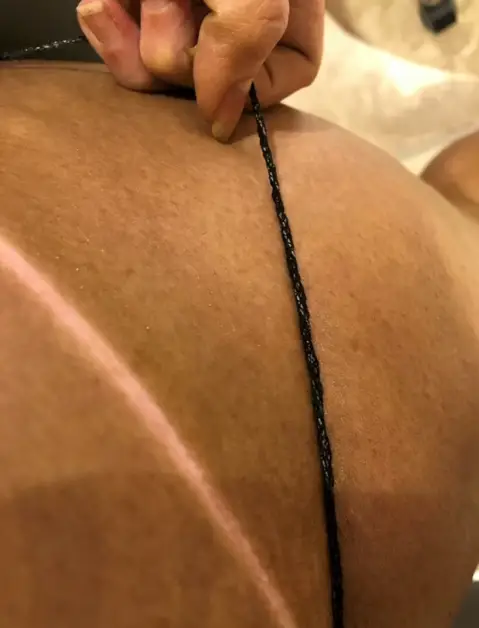 Derrie continued:
"You have to leave it on for eight hours and then wash it off after, and it was just getting darker and darker and darker. But I didn't wash it off after eight hours because it stops developing then."
The moment she looked in the mirror that morning, Derrie couldn't believe her eyes. Meanwhile, her husband was having far too much fun with her tanning disaster. She said:
"My husband couldn't stop laughing. I knew I looked so ridiculous, so I didn't tell him not to do it. I fully deserved everything!"
Derrie's story pretty much reminds us of the moment when Ross from Friends visits that tanning place Monica suggested. 
In the 10th season of the TV show, in "The One with Ross's Tan" episode, David Schwimmer's character makes a similar mistake. After misunderstanding the tanning process, instead of getting a lighter grade "two" shade, he ends up with a far darker grade "eight" shade.
Derrie joked:
"When the girl did it, my friend was with me, and I was saying, 'I'm an eight, I'm an eight' because that's what Ross says!"
At the wedding, Derrie was the second-best attraction after the newlyweds.
Due to her tanning incident, she experienced an "absolute ripping" from her friends. However, she somehow managed to look on the bright side.
"It's made my teeth look so white. I can't stop smiling and looking in the mirror, but then I see my face and I think: 'Oh god'."
Despite her unsuccessful pre-wedding tanning procedure, the childminder insists she would do it again. She asserted:
"I will go back – it makes me feel better when I have a tan. It's nice to have a little bit of colour, but not the boot polish look – it's not for me, I must say."