Woman Adopts A Senior Shelter Dog Only To Realize It's Actually Her Childhood Best Friend
Life is unpredictable and can sometimes bring people and animals together after a long time apart.
Nicole Grimes was an only child. Hence, her grandmother bought her a puppy for her 10th birthday.
Nicole and her Pomeranian-Poodle cross dog became inseparable best friends.
Sadly, their circumstances changed when Nicole's dad switched jobs and had to start working from home. Due to his need for a quiet work environment, he was forced to remove all distractions, including the barking…
When Nicole was 14 years of age, her dad left her loving dog, Chloe, at the Washington Area Humane Society.
Needless to say, it was a heart-wrenching experience for both of them.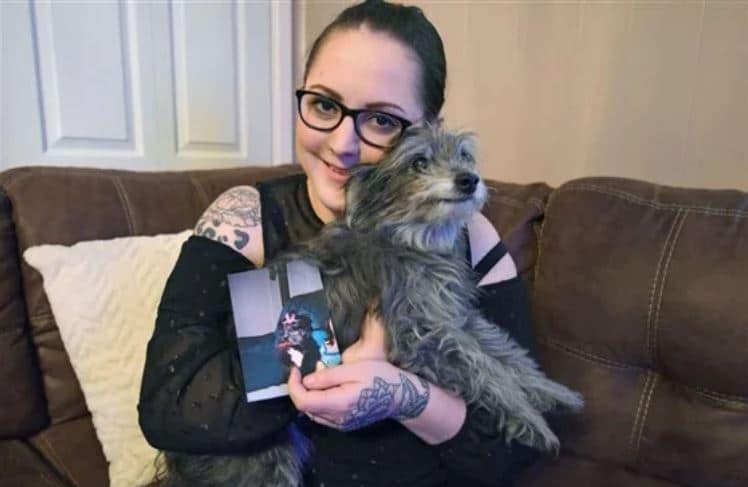 8 long years later,  while Nicole was surfing on Facebook, she came across a post about an old dog who was in need of a home. Coincidentally, it was a Pomeranian-Poodle mix and was named Chloe. In addition, she was 11-years-old, the same age that Nicole's dog would have been at the time.
Haunted by a strange feeling that this could be her own Chloe, Nicole went to see the dog. When they met, the happy dog licked Nicole's face exactly like Chloe used to when she was little, and Nicole needed no more proof that it was her dog. Still, Nicole's family was unsure, so they brought Chloe to a veterinarian in order to scan her for a microchip – and it really turned out to be Chloe who was given to the shelter 8 years ago.
Currently, Nicole is married and has two children of her own. She is thankful for being able to reunite with her beloved Chloe – especially since her grandma who gave her the sweet pet died 3 years before that.
The duo is now making up for their lost time together and Chloe can finally enjoy a loving home again. 
What are your thoughts on this heartwarming story? Let us know by joining the conversation in the comments and please share this article if you enjoyed the read.