Inked-up woman, 55, who has spent nearly £30,000($40,000) on her numerous colorful tattoos proves that older people rock the inked look too. 
A 55-year-old woman has spent thousands on covering up all of her body in tattoos. 
Curious admirers often question her if she has tattoos on her genitals as well. 
While she admits she enjoys her ink, the colorful lady wants to prove that older people can also look hot in tattoos.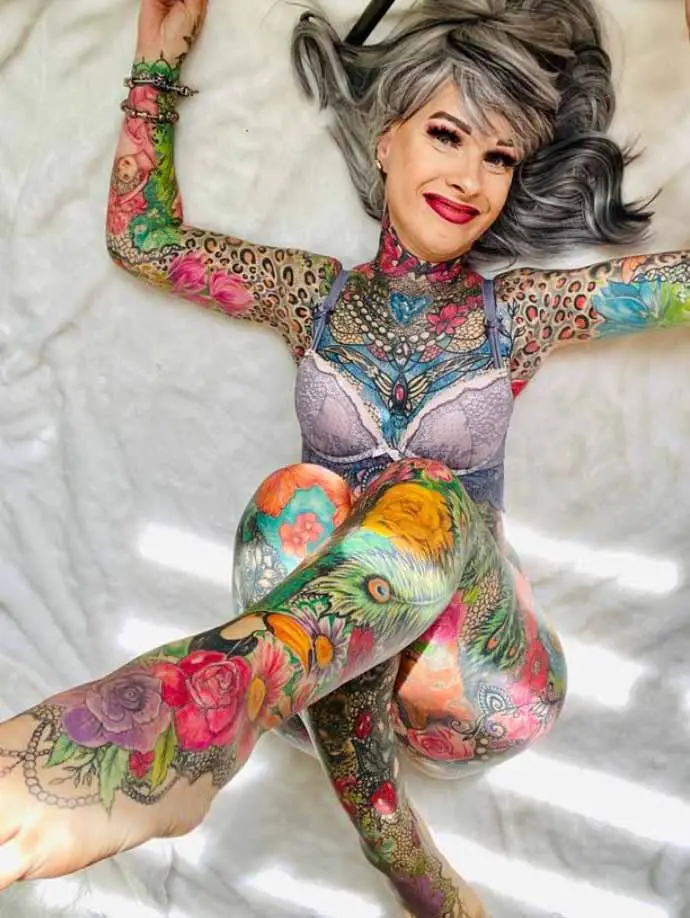 Kerstin Ehe, 55, from Leipzig, Germany, got her first tattoo in 2015. Since then, she fell in love with that modern form of art and has spent thousands on getting her whole body inked.
As Metro reveals, Kerstin, a full-time taxi driver, admits she had no idea she would enjoy her tattoos so much when she got her first one five years ago. She explains:
"The first-ever tattoo I got was going to be on my hand which my tattoo artist didn't actually want to do because she thought it would be too painful for my first time. We started at the top of my upper arm and I always wanted to have more and more added after that. I enjoy looking so beautiful, colorful, and extraordinary. I like making people smile with my tattoos of flowers and butterflies and I wanted something that would last for eternity."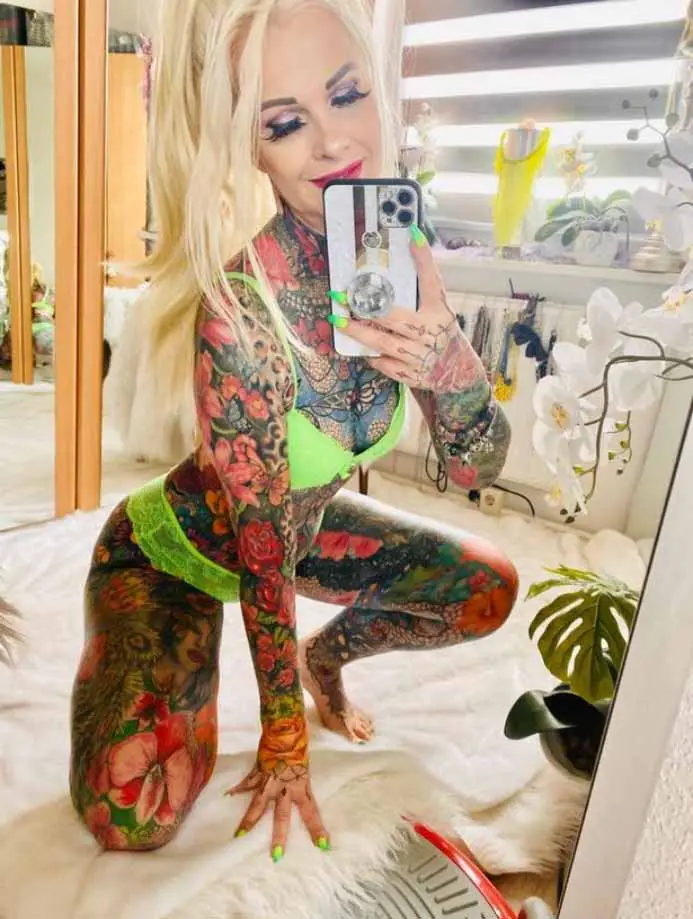 The 55-year-old's unique appearance triggers many weird comments and questions regarding her tattoos.
One of the most bizarre questions Ehe has been asked is if she has her genitals tattooed as well. 
While this particular detail remains a mystery, Kerstin is not afraid to open up about how much she has spent on her body art.
"I don't drink, I don't smoke, I don't go on holidays, I don't have an expensive apartment, I invest everything I have in tattoos. I've spent between €25,000 to €30,000[nearly $40,000] on them."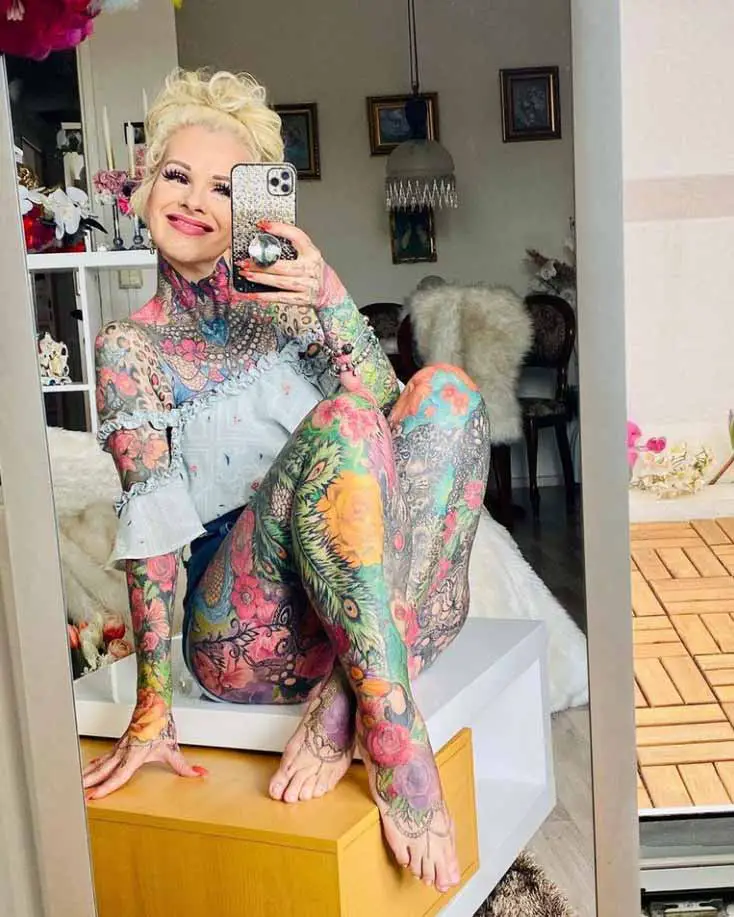 Her bright-colored designs are mostly inspired by her passion for flowers, butterflies, and skulls. The inked-up lady shares that the most painful spots for her tattoos were her ribs, feet, and ankles. However, she firmly believes that "the pain is all in the head."
Despite the weirs and sometimes mean comments, Kerstin often meets people who admire her tattoos and her course to color up nearly every part of her body. She shares:
"Some people tell me it doesn't look good or that I have too many or that I should think about what I'm going to look like when I'm older and my skin is wrinkled. We all grow old, there is no way around it but many people don't understand that it doesn't matter if you are covered in tattoos or not; everyone's skin is going to look old and you only live once."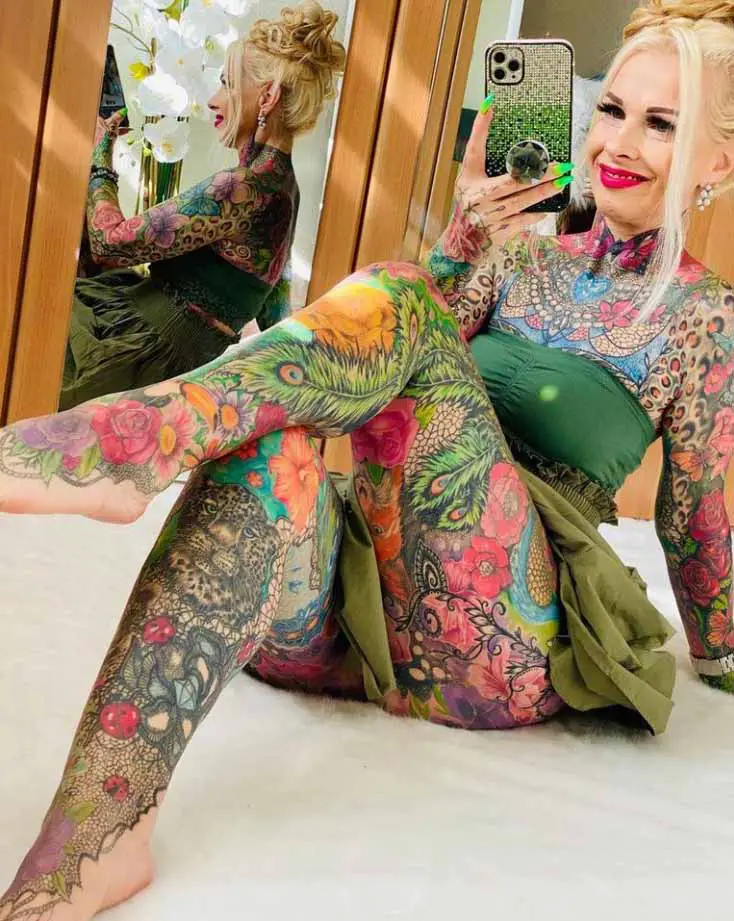 Are you a fan of tattoo art? Do you have tattoos yourself? Let us know in the comment section!