Witness The Inspiring Moment Three People Joined Hands To Rescue An Elderly Man From A Burning Building
An inspiring video shows people joining hands to save a man stuck in a burning building. 
Last year in April, a devastating fire broke out in an apartment building in Montereau-Fault-Yonne, France, and without thinking twice, three mean jumped into action.
Dombaev Dzhambulat, Ouloubaev Asla and Ahmedov Muhsinjon climbed up to the third floor to rescue an old man cornered by the flames. Thankfully, the three heroes were able to safely transport him to another apartment.
"I did not have time to be afraid, I had to go," Asla told the media, according to the Daily Kos.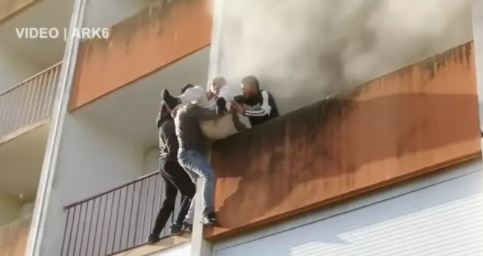 The video was recently shared to the r/nextf*ckinglevel subreddit by u/Vesko567.
One person in the comments wrote:
"I salute to them who don't have a second thought to risk their life."
Another said:
"So gratifying that several people actually thought to help and not just film."
A third commented:
"Not many people there probably capable of climbing that building and then carrying a guy while also still hanging from the balcony. It's nice to blame those who stand by and watch but at least they didn't make anything worse with their stupidity or ego."
A fourth added:
"Whoever mounted the railing on that balcony is a true hero as well."
And another wrote:
"I'm so glad this went right, you could just see soo many ways that this could of gone wrong it looked pretty unsafe the way that guy had to hold the old fella whilst standing on the outside of the balcony well done to his strength."
Check out the video by clicking below.
While people cheered the successful rescuing of the elderly man, sadly, a mother and her 3-year-old daughter died in the fire, while 10 others suffered injuries.
What are your thoughts on this story? Let us know by joining the conversation in the comments and please share this article if you've enjoyed the read.