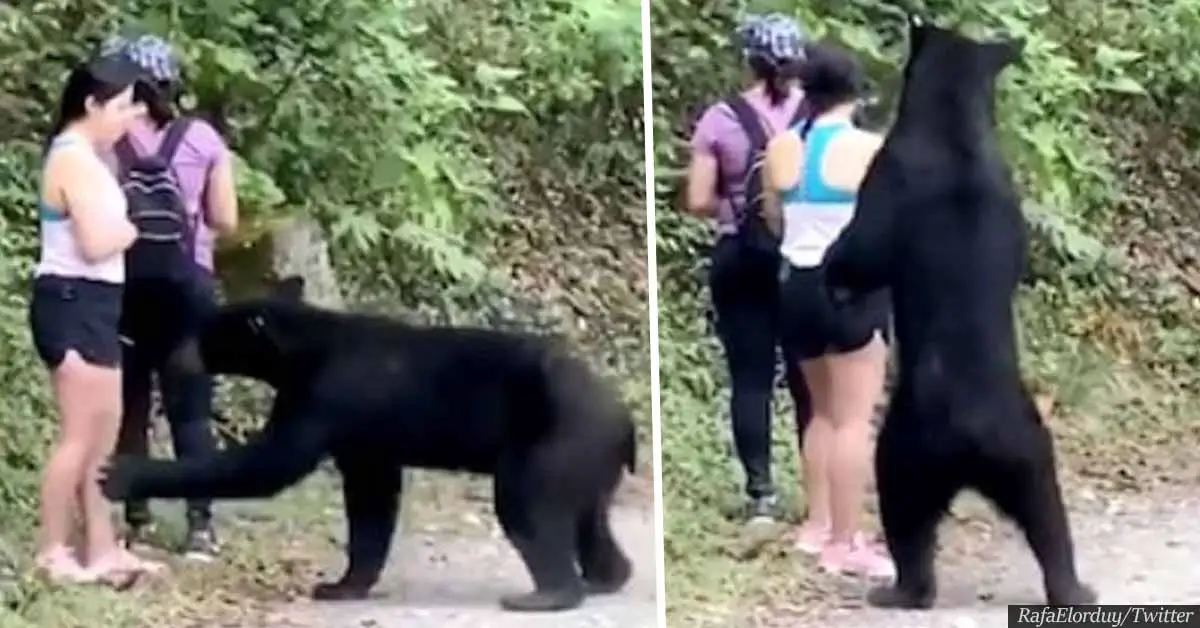 Wild Bear That Sniffed Woman's Hair Has Been Captured And Castrated
Authorities in Mexico are investigating the castration of a black beer captured on video sniffing the hair of a woman in an eco-park in July. 
The animal was caught by the country's environmental protection agency Profepa, which intends to move it to another state. According to the agency, the 96-kilogram bear has gotten too used to humans because visitors to the Chipinque Ecological Park in Nuevo Leon keep on feeding it and often get too close.
The viral video of the bear's close interaction with the woman shows her frozen in her tracks with two other women while the bear stands behind her, sniffs her hair, and gently slaps her with its paw.
The clip even shows the hiker taking a selfie with the bear while other people try to chase it away with sounds. It then goes on its way without harming anyone.
Black bear approached the group of hikers

Mexico: Woman takes selfie with bear hiking trail.The black bear approached the group of hikers then sniffed and nudged one of them, who managed to take a selfie while remaining calm.Could you stay still?!

Posted by The London Economic on Tuesday, July 21, 2020
Profepa released a statement saying there have been other instances of the same bear interacting with people in the area.
Park officials said it was the same bear that chased a woman who was walking down a street and wrapped its arms around her leg and also poked her with its nose.
Veterinarians at the Autonomous University of Nuevo Leon caught the animal, castrated it, and gave it a tracking collar. The decision was approved by Profepa's director-general for wildlife control, according to whom the animal needed to be castrated in order to prevent fights with other bears once it is released in the Sierra de Nido area in Chihuahua.
Some people on the web expressed their worries for the animal, saying it has grown up going through the garbage and might not make it in the wilderness.
An online petition has been started and it says the bear is paying the price for "human recklessness."
Do you believe this bear should have been spared from castration? Let us know your thoughts on the story by joining the conversation in the comments and please share if you've found this article informative.