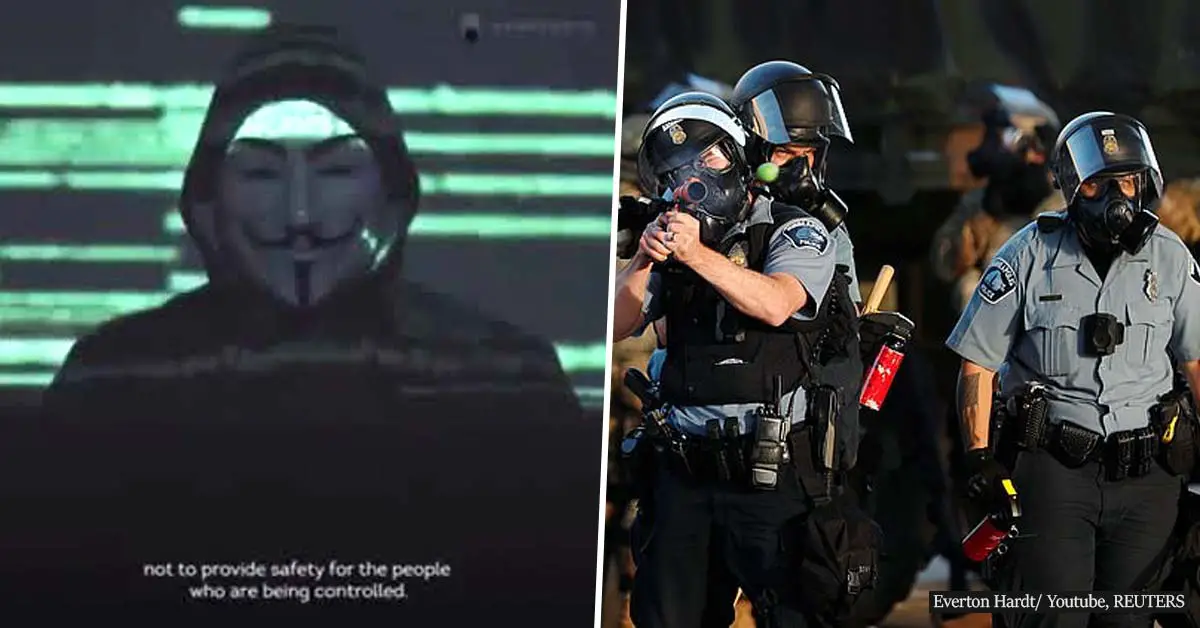 'We'll expose you': Anonymous is back and threatens to reveal US secrets
The hacker group 'Anonymous' has announced its return by organizing an attack on the websites of the Minneapolis Police Department and the city of Minneapolis. 
After the hacktivists took down the official websites, they warned the government of the United States that if it didn't provide justice in the death of George Floyd, they would further reveal its darkest secrets, as reported by UP Worthy.
OKAY I FEEL LIKE WE ARE IN A MOVIE BUT HELL MEN ANONYMOUS WILL SHOW NO MERCY JUST LIKE YOU DID. HAVE A TASTE OF YOUR OWN MEDICINE. #Anonymousisback pic.twitter.com/UaxoaSbLgQ

— Marthina (@Monstarvas) May 31, 2020
In a video message from last Thursday, Anonymous threatened the US government to expose its unlawfulness if they don't deliver justice for Mr. Floyd's murder. Furthermore, on Sunday, both Minneapolis' websites showed signs of cyber attacks, as Time reports.
Anonymous posted a video on social media, slamming the Minneapolis Police Department's terrifying record of corruption and police brutality.
Typically for the secret organization, an unnamed person wearing a Guy Fawkes mask narrated the video, saying:
"This week's brutal killing of George Floyd, which has sparked protests and national outrage, is just the tip of the iceberg in a long list of high profile cases of wrongful deaths at the hands of officers in your state."
The Minneapolis PD website has been taken offline by Anonymous & they're threatening to take down any government website for any organization attacking protestors

— William LeGate (@williamlegate) May 31, 2020
Along with the websites of the Minneapolis Police Department and the city of Minneapolis, Anonymous has allegedly hacked Chicago PD radios and played the NWA track 'Fu*k Da Police', to stop them from communicating as the protests broke out through their city.
Hijacked chicago police radio plays NWA's "Fuck The Police" pic.twitter.com/I3NWWYZwem

— doomer zoomer (@doomerzoomeer) May 31, 2020
The anon narrator closes the threatening video with the words:
"These officers must face criminal charges. And officer Chauvin especially should face murder charges. Unfortunately, we do not trust your corrupt organization to carry out justice, so we will be exposing your many crimes to the world. We are a legion. Expect us."
The famous hacker group debuted on digital platforms in the early 2000s.
Anonymous, also known as Anon, is believed to have emerged on 4chan, an anonymous imageboard website. The hacktivists took on popular organizations such as the FBI, ISIS, and Clintons. Some of Anon's high profile attacks include MasterCard and Ku Klux Klan.
Moreover, during the Arab Spring, a series of anti-government protests in the early 2010s, the hacktivists took down government websites in Tunisia and Egypt. In 2012, they cost PayPal millions for shutting its service to Julian Assange's Wikileaks.
Throughout the years, many hackers purported to be members of the secret group were arrested for cybercrimes. For instance, Deric Lostutter was sentenced to two years in federal prison for hacking a high school football team's website concerning a 2012 rape case. Additionally, at the end of 2019, James Robinson was sentenced to six years in prison for attacks on police and local government in Akron, Ohio in 2017.
#Anonymous talking about Education really got me tho, so true #Anonymousisback pic.twitter.com/hm2AXmhCWx

— Mila naira °° (@Davidmila7) May 31, 2020
This was not the first time Anonymous has raised its voice against police brutality. In 2014, they attacked Ferguson City Hall's website after Michael Brown, an 18-year-old black man, was shot dead by a police officer. The hacktivists threatened to release St. Louis County police chief's personal family information and to continue with their cyber attacks.
Brown's death sparked a wave of protests, similar to the present situation after George Floyd's killing. 
In the documentary 'We Are Legion' made by the American filmmaker Brian Knappenberger in 2012, the hacker group is presented like 'sort of protectors of the Internet'. Knappenberger says:
"They rise up most forcefully when it comes to Internet freedoms and technology, particularly technology that is being abused in some way… This is their territory, and if it's abused, they're personally offended."
Some of the stunning claims Anonymous have announced through the years are that they have proof that Donald Trump was involved with Jeffrey Epstein's child traffic deeds, and that Princess Diana's death was intentionally caused by the Royal Family.