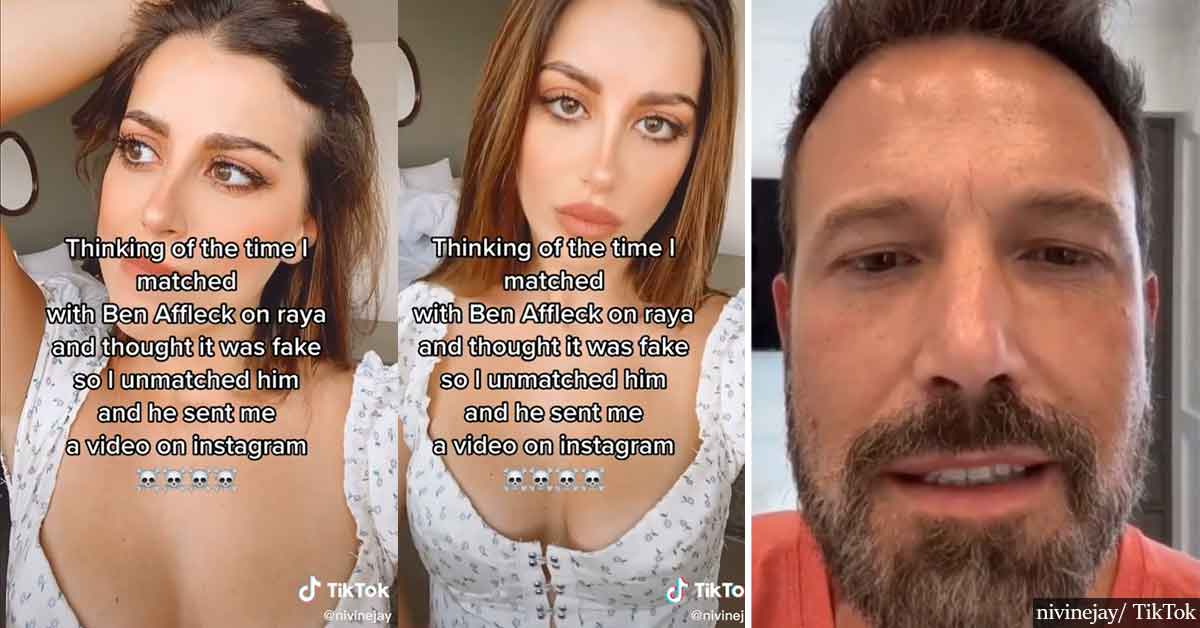 VIRAL VIDEO Shows Ben Affleck Pursuing Woman After She Turned Him Down On Dating App
A clip of Ben Affleck chasing a model has surfaced after she unmatched him on the Raya celebrity app.
The actor's short video to the woman started circling the web when her TikTok video about unmatching him went viral.
The model, named Nivine Jay, explained in her video that she unmatched Affleck because she thought his profile was not real.
"Thinking of the time I matched with Ben Affleck on Raya and thought it was fake so I unmatched him and he sent me a video on Instagram," she captioned her video.
For background music, the TikToker chose the song "Waking Up in the Morning" by Gia Giudice.
In the video Affleck sent her, he talked directly to the camera trying to confirm it really was him she matched with.
"Nivine, why did you unmatch me? It's me," he said.
The viral TikTok video comes as Affleck was seen spending time with ex-partner Jennifer Lopez.
Despite the couple – who dated between 2002 and 2004 – hanging out together, recently, they are "strictly friends" as per TMZ.
The website reported that even though the two are just friends at the moment, nobody knows what the cards might hold for them in the future.
Paparazzi were able to capture Affleck coming out of Lopez's vehicle last week – raising questions of whether they might have reunited.
A source also told Page Six the following about their meetings:
"Security picks him up at a nearby location and drops him off after spending a few hours at her house."
After his fiery relationship with Lopez, the Batman star went on to marry Jennifer Garner in 2005 who blessed him with three children. They divorced in 2018.
He most recently was dating Knives Out actress Ana de Armas.
What are your thoughts on this story? Let us know by joining the conversation in the comments and please share this article if you've enjoyed the read.