VIDEO: Woman found ALIVE at sea after she went missing TWO YEARS ago
A Colombian woman who went missing two years ago was discovered ALIVE at sea. 
Fishermen found a woman floating in the sea after she went missing two years ago.

Angelica Gaitan, 46, was discovered unresponsive but ALIVE near the shore of Puerto Colombia. 

The woman was hiding from her abusive partner, who tried to kill her in 2018.
As per the New York Post, Angelica Gaitan, 46, was found floating unconscious 1.2 miles off of Puerto Colombia by the fisherman Roland Visbal. The miraculously discovered woman said: "Thank God I was alive!" The rescuer caught the striking moment on camera.
When Visbal and his friend Gustavo first spotted the castaway, they thought it was just a piece of driftwood. She then started raising her hands to signal for help. While she was in the cold waters, she stayed afloat for hours as sharks circled her as she drifted in and out of consciousness, The Sun reveals.
In the now-viral video, the men can be heard trying to get Gaitan's attention by calling her out. However, at the time they found her, she was unresponsive. Reports reveal she suffered from exhaustion and hypothermia.
Luckily, the fishermen managed to save the woman with the help of a rope attached to a life preserver they had thrown to her.
The victim's first words reportedly were: "I was born again. God did not want me to die."
As soon as Angelica was out of the sea, she burst into tears. Although Roland and Gustavo's attempts to communicate with the castaway right after they saved her failed, they managed to bring the survivor to shore. Locals immediately rushed to help Gaitan and took her to a nearby hospital.
The woman's chilling backstory came to light as soon as she was identified. Two years ago, her family had lost touch with her, not knowing where she was and was she even alive. As it turns out, she was trying to escape from her partner's abusive behavior, which lasted for 20 years before she ran away.
In a shocking interview with RCN radio, Angelica revealed:
"The abuse began in the first pregnancy. He beat me, he violently abused me. In my second pregnancy, the abuse continued and I could not get away from him because the girls were small."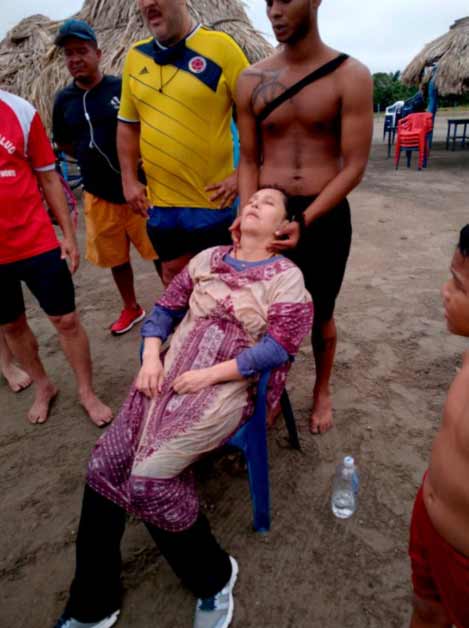 What is more, as per Mirror, even when she reported the domestic abuse to local authorities, police only detained her partner for 24 hours, after which he would return home and resume assaulting her.
However, tho years ago, the woman decided she couldn't take it anymore.
In September 2018, in a horrific scene, her partner 'broke her face and tried to kill her.' The victim had no other choice but to run away. She stayed in Barranquilla for six months. Sadly, she couldn't get help at a homeless shelter she went to, so she fell into a deep depression. There were times when she thought of ending her life. She ended up in the sea after taking a bus to the beach and jumping into the waters. 
"I did not want to continue with my life."
Police are currently investigating her case. With the help of local media, they identified one of Angelica's daughters, Alejandra Castiblanco. Alejandra and her sister are now raising money, as they can't afford to take heir mother to their Bogotá home without help from others.