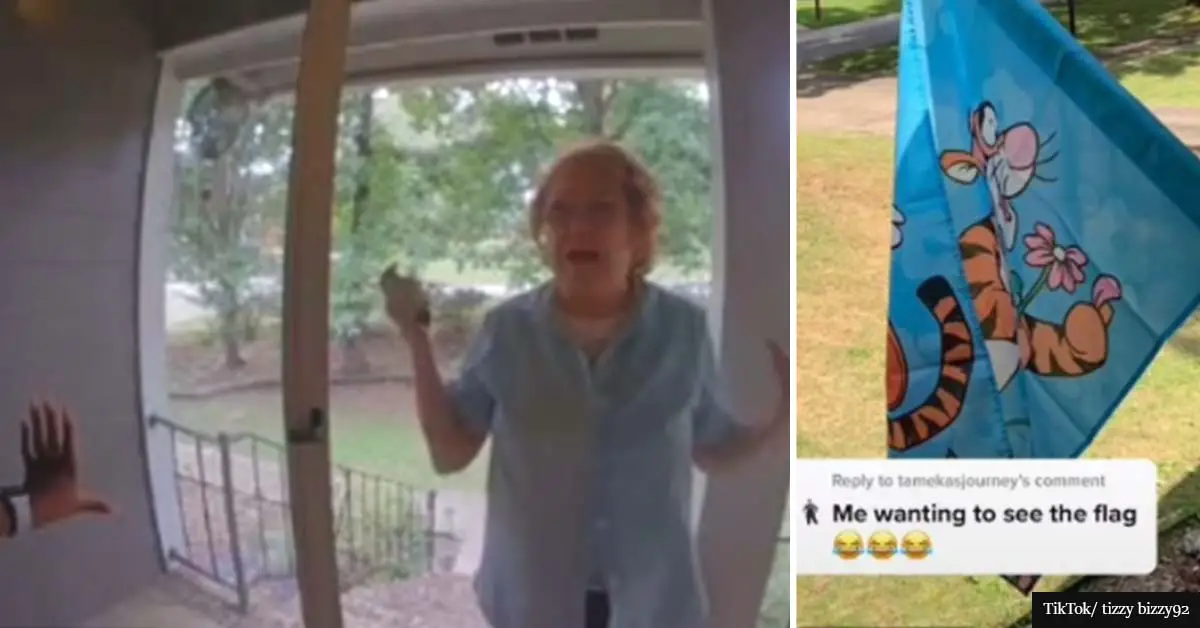 Furious woman threatens neighbor for having a 'tacky' Tigger flag next to the Stars and Stripes on her lawn
An outraged Alabama lady demands her neighbor to remove the Tigger flag from their porch because "it makes the neighborhood look tacky."
A TikToker recently posted a video showing a furious woman knocking on her door and complaining about a flag of Tigger from Winnie-the-Pooh. According to the angry neighbor, the flag made the whole neighborhood look "tacky," as noted by Daily Mail.
In the footage, the old lady can be heard saying:
"I want to talk about this Tigger flag. I don't like it."
Although the woman approved of the American flag, she demanded her neighbor to get rid of the Tigger one because "there's rules for the community." 
When the TikToker asked the irate woman why she wanted her to remove the flag, she responded:
"I thought the American flag was real nice. I don't say nothing about the shrubbery being cut. I don't say nothing about the backyard. But now, I don't like this."
The social media user, known as Ambrosia, made another attempt to learn why her neighbor didn't like the Disney flag. However, the old lady said:
"I'm just telling you I don't like it. We have rules."
Ambrosia tried to explain their neighborhood was not part of the Homeowner's Association, but the angry woman insisted:
"But there's rules for the community… It's called Williamsburg something, and there's rules."
The woman had no idea what these alleged rules were, but she noted the flag makes the area look "tacky."
The TikToker responded politely:
"It's okay. You're allowed your opinion… Have a good day."
To clarify the situation, Ambrosia posted a follow-up video showing the controversial Tigger flag.
She also told her followers that TikTok banned her account for posting the first video, but she soon appealed it, and "they put it back up."
What's more, in a third clip, the social media user claims her annoyed neighbor made a "drive-by apology." Ambrosia said:
"She was literally driving by when she shouted out the window 'I'm sorry.'"
Do you think neighbors should be allowed to tell you what kind of flags you can put in front of your house? Let us know in the comment section!