Veteran's touching note requesting company for Veterans Day dinner goes viral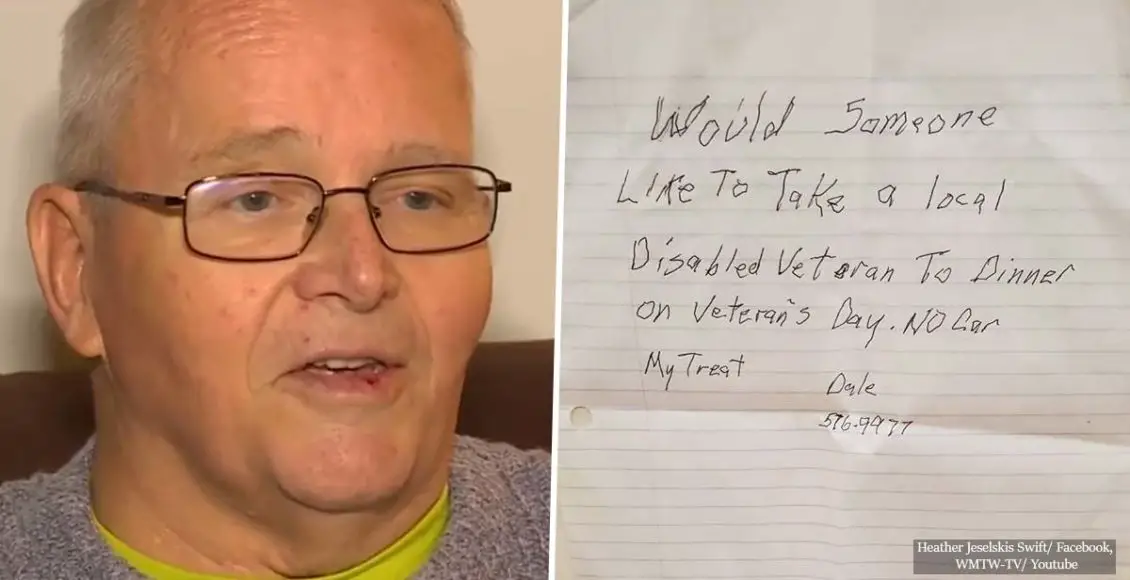 A veteran has gotten an overwhelming response from the online community after posting a handwritten note at a barbershop.
As Veteran's Day was around the corner, Lyndon Dale Flowers from Lewiston, Maine, was hoping to find someone to spend time with.
"I wasn't gonna have anyone available to go to lunch with on Veterans Day," he told WMTW.
Dale left a note at Judy and Heather's Barbershop, asking if anyone would be interested to have dinner with him on Veteran's Day. It read:
"Would someone like to take a local disabled veteran to dinner on Veterans Day? No car. My treat,"
He had also written his phone number at the bottom of the page.
After he left the note, Heather Jeselskis Swift, of Judy and Heather's, made a photo of it and shared it on Facebook, where it quickly went viral and brought Dale massive support from all over the country, earning him a lunch meal with a fellow resident of Maine.
"I went on Facebook for a minute and that just happened to pop up, and I said, 'I can't take you to dinner, but I can take you to lunch,'" Sandy Washer told WMTW.
Sandy, whose father was in the service for 20 years, drove 40 minutes from Norway, Maine – along with her family – in order to take Dale out for a meal.
The wonderful gesture warmed Dale's heart and served as a reminder to him "that there's people out there that care."
And Dale didn't stop at just one Veteran's Day lunch. As he revealed to WMTW, he has "already got eyes on Thanksgiving and Christmas for dinner."
On social media, the people who were not able to take the veteran out for a meal left messages requesting his location, so they could send him postcards. Some of them also said they followed up with phone calls and texts to give him their best wishes.
"Where is he? It would be my honor to do this," one woman wrote. "I would also like to invite him to [Thanksgiving] if he is in need."

"I just texted him. Not sure if I should call, but I'm totally taking this guy out!" another added.
See WMTW-TV's report on the story in the video below:
What are your thoughts on this touching story? Let us know by joining the conversation in the comments, and please share this article if you enjoyed the read.