13 Van Gogh Quotes That Will Make Your Life More Beautiful
Sometimes, even dark personalities can utter positive and deeply inspiring quotes. Such is the case with Vincent Willem van Gogh (30 March 1853 – 29 July 1890), arguably the greatest Dutch post-impressionist painter.
If you browse through his quotes below, you'll hardly come to suspect that they are a creation of a deeply troubled mind. And yet, this is true.
Van Gogh's talent was not like a creative explosion in the history of art. Rather, it was a slow and intermittent process. It was not until he had turned twenty-seven years of age that he decided to fully give himself to art. But when he did, it was a true devotion!
In just over a decade Vincent created about 2,100 pieces of art. Art researchers say that the great Dutch artist created a total of 860 oil paintings, most of them in the last two years of his life. And because he was so preoccupied with his art, he paid little attention to the world around him, including his own health.
Relationship with brother Theo, life hardships
When writing a biographical note on someone we usually mention his mother and father. Speaking of Van Gogh, however, the notion of family is confined to his younger brother, Theo – a successful art dealer who supported him financially and morally throughout his life.
Indicative of the strong bond between the two brothers is the fact that Theo died, grief-stricken, in 1891, just a year after his brother, Vincent.
In spite of the fact that Van Gogh created one of the most expensive oil paintings of history – his Portrait of Dr. Gachet, which he painted in 1890, sold for $82.5 million a hundred years later – he spent the majority of his short life in sadness, austerity, and misery.
It is not certain whether his financial instability was the result of his mental instability or vice versa. It is known for a fact that Van Gogh often suffered psychotic episodes and lapsed into delusions and heavy drinking.
For most of his life, Vincent's diet consisted of bread, coffee, tobacco, and alcohol, with a disticnt preference for absinthe. In a letter to his brother, Theo, dated  February 1886, Van Gogh writes he could only remember eating six square meals since the previous May and that his teeth had become loose and painful.
Van Gogh and his fallen muses
Every artist has its muses, you will agree. In Van Gogh's case, however, these were prostitutes and generally fallen women, with whom he used to commiserate. His medical record reveals that on one occasion was hospitalized and received treatment for gonorrhea.  
In August 1881, he had a crush for his cousin Kee, who rejected his advances with the words "No, nay, never". The artist refused to accept her rejection and, in November the same year, he took the train to Amsterdam. Kee did not want to meet him and, driven by despair, he held his left hand in the flame of a lamp, screaming at the top of his lungs: "Let me see her for as long as I can keep my hand in the flame!"
Alas, his romantic outburst of passion wasn't enough to make the stubborn cousin change her mind and Van Gogh soon found consolation for his failure in the arms of Clasina Maria "Sien" Hoornik, a prostitute he met in 1882. At the time of their first meeting, Sien had a five-year-old daughter and was pregnant.
Van Gogh sketched many portraits of Sien, but when his brother, Theo, threatened to cut off his allowance unless he discontinued his affair with the prostitute, the artist took his word and left her.
Famous works
Art connoisseurs unanimously agree that The Potato Eaters, completed at the beginning of May 1885, is Van Gogh's first major work. In his own words, the painting was intended to offer a truthful representation of peasants' life.
1889 was a particularly good year for Vincent as he finished three of his most famous paintings – The Starry Night, Irises and Self-portrait with Bandaged Ear and Pipe. However, his name is mostly associated with Sunflowers – two series of still-life oil-on-canvas paintings completed between 1886 and 1889.    
Relationship with Gaugin, the ear severance incident
In November 1887, in Patris, Van Gogh met the man who was going to have the second strongest influence on him after his brother – French fellow artist Paul Gauguin. Their friendship quickly grew into a stormy relationship with a homosexual hue.
In 1888, at Theo's proposal, the two spent nine weeks painting together at Vincent's Yellow House in Arles. With his brother's financial backup, Vincent had rented the eastern wing of the building at 2 Place Lamartine earlier that year.
On the evening of 23 December 1888, the two friends had a particularly heated argument. Because of the dismal and dreary weather, they had been pretty much confined to the Yellow House for weeks.
The reason for their altercation is unknown but, at some point, van Gogh confronted Gauguin with a razor blade. Later in the evening he severed his own left ear, wrapped the bloody morsel in a squalid newspaper and rushed to a nearby brothel he and Gaugin used to frequent.
There, he offered it as a present to one of the prostitutes with the words: "keep this object carefully, in remembrance of me".
This incident was too much for Gauguin and he left Arles never to meet Van Gogh again. Yet, the two kept exchanging letters until the latter's death.
Van Gogh's death: suicide or a fatal accident?
On 27 July 1890, Van Gogh was painting a barn in a wheat field near the village of Auvers-sur-Oise in France. For some unknown reason, he was carrying a revolver with him and accidentally shot himself in the chest. Apparently, the bullet did not hit any vital organs and stopped in his spine.
Despite his wound, the artist could walk back to the village, where he received treatment from two local medics. Unfortunately, none of them was a surgeon and they did not attempt to extract the bullet. Informed of the incident, Theo arrived in the village the following morning and found his brother in surprisingly good shape.
Unfortunately, just a few hours later the great artist passed away, most probably of sepsis.
Elsewhere you may read that Van Gogh actually attempted to take his own life by shooting himself in the chest. Well, I find my version of the events that led to his death far more plausible for a number of reasons.
First, if he really wanted to kill himself, he would have certainly shot himself in the head, or at least in the heart. Then, having failed to finish himself off with the first shot, he would have fired a second bullet, probably into his heart. Instead, he walked back to the village and sought help.
The Van Gogh brothers' final resting place
Anyway, the Van Gogh brothers now rest side by side in the Auvers-sur-Oise cemetery near Paris. Looking at Vincent short and turbulent life, I can't help thinking that he was a true martyr of art. The mission of his life was to create that many pieces of art, and when he accomplished it, he was promptly recalled by the Providence.  
The beauty of the quotes you are going to read below stands out more clearly against the grim description of the artist's life above them.
1. In the end we shall have had enough of cynicism, skepticism and humbug, and we shall want to live more musically. – Vincent van Gogh
2. The fishermen know that the sea is dangerous and the storm terrible, but they have never found these dangers sufficient reason for remaining ashore. – Vincent van Gogh
3. If you hear a voice within you say "you cannot paint," then by all means paint, and that voice will be silenced. – Vincent van Gogh
4. If I am worth anything later, I am worth something now. For wheat is wheat, even if people think it is a grass in the beginning. – Vincent van Gogh
5. Someone has a great fire in his soul and nobody ever comes to warm themselves at it, and passers – by see nothing but a little smoke at the top of the chimney and then go on their way. – Vincent van Gogh
6. What would life be if we had no courage to attempt anything? – Vincent van Gogh
7. …and then, I have nature and art and poetry, and if that is not enough, what is enough? – Vincent van Gogh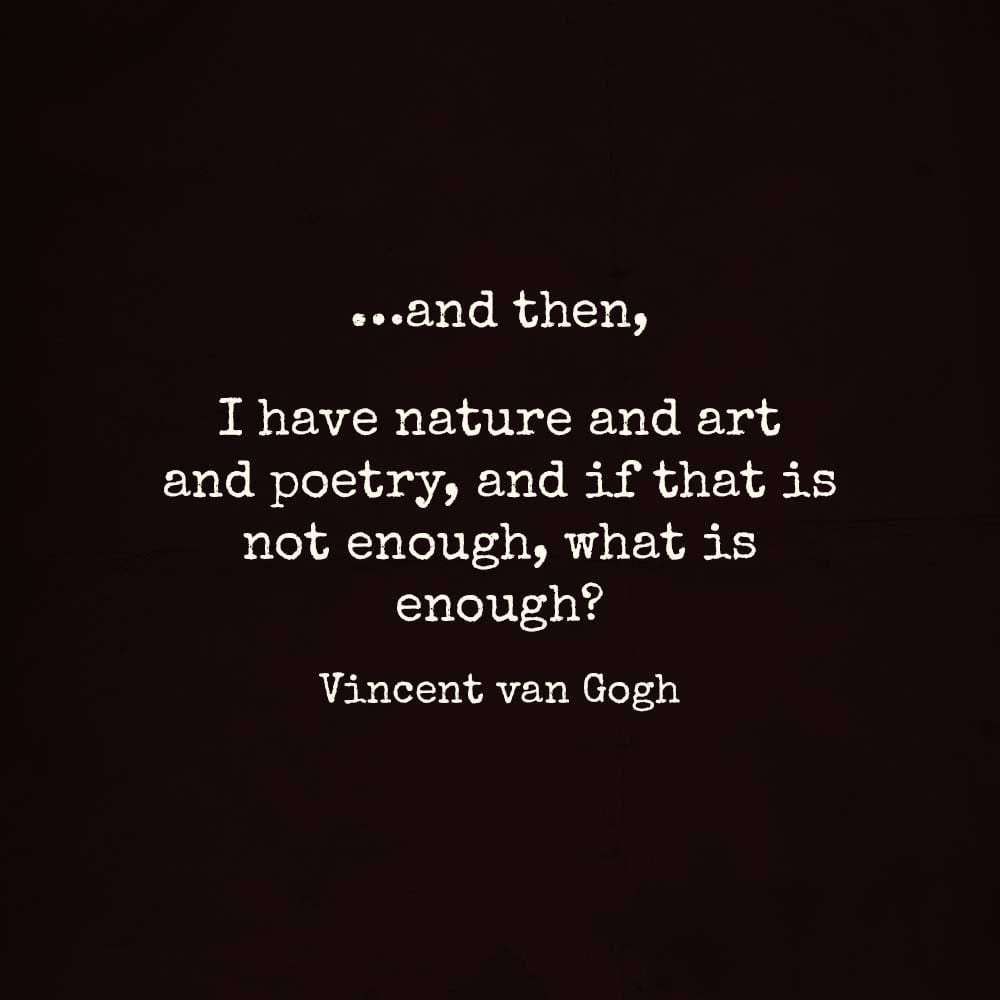 8. Great things are done by a series of small things brought together. – Vincent van Gogh
9. For my part I know nothing with any certainty, but the sight of the stars makes me dream. – Vincent van Gogh
10. I put my heart and my soul into my work, and have lost my mind in the process. – Vincent van Gogh
11. There is nothing more truly artistic than to love people. – Vincent van Gogh
12. The beginning is perhaps more difficult than anything else, but keep heart, it will turn out all right. – Vincent van Gogh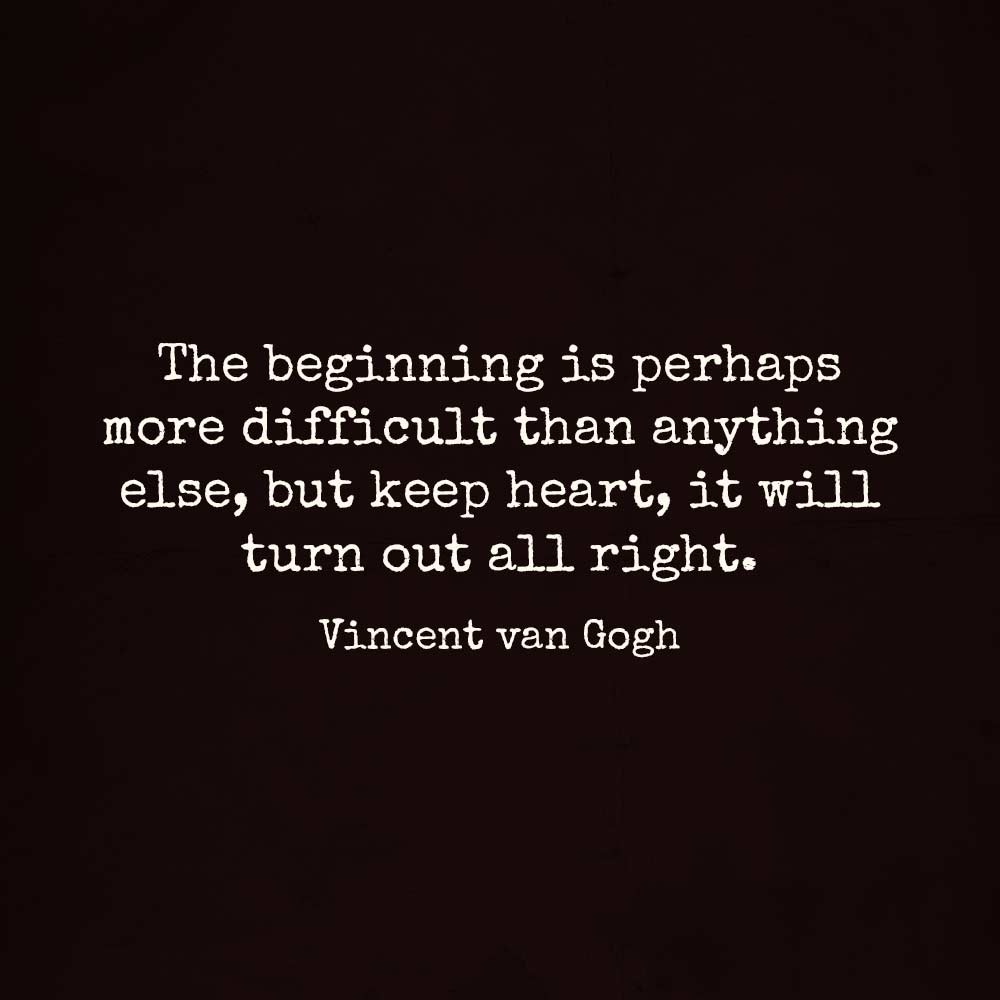 13. I often think that the night is more alive and more richly colored than the day. – Vincent van Gogh