Twitch Streamer Made $16,000 in A Night By Filming Himself Asleep And Letting Viewers Disturb Him
Earning lots of money while sleeping truly sounds like a dream, given the fact that a lot of people are having a hard time making ends meet while awake.
But a recent trend among streamers has made it possible for them to literally earn thousands through something called the "sleep alarm."
And the most popular among them is a 26-year-old man from Los Angeles who calls himself Asian Andy.
Andy actually made a whopping $16,000 in just one night on his Twitch stream even though he wasn't able to get much sleep in that night.
Andy set up a text-to-speech recognition for his live stream, which means that each time a donation came in, a musical tune started playing and the message was read out loud by a computer-generated voice.
Many people who watched the stream used their messages to get Alexa to play loud music, make his alarm clock go off, or imitate a barking dog.
Viewers also kept on pranking Andy, telling him there was someone at his window, which provoked all kinds of reactions from him.
Andy was pleasantly surprised by the generosity of his viewers.
"Thank you so much," he said at the end of his stream, which he later also shared on YouTube. "I used to drive [an] Uber for $16 an hour."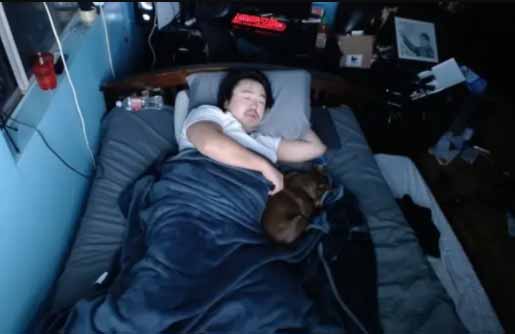 Twitch is an extremely popular video-streaming platform and some of its users are earning as much as $200,000 a year.
Andy has more than 40,000 subscribers on Instagram and Twitter, and 1 million on YouTube. However, he still lives under one roof with his parents.
Some people were worried about Andy's dog, which, needless to say, had no idea what was about to go down when it went to sleep that evening.
One person wrote:
"He is just asking to be woke up all the time. The poor dog I feel sorry for trying to sleep."
Another person said:
"I just feel bad for the dog. The guy knew what he was getting himself into."
Many, however, loved everything about the video. One person said:
"My brain does this to me every night for free."
Another commented:
"Where can I sign up I have 3 kids I can do this im use to the noise hahaha they might even capture my husband having night terrors."
Check out Andy's video "How I made $16,000 while sleeping for 7 hours" below.
What are your thoughts on this story? Let us know by joining the conversation in the comments and please share this article if you've found it entertaining.