This endearing 'twinning' trend that one man and his dog started will make your day!
One tweet was all that it took to make this trend take over the internet.
A series of selfies from Liam Rice and his delightful husky Luna were the catalysts of the aforementioned viral cuteness overload.
As it turns out, Luna has a tendency to recreate her owners' facial expressions and it could not be more adorable to look at!
So…a very good looking man in combination with an adorable dog who likes to imitate him playfully…all the right components for brilliant internet success. You wouldn't disagree, right?
I think my dog might actually be a human trapped in a dogs body 🤷🏽‍♂️ pic.twitter.com/ZX62wb4nWL

— Liam Rice (@Li4mricee) February 8, 2018

Liam has said the following about his viral Twitter post:
"Going viral has just been so bizarre. Usually, you see people go viral for actually doing something productive, but all I did was take a picture with my dog and I woke up the next day to a frozen phone (from the notifications). It's been so lovely though to read all the positive comments and seeing other people with their dogs! (Source: Bored Panda)
It is no wonder to find out that Liam is actually a full-time animal care officer, and apart from his 2-year-old husky, he also had five cats. About his job, he says it is what he had always imaged to be doing.
"My main duties at the ManxSPCA are caring for and rehoming dogs in the kennels. Fairly often I get the chance to help with the welfare side and go out and rescue animals such as cats, dogs and even more wild animals like seals!" (Source: Bored Panda)
His initial tweet has amounted to over 500,000 likes, as well as 200,000 retweets. Needless to say, it has definitely reached a large number of people, who were also willing to participate in the adorable trend (as you can see below).
So, what are you waiting for? Check out the fun, playful pictures that will make your day without a doubt!
And don't forget to share which ones are your favorites in the comments!
First stop, here is Liam with his husky Luna.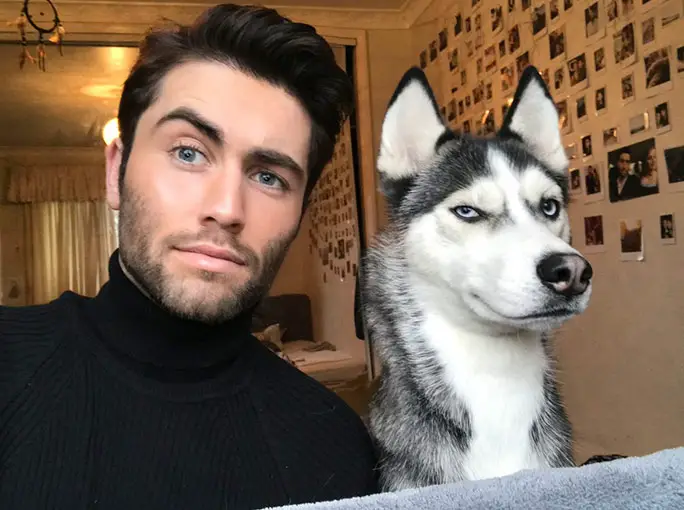 And now all the lovely participants in the trend.
Tout est dans l'attitude 🐕❤️ pic.twitter.com/z0f5Y8e2vF

— Dark Sand (@Desiiah) February 9, 2018
I think my dog might actually be a human trapped in a dogs body 🤷🏽‍♂️ pic.twitter.com/ZX62wb4nWL

— Liam Rice (@Li4mricee) February 8, 2018
I agree pic.twitter.com/6QzCPlpYoh

— JAMSXD (@JAMSXD) February 9, 2018
I think my dog might actually be a human trapped in a dogs body 🤷🏽‍♂️ pic.twitter.com/ZX62wb4nWL

— Liam Rice (@Li4mricee) February 8, 2018
— Javier Bruno (@Jjavierbruno) February 8, 2018
Relatable pic.twitter.com/z4tHmGqK6G

— im a leo (@congrashley) February 9, 2018
same pic.twitter.com/DvD3gdPGlA

— Gabrielle Dawn ☼ (@GabbyDawn11) February 9, 2018