Toxic Masculinity: Man shames woman he met on Tinder for not sleeping with him
Tinder date tried to shame a woman for refusing to sleep with him.
WARNING: The article contains posts with mentions about sexual assault.
A woman was shamed by her Tinder date for refusing to have sex with him.
The man claimed that she was required to sleep with him because people "don't use Tinder to date – they use it to f**k."  
For some people, Tinder is a great opportunity for looking for the love of their lives online. They see the dating app as a way of connecting with others and establishing romantic relationships. However, there are other types of individuals who use it only as a way of increasing their body count.
Unfortunately, Madison, a 25-year-old woman from Indiana, matched with a man who tried to convince her that since they met on Tinder, she is required to have sex with him.
Three weeks after Madison and her match started exchanging messages on the app, they decided to have an actual date.
What was supposed to be a dinner out, turned into a movie night at the man's house.
As soon as the pair walked into the house, Madison's date started insisting that she drink alcohol with him, as per BuzzFeed. The woman wasn't comfortable with the idea and called an Uber so she could go home.
Shockingly, while she was waiting for the driver to pick her up, her date got furious at her for not sleeping with him. However, Madison was clever enough to record their conversation and post it on TikTok. Her video revealed exactly how some insensitive people act when they go on a date with someone they met on Tinder.
In the video, the man tried to shame Madison for not consenting to have sex with him. His arguments were based on the single fact that they met through the dating app. What's more, he even claimed that Madison was the one misleading him.
In the guy's words, people "don't use Tinder to date – they use it to f**k."  
Since Madison was on the app in the first place, she was supposed to be aware of that.
To defend herself, she told him that if that was his view regarding the purpose of Tinder, then he should have been more straightforward in his bio. To this, he negligently responds:
"If you say that, you're not gonna get any Tinder matchups!"
The man basically said that you are supposed to lie in your bio to have the chance to get girls back to your place and seduce them.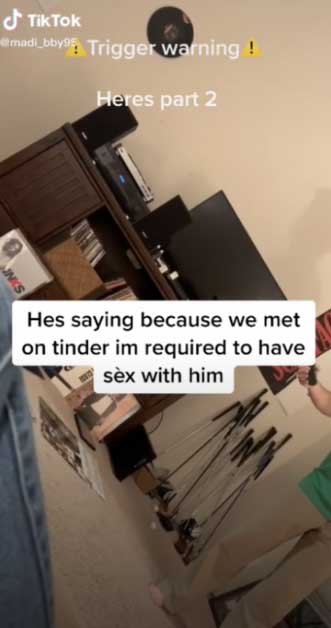 Despite his baffling arguments, Madison cunningly said that his behavior was a clear example of "toxic masculinity." Denying the obvious, the man tells her she needs to "wake up" because "this is the f**king reality." He even says he is trying to "help" and "save" her from similar inconveniences in the future.
In an attempt to convince Madison that he is the good guy in the situation, he says:
"I'm trying to help you. I'm trying to save you from any more of this… I'm not trying to be some jacka** guy who, like, mansplains things, I'm just trying to help."
Thankfully, the woman managed to defend her position and go home safely. 
Sharing the distressing story, she said:
"The worst part was that he didn't feel like I had the right to say, 'No,' that I was obligated to have sex with him because I went back to his apartment."
Madison explained that she was currently in recovery, meaning that she has been "through a lot of bad stuff." Luckily, the challenges she went through helped her learn how to stay calm in suchlike situations. She added:
"I knew I had a choice, but my worry was that other women in this situation might not feel like they have a choice."
Unfortunately, Madison's case is not an isolated incident. 
What had happened to the 25-year-old woman was only one of the many cases of straight men behaving violently towards females who deny having sex with them.
Last year, Pew Research Center conducted a study revealing that 57% of women on dating apps, aged 18 to 34, have received sexually explicit content they never asked for. Understandably, 53% of women don't believe that dating apps are a safe way to meet people.
Madison's video is a fair example that, as she says, "it's OK to say 'No' regardless of the time you put into a relationship."  
What are your thoughts on Madison's situation? Do you consider Tinder as a safe way to meet someone? Let us know what you think in the comment section!