Tom Cruise Makes A Surprise Landing With His Helicopter In British Family's Garden Before Offering Them A Ride
While shooting his latest movie in England, Tom Cruise landed his helicopter in a family's field before inviting them on for a ride. 
Cruise has recently been filming scenes for Mission Impossible 7 in the city of Birmingham.
In between takes, he went to the local mall and for a curry meal, after which he was seen landing his helicopter in a family's field in Warwickshire – which they allowed him to do.
Alison Webb received a call asking if an "unnamed VIP" could make a landing in her garden as they were "running late" and the airport nearby was closed.
Alison told BBC News:
"I thought it would be kind of cool for the kids to see the helicopter land in the garden."
How one family made Tom's Mission (Im)possible! 🚁

When Alison was asked if a helicopter could land in her back garden, she had no idea it would be Tom Cruise who stepped out!
She'll be speaking to Trish @BBCCWR after 5pm.

📻 https://t.co/SNk3i00UkQ pic.twitter.com/AnCLzscpws

— BBC CWR (@BBCCWR) August 23, 2021
Upon landing, the family realized it was actually Tom Cruise himself.
"He basically arrived and got out and it was like, wow," she said.

"He went straight over to the children for a chat, then came over and elbow bumped us and said thank you very much. Then he said if the kids would like they could go up in the helicopter."
While the pilot took the children in the air, Cruise went to a meeting.
"It turned out to be an incredible day. It was surreal, I still now can't believe it happened," Webb added.
On August 21, Cruise visited Asha's restaurant in Birmingham, where he "ordered our famous Chicken Tikka Masala and enjoyed it so much that as soon as he had finished, he ordered it all over again," they shared.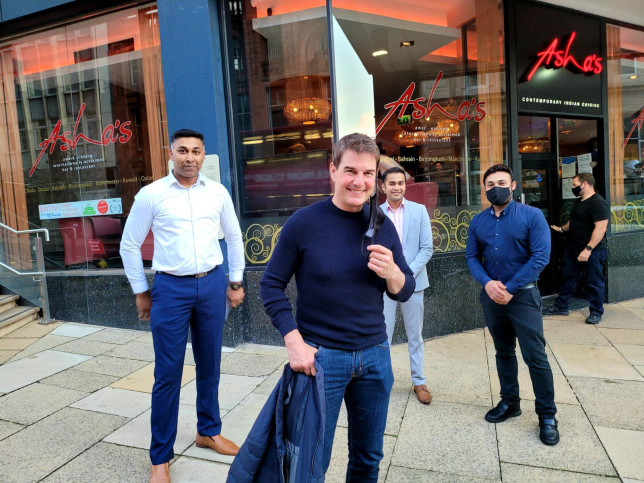 The image of him posing with employees surprised people on social media, and now he's been called "Two Tikkas Tom" by some of the locals.
What are your thoughts on this story? Let us know by joining the conversation in the comments and please share this article if you've enjoyed the read.