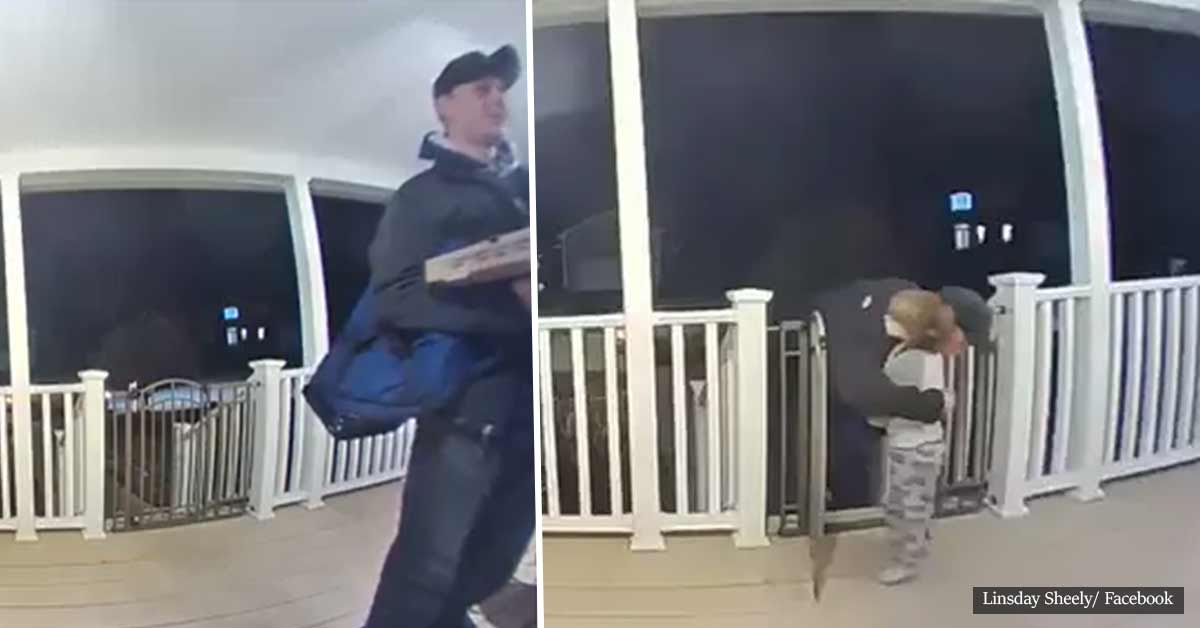 Toddler Gives Pizza Delivery Man A Hug Not Knowing He'd Just Lost His Daughter
This touching story of a two-year-old boy rushing to hug the pizza delivery man reminds us that we never know what others may be going through.
When Ryan Catterson went to deliver a pizza to a Rhode Island address, he handed the pizzas to the client and took off to continue his route. But upon leaving the property, a little boy came running and gave him a big hug. As it turned out that hug meant the world to Catterson.
The touching moment was recorded on the house's doorbell camera and it encouraged the boy's mother, Lindsey Sheely, to share this wonderful moment on social media. 
The video was then seen by the pizza man himself, who revealed why this gesture of kindness meant so much to him.
Last night when we got our pizza (and ranch) delivered, Cohen ran out to hug the delivery guy and tried to give him a kiss, too! 😂 We thought it was so sweet and funny, then realized that our doorbell might have caught the interaction on camera, and it did!! I hope it gives you a laugh and warms your heart like it did for us 🥰❤️ Even better, is that I posted this to my IG stories last night and somehow, it found it's way to the man who delivered our pizza! Thank you, Ryan, for being so sweet with our little guy!Update: little did we know what Cohen's hug to this stranger would mean. Someone showed Ryan the video I posted to my IG, so he messaged me, and I found him on FB so he could share the video. Through this, we found out that Ryan unexpectedly lost his daughter recently, and that hug from Cohen was a little blessing from God. I believe in divine appointments and know that Ryan was the one to deliver our pizza for a reason. If you feel inclined, please consider donating to his GoFundMe to help with funeral costs. My heart is so heavy for this family 😔 anything to help lighten the burden, I know, will be greatly appreciated ❤️https://www.gofundme.com/f/alyssa039s-servicefamily-travel-expenses?utm_source=customer&utm_medium=copy_link&utm_campaign=p_cf+share-flow-1Thank you to RI Home Security for hooking us up with this doorbell that allowed us to capture this moment!!❤️

Posted by Lindsey Sheely on Sunday, February 16, 2020
Little did the family know, Catterson was back to work soon after the sudden death of his 16-year-old daughter, who was suffering from mental health issues.
"After losing my daughter this past week, it touched me because it was like she was there,"  he told ABC6, "It really just meant a lot to me."
Catterson's ex-wife, Danielle, McCord, was also touched when she saw the little boy's hug.
"It's so easy to miss people and their internal pain," adding "even with our daughter, we didn't know her pain. I can't help but be grateful that someone saw his pain and could be there for him."
Many have commented that this may be his daughter's way of showing her dad she is still out there, looking out for him.
This heartwarming act of kindness is a reminder to all of us that sometimes a simple gesture such as a hug can go a long way.
You can see abc4Utah's coverage on the story in the video below.
What are your thoughts on this heartwarming moment? Let us know by joining the conversation in the comments and please share this article if you've found it of value.