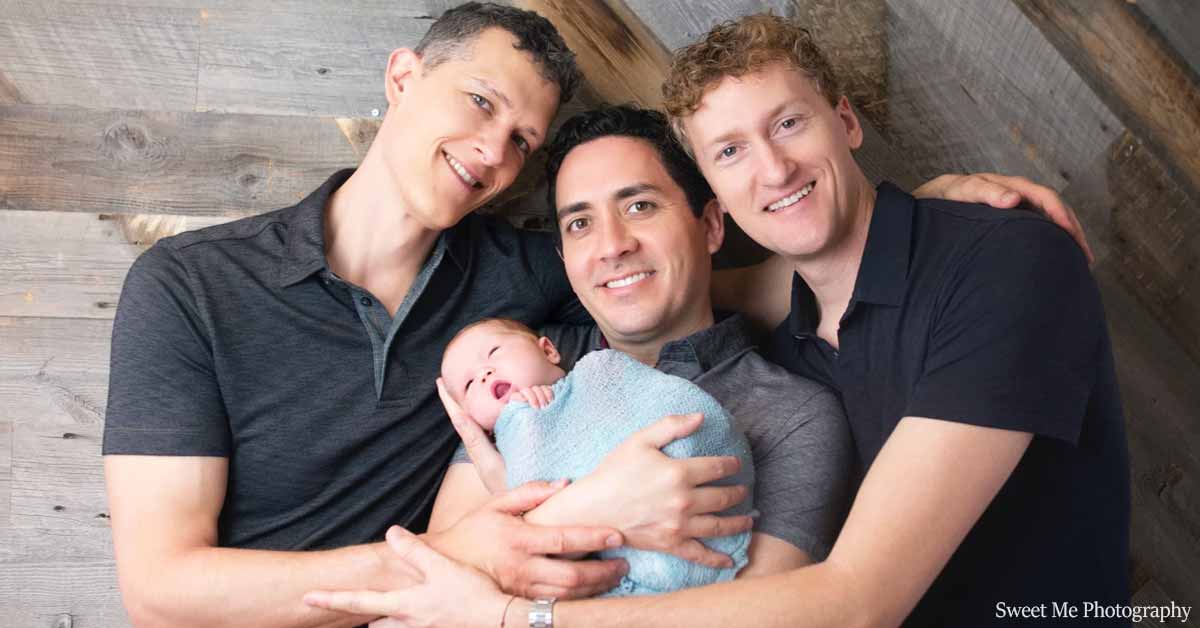 Three Dads and a Baby: Gay throuple makes history listing 3 dads on a birth certificate
Meet Ian, Alan, and Jeremy- a gay poly throuple that made history after being listed as the first California family with 3 parents on their first child's birth certificate.
A gay poly throuple is the first California family with 3 parents on a birth certificate. 
Ian, Alan, and Jeremy went through a rough journey to become parents back in 2017.
The family now has two beautiful children – Piper, 3, and Parker, 1. 
In 2017, Dr. Ian Jenkins, Dr. Alan Mayfield, and Jeremy Hodges became the legal parents of their first child, Piper, now three. The polyamorous California throuple are the first family to list three fathers in a single birth certificate, as the New York Post reports.
Ian, Alan, and Jeremy are also the parents of Parker, who is only 1-year-old.
Jenkins shares their incredible journey through parenthood in the book "Three Dads and a Baby," which will be available on March 9. He writes:
"The fact that Piper has three parents is just not a big deal. I have three parents myself — my mother, father and stepmother — and no one thinks anything of it. Some people seem to think it's about a ton of sex or something, or we're unstable and must do crazy things.[But] it's really remarkably ordinary and domestic in our house."
Ian and Alan were a couple for 9 years when they met Jeremy, who perfectly fit into their family. 
Jenkins and Mayfield first met while they were completing their medical residencies in Boston. Nine years later, Hodges, who works at a zoo hospital, came into their lives and changed everything. They are now a proud gay poly throuple with two beautiful children.
Five years after the trio became a throuple, they started seriously discussing the possibility of becoming parents. Some of their friends even offered to donate embryos, so the three fathers could have their own baby.
One year later, and over $120,000 for legal fees, contracts, implantations, and tests, their dream of becoming parents finally came true. Ian addresses:
"Gay couples don't stumble into parenthood by accident. It's always a deliberate act, and a complicated one."
The throuple's quest to parenthood was definitely not an easy one.
They first had to find a surrogate to carry and deliver their baby. Thankfully, their dear friend Delilah offered to help. But that was not all. Each of the three men had to legally adopt the embryos, so they could all have equal parental rights.
Unfortunately, one of the embryos was not viable, and another didn't properly implant. Delilah couldn't help her friends, but they did not allow themselves to lose hope.
Soon after, another friend of theirs, Meghan, came to the rescue. However, the legal process was still quite challenging. Jenkins explains:
"We had to have contracts between each man and each woman. Then, when another cycle got planned, we realized the contracts had to be redone. Of course, redoing them means $500 an hour in fees. And the requirement is to pay four lawyers [one to represent each father, plus one for the surrogate] to craft a parenting agreement, which no straight couple has probably ever been asked to sign."
Luckily, Ian, Alan, and Jeremy won the right to their "poly birth certificate" just before Piper was born.
Ian shares:
"Had we not … one of us three parents would be a legal nobody to the kids. No right to visitation if we split up. No ability to consent for medical care. No say in decisions. No legal responsibilities. No automatic inheritance. This would have been really risky for the family."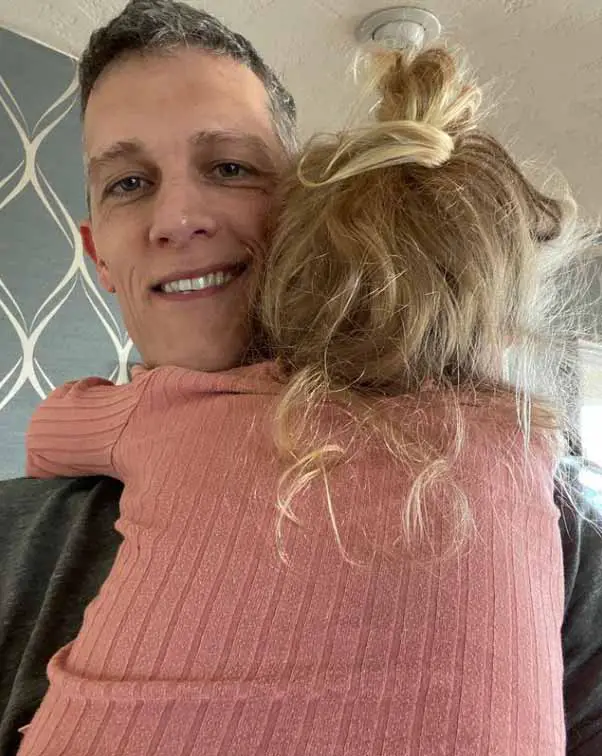 Even though there were many times when the throuple felt like outsiders, they agree that all of the challenges on the way were worth it. They are now enjoying raising their adorable children, Piper and Parker, and they are thriving as a family. Jenkins jokingly says:
"I'm Papa, Alan is Dada and Jeremy is Daddy."
He adds that each of them "brings something different." Ian is both the cook and the resident fort-maker in the family. Alan is "the best at reading books," while Jeremy is the creative dad, who makes bath bombs and special lunches for the kids.
What's more, little Piper, now in preschool, is happy to share about her three dads with her classmates. She once proudly told one of her friends: "You have two parents. I have three parents."
What do you think of California's first gay poly throuple to list not one, not two, but three parents in a single birth certificate? Let us know in the comment section!