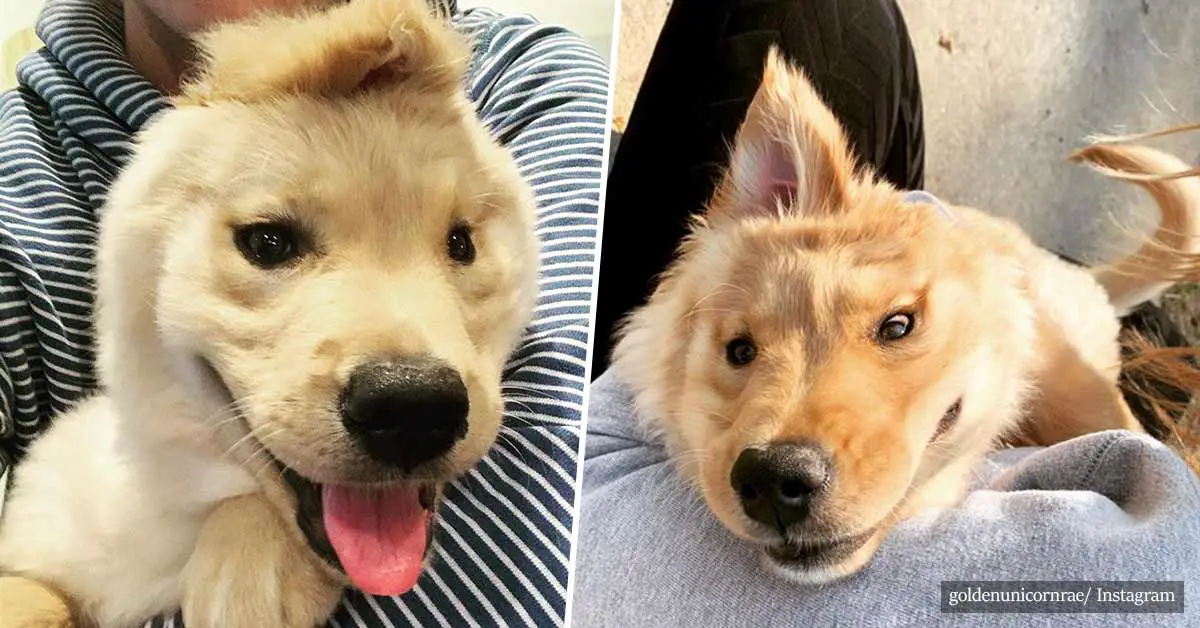 This unicorn golden retriever has only one ear in the middle of its head
Be prepared to witness the most adorable creature ever!
This unicorn dog will be the sweetest thing you've ever seen.
This lovely pupper has often been compared to a tiny unicorn, as it has only one ear right in the middle of its head.
Meet Rae, the golden retriever unicorn. She is absolutely winning the hearts of thousands of netizens because of her extraordinary looks.
Rae was left with one ear after an accidental injury at birth. As she has grown older, the ear has moved to the middle of her head. The injury was supposedly caused by Rae's mum as she was playing with her a bit too roughly. One of the puppy's ears needed to be removed, and now she has only one. But this little loss made her look even more charming!
People are totally obsessed with Rae.
Many are dubbing her with the cute nickname "unipupper". In fact, the unicorn puppy now has more than 180k followers on Instagram.
Luckily, the accident that led to Rae losing one of her ears hasn't debilitated her in any way. She can still hear perfectly through her one ear. And if you still haven't noticed, prepare to be amazed. Her name is not just a random puppy name her owners liked. Rae spelled backward is 'ear'. How thoughtful!
Rae first became famous with the help of a TikTok video of her visit to the vets.
The clip by the veterinarian Sam of the unicorn pupper getting a sweet chin scratch racked up almost a million likes. Sam also posted another video where she puts a red scrunchie on Rae's ear and it's the sweetest look ever. Little Rae deservedly became an Internet sensation!

If she still hasn't melted your heart, she will, after you see this. In just a few seconds we can see how the unicorn pupper's ear is jiggling in the sweetest way possible, while she's running with her favorite toy. Absolutely adorable!