Teen with disease that aged her body to 144 years old died just weeks after turning 18
Ashanti Smith, the teen with Benjamin Button disease, has died at 18. 
On July 17, Ashanti Smith, who was suffering from Benjamin Button disease that made her age rapidly, died at the age of 18. 
For every year of her life, the teen's body aged eight years, meaning that at 18, she looked 144. 
Ashanti's family and friends paid tribute to her on Monday, July 19, with helium balloons, fireworks, and lanterns. 
Tragically, on July 17, only a few weeks after Ashanti Smith turned 18, she passed away. The teen was suffering from Benjamin Button disease, or Progeria – a rare genetic condition that results in a child's body aging rapidly. For every year of her life, she aged 8 years, meaning that at 18, she had aged like a 144-year-old woman.
Phoebe Louise Smith, Ashanti's mom, paid tribute to her "brilliant and strong-willed" daughter, as per Daily Mail. The devastated mother said her daughter refused to let the disease affect her "loud and beautiful" spirit.
The day Ashanti died, she was surrounded by her closest people – her mother, her father, Shaine Wickens, and a family friend named Kayleigh Cartwright. Some of her last words to her mom were: "You've got to let me go."
Ms. Smith said:
"Ashanti's life was a joy. Even though progeria affected her mobility, it didn't affect anything else. She was a typical, stroppy 18-year-old and I loved everything about her. She was brilliant, she was gobby. She spoke her mind and everyone knew it."
Despite her delicate condition, Phoebe insisted her daughter be treated just like any other girl her age. 
For Ashanti's 18th birthday, her mom took her to her first girls' night out. They drank cocktails and had the time of their lives. Ms. Smith shared:
"She was louder – louder than me – and I'm a very loud person. There are photos of her first getting ID'd. We all took her out to the pubs, me and all the girls. We took her to three pubs three weeks ago. She got tipsy and she loved it. Her favourite drink was Sex on the Beach."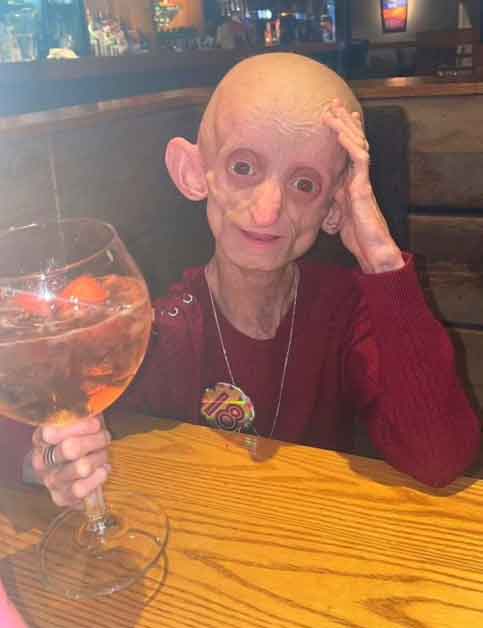 She added:
"Her condition affected her mobility to walk as far. She had a broken hip and it had to be set back in three times, then eventually it came out again and she just walked with a broken hip. That child, my little girl, wouldn't get in a buggy. She'd either be carried or she'd walk. You'd ask if she wanted a drink, she'd say 'I'll get it – what are you treating me different for?' She was very strong." 
"It didn't affect her will." Ashanti's mother claims her daughter was incredibly strong-willed, despite her disease.
Kayleigh Cartwright, a friend of the family, also shared a tribute to Ashanti. She said:
"Her condition didn't affect her [mentally] at all. She was just, normal. She was like any other child. To be with her, she was just like everybody else. [On the outside] she was 100 and on the inside, she was 18."
As she was beside her the day she passed away, Kayleigh explained:
"[On the day she died] she was walking around, having KFC, walking around the park – absolutely fine. Then it came on sudden and it was about half an hour. It was very upsetting. She had been feeling a bit sick. Shaine brought her home because she said she wanted her mother, [then her condition worsened].

She struggled but she said 'Mum, I love you. You've got to let me go'."
On Monday, July 19 – the day Ashanti's family and fans said their last goodbyes, they set off dozens of helium balloons and fireworks in the sky. 
Ms. Smith said:
"We set off 150 helium balloons for her and a £400 display of fireworks, then we're doing 300 lanterns."
Speaking of the cause of her daughter's death, she added:
"The condition gave her arthritis, and it gave her heart disease and heart failure. She passed away of heart failure and natural causes.

The funeral's going to be gay and BTS [themed]. She's having four pure white horses, with feathers and gay flags and BTS signs. Her coffins going to have BTS all round it and on top it's going to be me and my four children in gay t-shirts.

It's going to be a party. She's having a wide screen with videos playing and because she swore a lot, [there's] going to be a bleeper. Everyone who sees the video will laugh so hard. Ashanti was so proud to be gay. She was the proudest girl and she embraced the gay community. She loved it – and BTS."
Rest in Pease, Ashanti. You will be missed!