Teacher gives student his own shoes so he doesn't miss his graduation
A Louisiana teacher took off his own shoes and gave them to a student, so he wouldn't miss walking at his graduation ceremony. 
John Butler, a teacher, handed a schoolboy his own shoes so he could attend his graduation ceremony. 
Although the student was wearing dark-colored shoes, as the dress code states, the school considered them "tennis shoes," which were against the rules.
The teacher now plans to review the school's guidelines with the administration. 
Daverius Peters, a high school senior, almost missed his graduation because of a dress code forbidding graduates to wear sneakers at the ceremony. Thankfully, a kindhearted teacher gave the boy his own shoes, so he doesn't miss this significant moment of his life.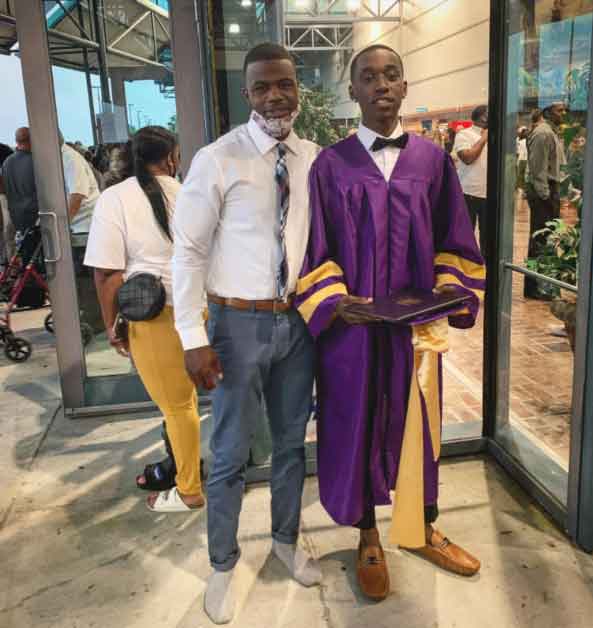 At the last minute before the ceremony, John Butler, a teacher at Hahnville High School in Boutte, Louisiana, literally took his shoes off and handed them to Daverius. His act of kindness allowed the student to walk with his classmates and receive his diploma, as Comic Sands remarks.
Apparently, the school's dress code did not allow male graduates to wear sneakers.
Reportedly, the rule states that the students must wear dark shoes but "tennis shoes" are prohibited.
Even though Daverius was wearing black leather Alexander McQueen shoes, a representative banned him from entering the ceremony, as his footwear violated the dress code. It occurred that the designer shoes did not fit into the school's customs. The high school senior commented:
"She just stopped me saying I couldn't wear my shoes. Another kid had the exact same shoes, so I was confused. I was embarrassed. I was humiliated. And I was just shocked when it started because my shoes were black and dark-colored, so I'm like why am I getting stopped."
A Louisiana high school blocked a student from graduating because his shoes violated dress code. He told @washingtonpost: "I felt humiliated."

He had leather sneakers with white bottoms. A paraeducator lent him his own shoes so he could get his diploma.

📷: Facebook/John Butler pic.twitter.com/6Jh4PRrJVz

— AJ+ (@ajplus) June 2, 2021
As the boy was being "humiliated" in front of his friends, John Butler decided to step in. Seeing the student in a moment of panic, he instantly took off his own shoes and gave them to him without hesitation. At the time, the teacher knew it was the right thing to do.
Mr. Butler explained the whole story in a touching Facebook post.
Beside a photograph of him and the student already with a diploma in his hand, the teacher wrote:
"Last minute before they close the doors to graduation. The young brother comes walking towards me in a panic. He's like, Mr. John they won't let me graduate because I don't have the proper shoes for the dress code🤷🏾‍♂️ "
He added:
"He says: 'The lady down there said I can't walk to get my diploma because of the shoes I'm wearing.' In total disbelief, I go down to confirm. And sure enough, she tells me the same thing. So then it becomes a no-brainer to me, a no more questions asked scenario. I gave him the shoes on my feet."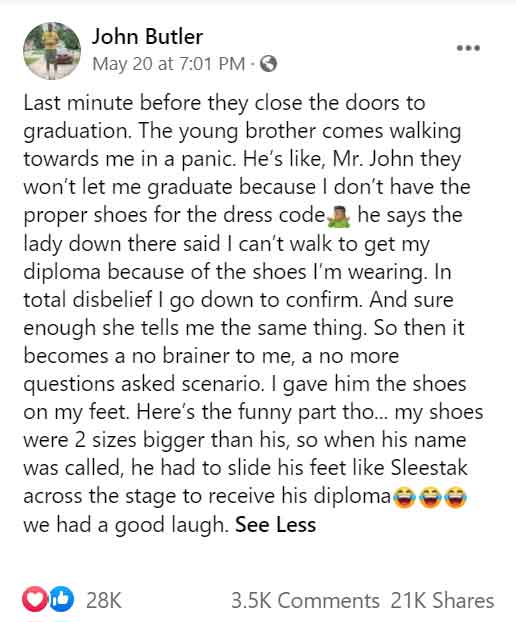 Social media users praised the thoughtful teacher for helping the boy attend his graduation ceremony. 
Shout out to you Mr. Butler! Congrats to the young man, he will NEVER forget you!

— T.Jones-Hadnott (@Haute_Had1973) June 2, 2021
Luckily, Daverius didn't miss his graduation. However, the shoe-swapping situation confused even his own family. As per USA Today, the student's relatives had arrived at the last minute before the ceremony, so they were not aware that their boy almost missed his chance to receive his diploma. So, when he finally got on stage, they argued whether that was, in fact, Daverius.
His mother, Jima Smith, commented:
"I'm like, 'That is Daverius,' and they were like, 'No, that is not Daverius. That kid has on brown shoes. When I turned to Mr. Butler, I called and contacted him and had a conversation with him asking him exactly what happened. … I was literally in tears because I did not know all of this took place and that my son had to experience it."
Although Ms. Smith understood the need for a graduation code, she noted that the school should do a better job at addressing the policy. She pointed out:
"The cap and gown are already costing us $138.50, and you don't know people's situation. So you know, I had a big problem about that as well. Like how about a kid who can't afford to wear these things that you're requiring, and I think the school needs to put something in place, really look deep into exactly what's going on."
Mr. Butler also shared the hilarious side of the shoe incident. 
In his Facebook post, the teacher added:
"Here's the funny part tho… my shoes were 2 sizes bigger than his, so when his name was called, he had to slide his feet like Sleestak across the stage to receive his diploma😂😂😂 we had a good laugh."
Daverius recalled:
"At first, he asked me what size I was. I said a 9, and he gave me his shoes. I slipped on his shoes like slippers because of how big it was."
Congrats to young Mr. Peters. John Butler is a hero. Hahnville High School, not so much. Trying to keep this young man from graduating is the type of hillbilly shit that makes Louisiana look like crazy. They need to stop acting like it's 1921. https://t.co/lg9NiqrBkl

— Scholarly Mama (@scholarlymama) June 1, 2021
Following the incident, the teacher now plans to discuss the matter with the school administration, along with other guidelines required for future ceremonies.