Stepdad bursts rocket bottle inside boy's mouth, forces him to stand facing a wall for a week, while mom did nothing
A man is facing child abuse charges after violating his stepson while his careless mother 'did nothing' to protect him.
WARNING: This article contains graphic details of child abuse that some readers may find distressing.
A boy was constantly abused by his stepfather, while his mother 'did nothing' to protect him.
The child was forced 'to sleep in a locked laundry room, drink hot sauce until he vomited and hold a bottle rocket in his mouth until it exploded.'
Kevin Grant, 31, of Naugatuck, Connecticut, reportedly forced his stepson to do things like drink cups of hot sauce, making him throw up, and kneel on hard, uncooked rice for an entire day, Newsner reveals. Shockingly, the child's mother, Kaitlin Elizabeth Baptiste, 29, did nothing to stop her partner from abusing her son.
Thankfully, the boy was freed of the horror he was going through on October 1, when an anonymous person made a complaint to the state Department of Children and Families. Following the anon call, the police and child welfare workers discovered that Grant used to abuse his stepson in over a dozen different ways, Hartford Courant reports.
It was further revealed that on one occasion from earlier this year, the boy was wrongfully accused of injuring his brother. The scene happened while the abused child was simply watching television. His brother then fell into a table while playing and 'cracked his head open'.
To punish the innocent boy, Grant made him stand facing a wall for a whole week. 
Some of the other ways the stepfather from hell would violate the child included forcing him to sleep in the garage for several nights and then in the laundry room for four months. The boy was allowed to knock only when he had to use the bathroom. However, his awful stepdad would yell at him every time he knocked.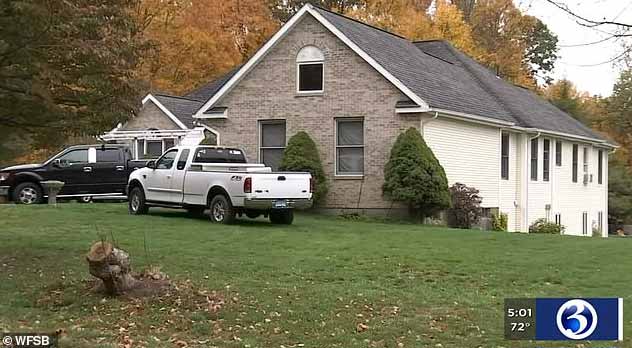 The arrest warrant for Grant stated:
"Kevin would constantly do things to him and make him do things that would hurt him." 
While his own mother did absolutely nothing to protect him, the boy has had to do push-ups until his arms completely gave up and to stand on a ladder with one leg in the air while thumbtacks were intentionally kept below by Grant.
Terrifyingly, on one occasion, the cruel stepfather shattered a bottle rocket inside the boy's mouth. 
The police revealed highly distressing information about the case:
"Through the investigation, it was determined the accused was aware that her husband, the juvenile's step-father, was forcing him to sleep in a locked closet for several months and would subject the child to various physical punishments, including kneeling on tacks and drinking hot sauce until he vomited."
Soon after the petrifying child abuse came to light, Grant was arrested and charged with second-degree assault, intentional cruelty to persons, risk of injury to a child, second-degree reckless endangerment, and disorderly conduct, as per AP.
The negligent mother was also arrested for not stopping the sadistic abuse her partner was putting her son through. She was charged with risk of injury to a child, reckless endangerment, conspiracy to commit intentional cruelty, and conspiracy to commit disorderly conduct.
Despite being put behind bars for their brutality, both Grant and Baptiste were bailed out. The amount of Kevin's bail was $25,000, while Kaitlin's was only $10,000. The couple is expected to return to court on November 10.