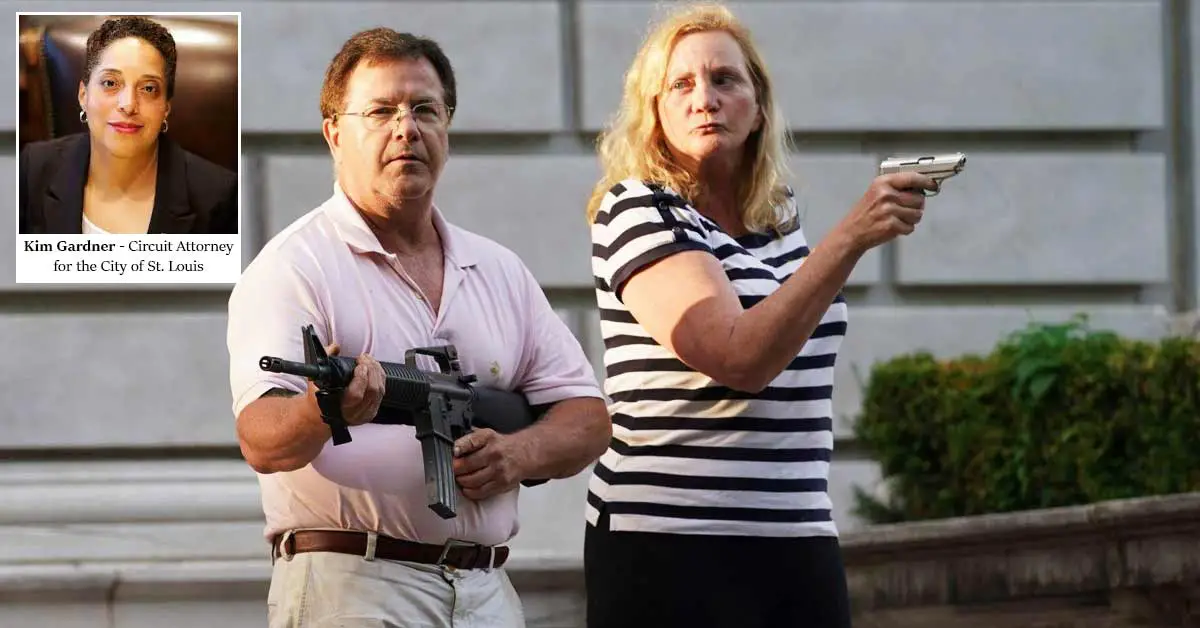 St. Louis' top prosecutor says she's charging couple who brought out their guns after BLM protesters forced their way into their community
St. Louis Circuit lawyer Kim Gardner said last Monday she is charging the man and woman who brought their weapons out while a BLM crowd was passing their house on the way to protest the mayor. 
Gardner, who is the city's top prosecutor, said Mark and Patricia McCloskey will be charged with illegal use of a weapon after last month's incident.
"It is illegal to wave weapons in a threatening manner — that is unlawful in the city of St. Louis," Gardner said in a statement.
She went on to say that she was proposing a diversion program as an alternative to prison.
The couple have said numerous times that they were acting in self-defense. They said the protesters brought down an iron gate with "No Trespassing" and "Private Street" signs on it, and that some members of the crowd threatened them with violence.
Attorney Joel Schwartz who is representing the McCloskey's called the charges "disheartening."
"I, along with my clients, support the First Amendment right of every citizen to have their voice and opinion heard.," he told Fox News. "This right, however, must be balanced with the Second Amendment and Missouri law, which entitle each of us to protect our home and family from potential threats."
The McCloskey's have not been treated like they are American citizens! Something is wrong here.https://t.co/5S03uOk2Mc

— David J Harris Jr (@DavidJHarrisJr) July 20, 2020
The couple told "Hannity" recently they were about to have dinner when "300 to 500 people" rushed their community gate and came dangerously close to them.
The McCloskey's, who are both lawyers themselves, brought their weapons out as BLM protesters walked onto the private community street on their way to protest the St. Louis Mayor Lyda Krewson.
"[They said] that they were going to kill us," Patricia McCloskey said after the incident. "They were going to come in there. They were going to burn down the house. They were going to be living in our house after I was dead, and they were pointing to different rooms and said, 'That's going to be my bedroom and that's going to be the living room and I'm going to be taking a shower in that room.'"
BREAKING:

Mark & Patricia McCloskey who defended their home from a violent mob have been charged with unlawful use of a weapon

This is an outrage—yet the rioters are let free from prison.

RT if the Governor should pardon IMMEDIATELY!

— Charlie Kirk (@charliekirk11) July 20, 2020
Nobody was harmed but the story quickly made rounds on the internet and re-ignited the debate over what rights people have when confronted with perceived threats of violence on their own properties.
Missouri Governor Mike Parson said last week he would consider pardoning the McCloskey's should they be charged with a criminal offense.
"A mob does not have the right to charge your property," he told 97.1 FM. "They had every right to protect themselves."
Responding to local prosecutors, Missouri Attorney General Eric Schmitt went on to dimiss the charges against the couple, saying their Second Amendment rights have been violated.
Recently, Senator Josh Hawley, called for Attorney General Bill Barr to look into Gardner over her decision to keep pressing against the couple, saying the prosecutor has a record in being hostile against gun rights. 
"This is an unacceptable abuse of power and threat to the Second Amendment, and I urge you to consider a federal civil rights investigation," Hawley wrote in a letter to Barr. "No family should face the threat of harassment or malicious prosecution for exercising that right."
What are your thoughts on the madness currently unfolding in the United States? Let us know by joining the conversation in the comments and please share this article if you've found it informative.