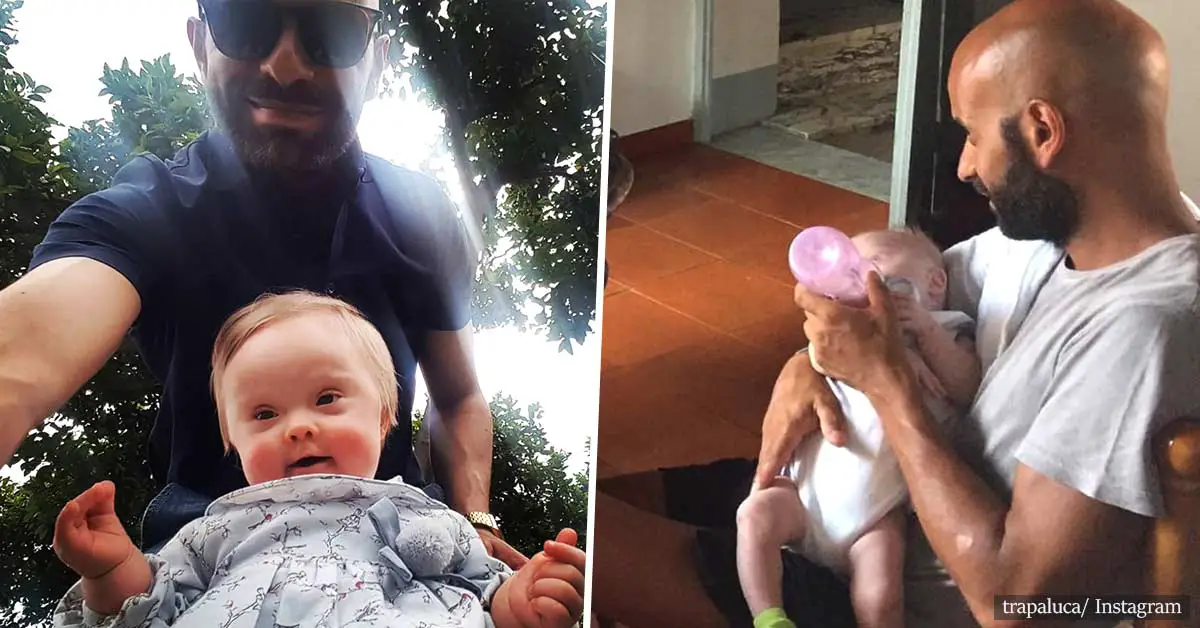 Single dad adopts a baby girl with Down Syndrome who was rejected by 20 families
Prepare to read the sweetest story you've seen in a while!
This single dad adopted an adorable baby girl with Down syndrome, who was previously turned down by 20 families. 
Meet Luca Trapanese – an Italian man who challenged stereotypes back in 2017.
When Luca, 43, adopted his daughter Alba, she was only 13-days-old, as Bored Panda reveals. But adopting this cutie wasn't the only stereotype Mr. Trapanese crushed.
Luca's story is quite outstanding, as he is a single dad, gay, living in the catholic country of Italy. Some might say it is not the most pleasant place for homosexual men in the world.
When he told authorities he wished to adopt a child, he was told a man of his status would only be able to adopt a kid with health or behavioral problems. However, this limitation didn't stop Luca from fulfilling his dream of becoming a father.
As little Alba was born with Down syndrome, it was incredibly challenging for her to find a caring family. Even her biological mother left the baby girl for adoption because of her condition. The world hasn't been kind to Alba in the first days of her precious life, as 20 families rejected her. But on the 13th day, she found a loving father – Luca.
Mr. Trapanese truly has a heart of gold. Ever since he was a teenager, he had been passionately working and volunteering for organizations focused on children with special needs. What's more, becoming a father was always one of his biggest dreams.
In 2017, when Luca was finally allowed to adopt a child, he was told he could, but only if the baby has special needs or was previously rejected by other families.
But instead of disheartening him, this demand encouraged him even more.
The proud single dad shared:
"Since I was 14 years old, I have volunteered and worked with the disabled so I felt I had the right knowledge and experience to do it."
When three years ago, Luca finally received the long-awaited call informing him he could adopt baby Alba, he was on cloud nine. After he listened to her unfortunate life story, he knew he was destined to look after this little angel.
"When I first held her in my arms, I was overcome with joy. I felt she was my daughter straight away.It was the first time I held a newborn baby. Before that moment, I had always been scared. But, when I first held Alba, I knew I was ready to be her dad."
Alba recently celebrated her 3rd birthday!
Luca recorded the endearing moment and posted it on his Instagram account, where he posts frequent updates on their happy family life full of joy and laughter.