I should have hugged you tighter and longer the last time I saw you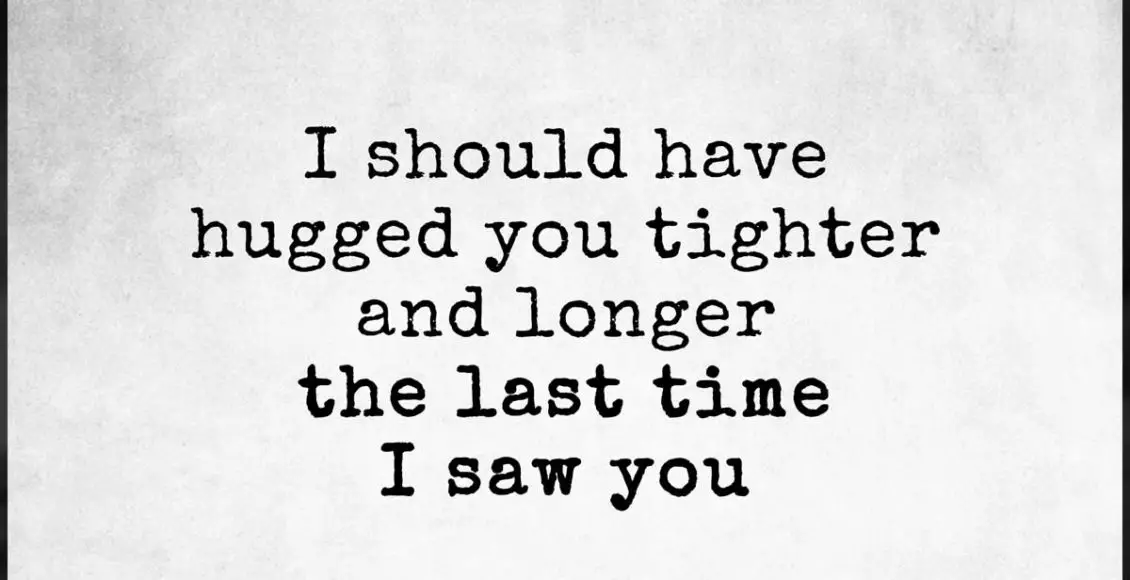 How often do you tell the people you genuinely care about you love them?
Sadly, many of us don't do it as often as we should. But the truth is, we must never miss a chance to say someone we deeply appreciate them because we never know when would be the last time we see them.
We all have a lot on our plates with our busy, messy lives. We are all under some kind of tremendously overwhelming pressure from school, work, deadlines, bills, and whatever stress-factors we're dealing with on a daily basis. However, we shouldn't let this pressure distract us from the people in our lives we truly care about.
Sometimes, we dive so deep into our everyday daze, that we forget to take a moment and show gratitude to the ones that are always beside us, and help us cope up with our own mess. Parents, siblings, partners, friends, they all deserve to know how much we value their presence in our lives. They are all worthy of knowing that they are the ones making even our worst days so amazing and bearable.
Every time someone touches your heart, and every time someone makes your soul shine, you should be genuine with them and tell them how much they mean to you. However, we're often waiting for the right moment, or the last moment to tell the ones we love we truly cherish them. Unfortunately, this perfect moment may never come. That's exactly why we should stop waiting, and start showing our love while we still can.
All it takes is a simple gesture or a few words to show someone how much you appreciate them.
A heartwarming hug is enough to make someone's day and to let them know you care.
And if it precedes the magical three words, it is the most priceless present anyone could ever ask for. Knowing that someone genuinely treasures you is one of the most incredible feelings in this world.
Although almost every relationship has its downfalls, we should never go to sleep without saying 'Good night' or 'Sweet dreams' to the ones we love. Even if you go hours without talking to each other, or you're severely fighting over something, you should always make sure they know you deeply care about them. You may be yelling, throwing things at the wall, or simply remaining silent for the rest of the day, but never go to sleep without forgiving them and telling them how much you love them. Forgiveness is what makes us great beyond question.
So, tell the people you care about how much you love them. Tell them how much they mean to you and how amazing your life is having them beside you. Make sure they know how much they have impacted your whole being and how lucky you are to know and love such genuine, trustworthy, and admirable people.
And always, always hug them tighter, so they know your feelings for them are strong and real.
After all, the people that deeply touch our souls are the ones that make life so wonderfully precious. Each and every moment we spent with those people is a gift we need to sincerely acknowledge and never take for granted.
Never miss a chance to say "I love you", for you may never have that same chance again.