Shocking photos show girl, 13, forced to marry man, 48, in the Philippines
Maguindanao, Philippines: A 13-year-old girl has been forced to marry a 48-year-old man in a saddening wedding ceremony.
Sickening pictures show the man holding the child bride in the town of Mamasapano on October 22.
In another shocking photo, he can be seen kissing the child on the cheek.
The child bride, who will not be named in this article, became Abdulrzak Ampatuan's 5th wife in a day-long Islamic wedding.
The farmer showed no remorse about marrying a 13-year-old.
He said:
"I am happy to have found her and spend my days with her taking care of my children."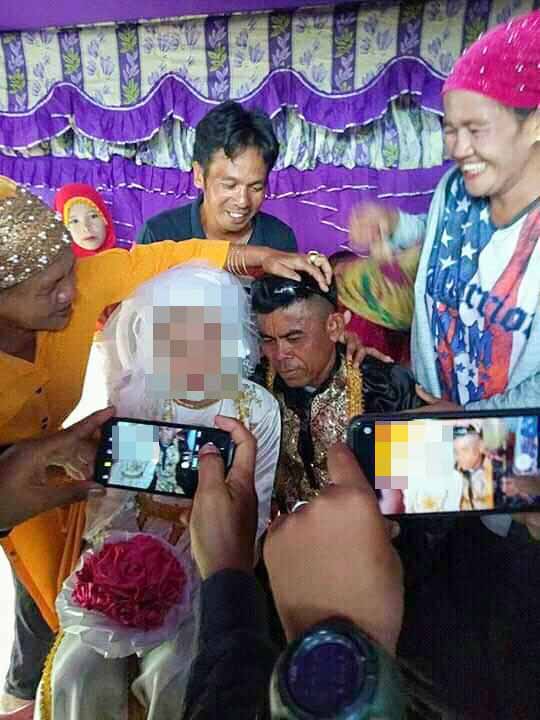 Abdulrzak plans to have children with his new wife once she turns 20. 
He also said he will send her to school so she can get educated while waiting for her to be ready to have kids.
In some parts of the country, especially places with a Muslim-majority population, children are allowed to marry as soon as they start menstruating.
Child bride, 13, forced to marry 48-year-old man in Philippines#World #Asia https://t.co/zIJxc7T3t0

— H24 News Australia (@h24news_au) November 17, 2020
UNICEF statistics show that the Philippines has the 12th highest number of child brides in the world, standing at 726,000 cases currently. 
According to UK-based campaigners 'Girls Not Brides', child marriages limit girls' rights to health, opportunity, and education.
They explained:
"Child marriage is a human rights violation that we must end to achieve a better future for all.

Isolated and with limited freedom, married girls often feel disempowered. They are deprived of their fundamental rights to health, education and safety.

Child brides are neither physically nor emotionally ready to become wives and mothers."
What are your thoughts on this story? Let us know by joining the conversation in the comments and please share this article if you've found it of value.