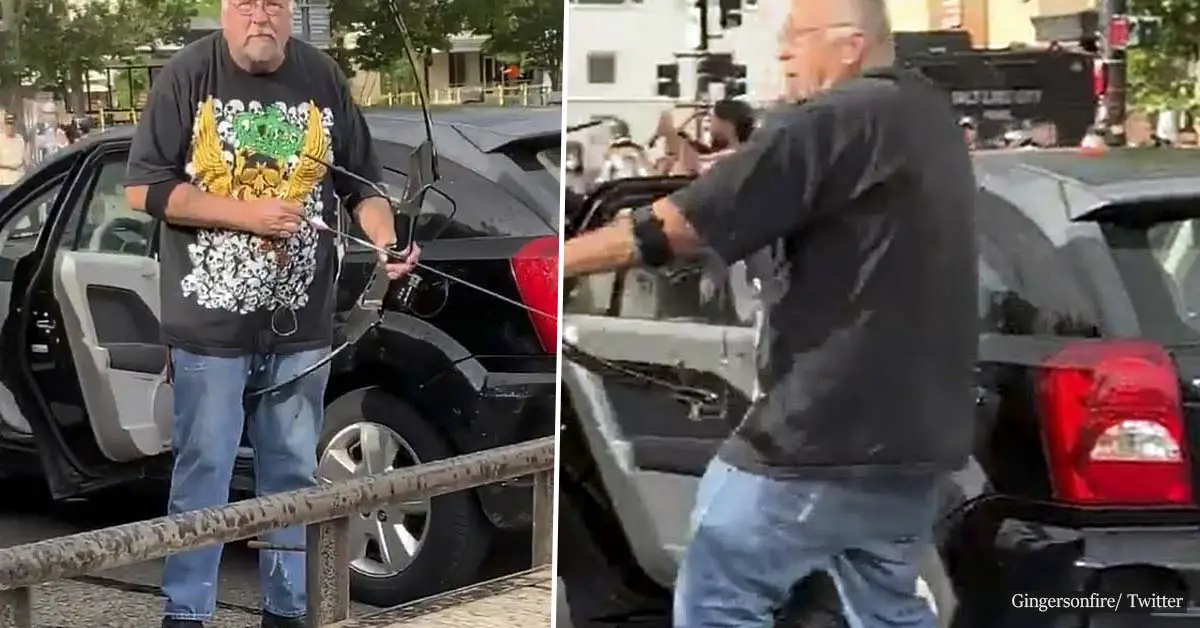 Shocking moment Utah man aims a Bow-And-Arrow at protesters in Salt Lake City
Salt Lake City, Utah: A man screamed "All lives matter" and pointed a bow and arrow at people protesting the death of George Floyd. 
Video footage made available on social media shows Brandon McCormick taking his hunting bow out a Salt Lake protest that took place last Saturday.
Mr. McCormick did not use the weapon but within a short period of time, he was attacked and beat up by a group of protestors. 
BREAKING: Video out of Salt Lake City shows a man readying to aim a bow & arrow at demonstrators as he yells "all lives matter" – demonstrators jumped him and then set his car on fire. Police responded. pic.twitter.com/ErGUuygkVs

— David Begnaud (@DavidBegnaud) May 31, 2020
He talked to local news outlet KSL-TV, saying:
"First, I got beat up when I yelled 'All Lives Matter'".

"Then I pulled out weapons and I got beat up some more.

"The cops grabbed me and my car got totaled… I lost everything, coming down here to try to protect [the police] with what weapons I had."
He also said:
"I back up the law enforcement."
Brandon McCormick from Salt Lake City, otherwise known as All Lives Matter Hawkeye: "They beat me through my open window."

Except, the lie detector test determined that was a lie. He was in the street, trying to fire arrows at protesters.#slcprotest
pic.twitter.com/Oe4cTRWjAh

— No Justice, No Peace. (@Jaxlzz) May 31, 2020
Salt Lake City police commented on the case saying:
"While we do not have the individual who was brandishing a bow and arrow in custody, we do know who he is. We intend to screen charges against him."
We interviewed a man earlier this evening who claimed he was attacked for shouting "all lives matter," but recently acquired video shows more to the story.https://t.co/EaJnwoWx6l pic.twitter.com/E4vMysUSFQ

— FOX 13 News Utah (@fox13) May 31, 2020
Throughout the United States, protests have been raging for nearly a week, after George Floyd, an African American man died due to the actions of police officers. 
Derek Chauvin, the police officer who was filmed while he put his knee on Floyd's neck for about eight minutes, blocking his air supply, has since been charged with manslaughter and third-degree homicide.
What are your thoughts on these devastating riots? Let us know by joining the conversation in the comments and please share this article if you've found it informative.